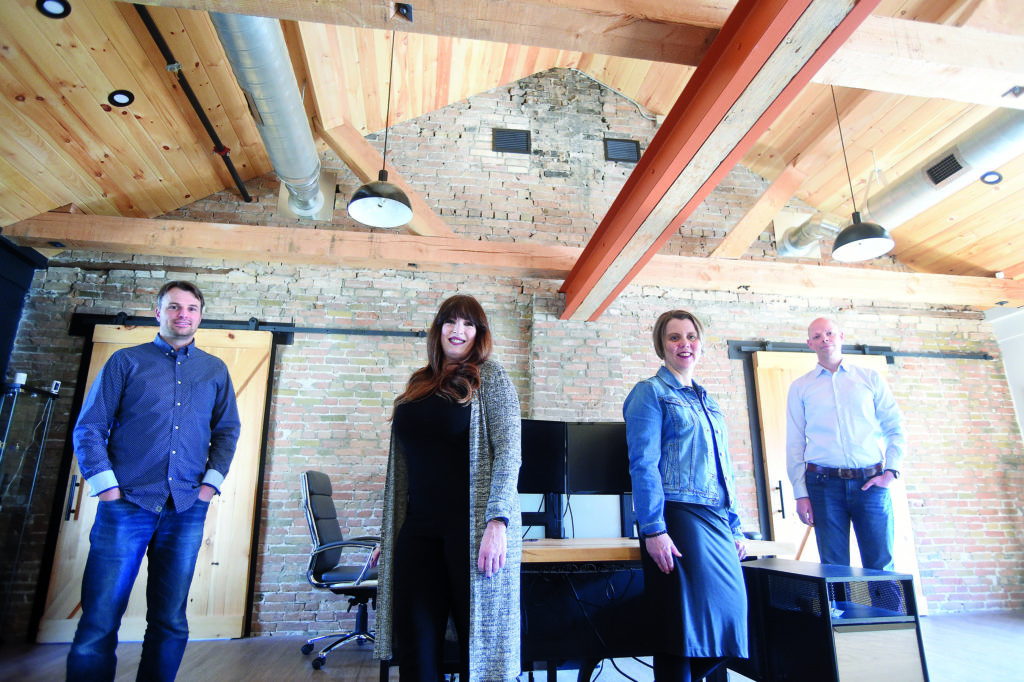 By Carol Jankowski  | Photos by David Bebee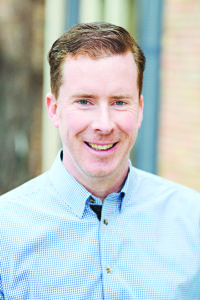 A pretty 1850s building at the foot of Shantz Hill in Cambridge was boosted into the high-tech world by an enterprising industrial engineer on a mission.
Dave Thomson wanted to buy a building to house Postability, the industrial software design firm he'd launched in 2002, 12 years after graduating in industrial engineering. The problem was that except for shelving, all the commercial buildings looked alike to him.
Postability staff program software for CNC machinery. They don't make products that are visible to the general public, whereas a building with the company name on it "announces us to the world," Thomson explained in a February interview. "People know you are real. The building shows we have substance."
Thomson grew up in Waterloo and attended the University of Waterloo, where most of his 10 employees also studied. But he lived in Kitchener's Doon neighbourhood and played hockey in Cambridge. He was flexible on location for the office.
He'd always liked the look of the two-storey building at 285 Fountain St. S. With its muted red brick, front porch and hanging flower baskets, it looked more like a house than an office — except for the sign which for decades said Jerry VanDyke Tours.
According to a story in the Cambridge Archives' Landmark series, the building was constructed between 1855 and 1858 as a stage-coach stop on the old Huron Road. Later it housed five apartments for the families of men working at a foundry across the road.
Ray Ruddy, known as the Preston town historian, would add button factory to the building's claim to fame. In the mid-1990s, when the property's parking lot near the Speed River was being repaved, Ruddy spotted buttons made from oyster and clam shells scattered in the dirt.
Anneka and Jerry VanDyke opened their tour business there in 1980. They wanted to buy the building, but it would be four years before the owners were ready to sell.
Everything changed again in 2018 when Thomson's tech company became a tenant. VanDyke thought highly of him and four months later he asked Thomson if he wanted to buy the building. Thomson agreed and as assorted small business tenants moved on, he cleared out their space. The upper floor now is bright open space with a boardroom in one corner.
Once Postability's boldly modern sign went up at the corner of the building, people began stopping by to ask what was going on. The building clearly meant a lot to the neighbourhood.
Cambridge lawyer and artist Bill Schwarz, who once operated the popular Bouquet Garni French restaurant in the building, also sent him a note.
In time, Thomson learned he was actually responsible for a second building he didn't know about. As he explained, "I only met Jerry (VanDyke) as part of renting space, but we certainly clicked. After the purchase, Jerry picked me up for a spin in his Mustang convertible and drove me over to the Waterloo Region Children's Safety Village where he introduced me to a miniature version of the 285 Fountain Street South building."
After that outing, a little Postability sign was hung on the miniature office and the company took over the upkeep.
Thomson wanted to redesign the interior of the building himself. He and his wife, Jodi Spall, had renovated their home one floor at a time over three years, and he'd enjoyed the challenge of decisions on layout, materials, colours. Woodhouse Contracting, which had worked with them on their house, was hired to remodel the ground floor of the building to Thomson's specifications.
The dropped ceiling was removed, exposing old beams and creating a large, bright open space. Just inside the entrance, a high wood table and chairs serve as a meeting space.
Sadly, Thomson did not have much time to enjoy the revamped building. On February 28, having just returned from a run with his wife, the 47-year-old suffered a fatal heart attack.
Despite her shock and sorrow, Spall knew that day she wanted to keep the business moving forward. Three years earlier, hoping for a holiday to celebrate their 20th wedding anniversary, she had convinced Thomson to relinquish some responsibilities to three key staff, which allowed their extended family to have a memorable vacation in Costa Rica.
Also, last December, Spall had taken a break from her career as a human resources executive. However, she knew she couldn't keep the company going without the help of three key employees, Chris McIntosh, Tim Scott and Maude Walsh.
With grief counsellors prepared to offer support to anyone who needed it, they immediately began reaching out to other employees, customers and important contacts worldwide, assuring them Postability would carry on.
"Dave was known globally as a guru for Mastercam," Spall said. "They want to keep his legacy alive."
Postability's employees have worked from home since the start of the pandemic, but once it was safe to do so, Thomson had wanted them back in the office, at least part-time. Without proximity, he doubted a culture of teamwork could be sustained. Spall agrees.
Thomson had sent letters to nearby property owners to reassure them he had no intention of expanding the building or otherwise changing its profile. He promised an invitation to an open house and tour of the building once COVID-19 subsided.
The letter would have been a relief for a neighbourhood that witnessed the anguish of heritage advocates last winter when decades of neglect triggered the demolition of nearby Preston Springs Hotel.
Spall will host the open house once such a gathering is allowed. She wants area homeowners to see Postability as a trusted neighbour: 285 Fountain St. S., ageless on the outside, renewed inside, remains in safe hands.