Pixar animator as strong and creative as the characters she brings to life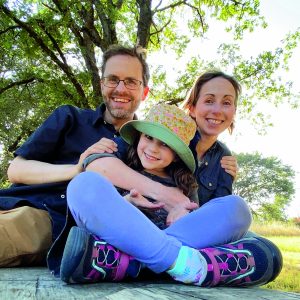 By Barbara Aggerholm | Animated photos courtesy of Pixar Animation Studios | Family photos taken by Duncan Rutland
Guelph mom Marilyn Fraser gets a kick out of going to the movies with her daughter, award-winning Pixar animator Allison Rutland. After all, who else gets to hear people laugh at a scene, knowing that her daughter helped create it? "She'll tell me at the movies, 'I did that. I did this,' " says Fraser with a laugh. Watching the film "Brave" at Pixar Animation Studios in Emeryville, California, was a special treat. The animated film about a strong, passionate teenage princess hadn't yet been released to the public, and Fraser was treated to a viewing while sitting beside her own strong daughter at Pixar's interesting building with its impressive display of Academy Awards.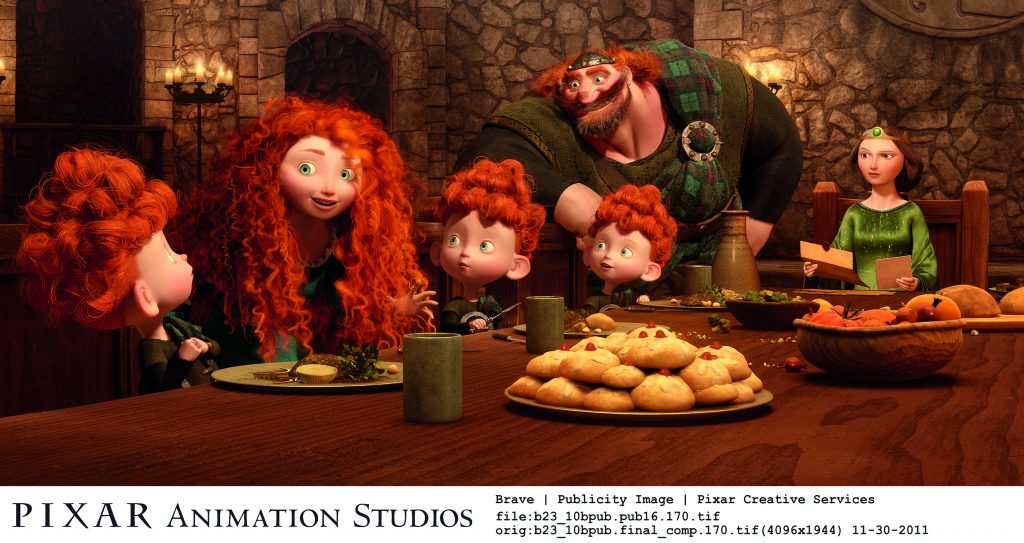 Rutland was a character animator for "Brave", which features Merida, a headstrong royal teen who would rather shoot an arrow, wield a sword or ride her horse than anything else. Those skills come in handy when Merida, struggling to find her own destiny, is the cause of a spell that turns her mother, the queen, into a bear. Together, they must find a way to reverse the spell while at the same time evade feuding lords and the renowned bear hunter, the king himself. Among its awards, the film won an Oscar for best animated feature. Rutland, like Merida, is "an empowered woman. She's strong and confident," Fraser says. Rutland is also funny, a storyteller, very detail-oriented, outgoing and "fast-moving." "When she comes to the house, we're very busy . . . always going out to places and doing things," Fraser says.  Rutland laughs when she hears her mother's description. "I'm pretty quiet," she says.
Rutland described her path to becoming a Pixar animator, an animator's coveted job, in a Zoom interview from her home in El Cerrito, Calif. – more specifically from the garage where she was working during COVID restrictions. She and her husband, Duncan Robson, recently added a window to the uncluttered, white-walled garage to brighten the room. At the time of the interview, Pixar, a subsidiary of the Walt Disney Company, was phasing in its employees' return to the office. "There's a social aspect I miss," she says.  A graduate of Sheridan College's computer animation program and an honours arts graduate of Hamilton's McMaster University, majoring in fine art and multimedia, Rutland has been an animator at Pixar for 13 years. In 2015, she won the coveted Annie Award, the animation world's equivalent of an Oscar, for her character animation in the feature film "Inside Out". The film won a raft of other prestigious awards, including an Oscar for Best Animated Feature Film of the Year. In 2017, Rutland was nominated for another Annie Award for her work in "Coco". That's the story of a 12-year-old Mexican boy, Miguel, who dreams of becoming a famous troubadour despite his family's ban on music. He finds himself in the Land of the Dead where he discovers the origins of his passion for music and the history behind his family's distrust. The film received two Academy Awards and was chosen by the National Board of Review as the Best Animated Film of 2017. Rutland was also a character animator for "Toy Story 3", "Monsters University", "Finding Dory", "Incredibles 2", "Soul" and "Turning Red". She was directing animator for "Onward" and has that role for a future film called "Elemental." Rutland, who preferred Strawberry Shortcake to Luke Skywalker when she was growing up, says "Inside Out" was one of her favourites. "I think it rings true for me. It was very honest. It doesn't have a bad guy. It has a nice quietness."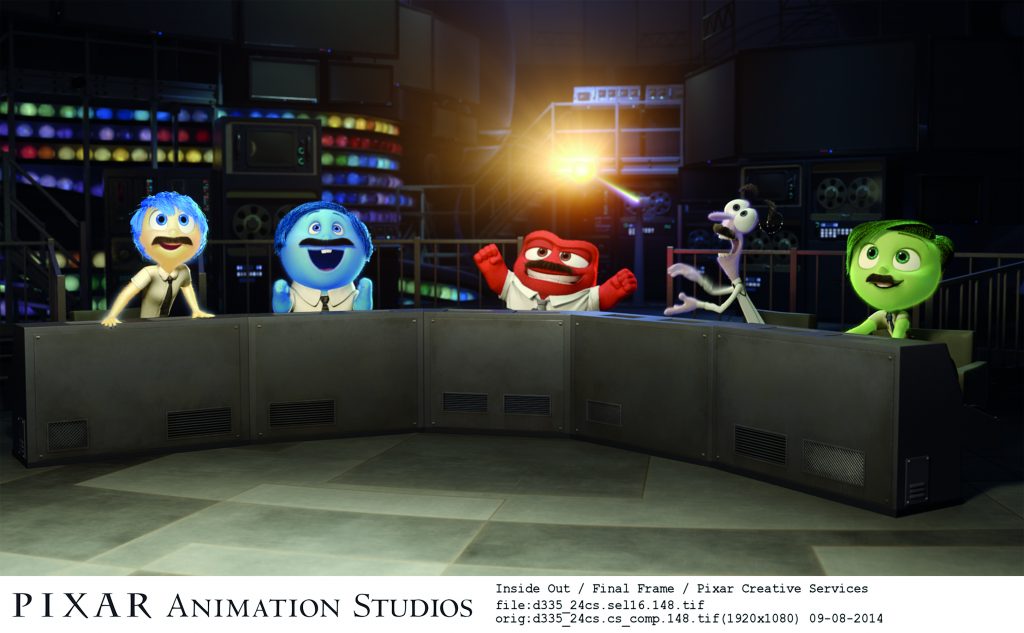 "Inside Out" is about an 11-year-old girl named Riley who is uprooted from her life in the Midwest when her father gets a job in San Francisco. Her emotions – portrayed as characters Joy, Fear, Anger, Disgust and Sadness which are located in the control centre of her mind – are in turmoil and they all struggle to navigate Riley's new life. The movie is mostly set inside Riley's mind, but a funny dinner-table conversation brings Mom and Dad into the action too. In that scene, the father's emotional characters try to decipher a meaningful look from his wife. She wants him to help figure out what's bothering their daughter, but he hadn't been listening to the conversation. Startled, Joy, Fear, Anger, Disgust and Sadness whip into action in his mind's headquarters. "Uh, oh, she's looking at us," Anger says, sitting up in his chair and switching off the hockey game in the husband's mind. "What did she say?" "Is it garbage night? We left the toilet seat up?! What? What is it, woman, what?" "I animated that shot of Anger when he says that," Rutland says. Anger is fiery and tends to blow his top, literally. "This interpretation of how our minds work is incredibly engaging," says critic Sarah Gopaul in Digital Journal. "Watching the emotions debate and wrestle for control of the main switch is very amusing, as is Joy's ability to find the bright side of almost any situation through ingenuity." "I animated a lot of Riley and also a lot of Sully in 'Monsters University', " Rutland says. "He was a fun character. I think each film has something I've enjoyed."
"Finding Dory" was a bit of a different experience. "I animated it when I had a newborn. I don't remember. I don't think I slept at all." Rutland's daughter, Quinn, now 7, takes after her mother and father, who is a video editor. She's making her own film, "Miss Hoppins Town", with Dad and Mom's help, featuring her stuffed bunny. "She's a very demanding director," Rutland says with a laugh. "Now that I'm working from home, she'll give me notes: 'Why are they doing that?' "She's a very good artist. She has animated her own stop motion shorts, and she makes books and draws comics."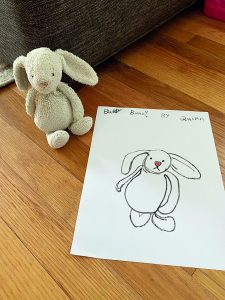 Rutland drew all the time when she was a child. She read comics like Calvin and Hobbes, Garfield and Archie. No superheroes. Her mother recognized her talent and encouraged her to pursue her passion. She enrolled her daughter in art lessons at an early age.  "I believe girls need a good education and I pushed that," says Fraser, whose two older daughters are a teacher and a respiratory therapist working in intensive care. "I told her: 'You should go into the arts because it's a God-given talent and I believe a God-given talent should be pursued.' "Whatever she was reading, she would draw," Fraser says. "Everything had a lot of detail. She would see things, small things in the trees that I wouldn't see." In elementary school, Rutland gave a speech about how the film, "Roger Rabbit", in which cartoons and humans coexist, was made. She loved the opportunity in Grade 8 to make her own commercial about a breakfast mug that didn't spill. In high school in Milton, she and a friend painted murals, including a jungle mural in an elementary school bathroom. Milton, by the way, has inducted Rutland into its Walk of Fame for her accomplishments, alongside other trailblazers like astronaut Chris Hadfield and Ernie Coombs, Mr. Dressup.
Rutland remembers making figures out of clay when she was a kid. "I kind of played with toys a lot, probably when I was a little too old for them," she says, laughing. She never played with Barbie, however; nor the figures from "Star Wars" movies, which didn't interest her. At Sheridan, Rutland's first animated short, "Finding Chia", was a quirky mock documentary about a Chia Pet who experiences trauma when he can't grow sprouts. "Shawn McChia recalls his tormented childhood and eventual acceptance of his plant-less existence," says IMDb, the Internet movie database. "Finding Chia" went on to be shown at several film festivals. That short film helped her get her first job at a commercial studio in Toronto where she was asked to create a TV short, coming up with the storyboard idea, modelling of the characters, animation and lighting, in three weeks. It was stressful and took her longer than three weeks, but her bosses liked what they saw and they kept her on.
She was the only woman working in the Toronto animation studio of 10 to 15 people. Female animators continue to be in the minority. When she started at Pixar in 2009, about 20 of 100 people were women. It's a larger number now as Pixar reaches for more of a split, she says. "It never bothered me. I never really thought about it," Rutland says. "I never grew up with the idea that girls can't do something. I could be a scientist or engineer or an artist." There are advantages to being a female animator, she says. As a woman, she brings a "different sensibility" to animation. "I was interested in the acting stuff and the emotional stuff. I wasn't really that excited about the action."
At the then-Starz Animation in Toronto, Rutland was a character animator for "Everyone's Hero". That film's hero is a boy who journeys to return Babe Ruth's baseball bat before the deciding 1932 World Series game. The film features the voices of Whoopi Goldberg, Brian Dennehy and Jake T. Austin. The film was an exciting venture and "I knew this is what I want to do." She didn't yet have enough confidence to apply to Pixar, her dream job. While some of her friends joined Pixar from their Toronto studios, Rutland went off to England instead. It proved a wonderful experience. She met animator Duncan Robson, her future husband.  "I was 26 when I went to London. I was totally ready to explore. I love that the city is easy to get around. You don't need a car. Each studio had their own pub." In London, Rutland worked with studios that produced "Where the Wild Things Are", "The Tale of Despereaux", "The Chronicles of Narnia: Prince Caspian", "10,000 BC" and "Fred Claus." She was working on Narnia when she met Robson. At the multinational Moving Picture Company, she animated Reepicheep, the beloved leader of Narnia's talking mice and one of Prince Caspian's bravest knights.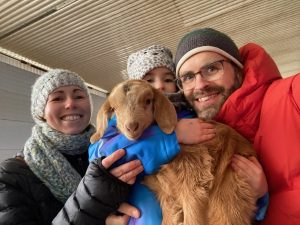 After two years in London, she left to join Pixar in 2009, where she has been a character animator as well as a directing animator, who gives support and notes to the animators. She's directing animator for the animated film "Elemental", set for release in summer 2023. The movie "journeys alongside an unlikely pair, Ember and Wade, in a city where fire, water, land and air residents live together," says a recent story in Deadline.com, which covers Hollywood entertainment's breaking news. "The fiery young woman and the go-with-the-flow guy are about to discover something elemental: how much they actually have in common." It pays to be patient and detail-oriented. "You animate about five seconds a week," Rutland says. "It kind of goes in stages. You block out the whole thing. It's messy and ugly. Then the shot is blocked. Then you get performance notes from the director and other animators, then continue to work on polishing and improving the animation until it's finished.
"We get five shots at once and then we take a couple of weeks to block out the shots. After that, each shot is a week. It's a bit of an average. It depends on how complicated it is." It takes about five to six years to make the film, of which animation takes about one year, Rutland says. When she's speaking to students at the Academy of Art University where she teaches online, Rutland emphasizes that they should do their best on every shot.  "Even if you have a background character, people notice it," she says. She tells them about her circuitous route to Pixar. "I remind them of me: Give yourself time to develop as an artist." Rutland has illustrated a children's picture book, "Sammy the Snail", published by Turtle Back Publishing. "I'm taking an illustration course," she says. "I'd love to do more, to do book illustration on the side. "It's hard to find time."