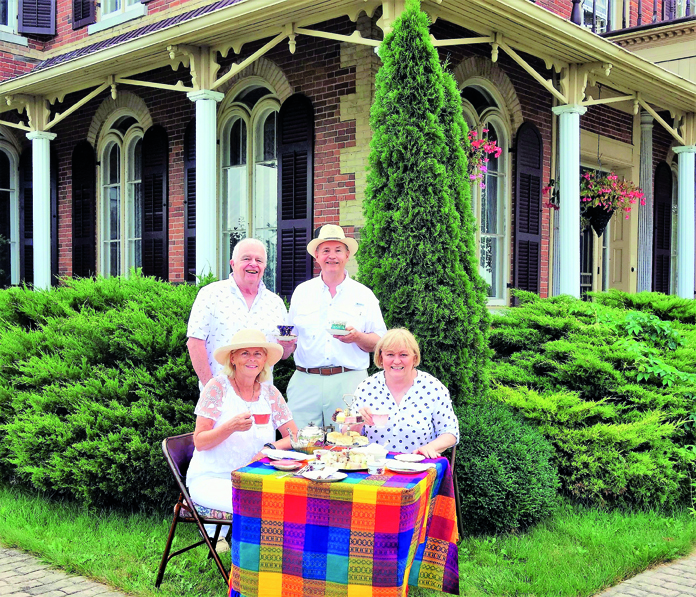 Pick a theme and pack up the china – a fine-dining adventure awaits
Story and photos by E. Lisa Moses
When pandemic restrictions dashed our travel plans last summer, I knew I had to get creative or go crazy. That realization drove me to think way outside our condo box for getting my husband, John Ridout, and me out of the house to breathe fresh air and explore the province. My quest morphed into our Crazy Places to Picnic Challenge – enjoying posh picnics in offbeat locations around southwestern Ontario.
We began by sleuthing online for remote outdoor spots where we could set up a fancy meal. Then we criss-crossed the province, our car loaded with all the makings of a fine feast – delicious food and a picnic blanket, of course, along with good china, silver, crystal, fine linen napkins and even a floral centrepiece.
Sometimes dog-walkers, hikers and families stopped to stare at our repast – and vowed to emulate what we were doing.
Our first foray was a colourful Easter brunch 12 metres up on the Bannister Lake observation tower in Ayr. Festive touches included a potted Easter lily and pink bubbly in champagne flutes. The main course was lamb pops; sides were Ontario wild rice pilaf, asparagus spears and carrots. Dessert was miniature French macarons.
The success of this first escapade encouraged me to attempt more elaborate, themed meals. One caveat was that whatever food we brought could be eaten cold.
The most complex spread was a tasting menu celebrating the Gilded Age: oysters on the half shell; potato soup shooters; roast quail on rice pilaf; sides of heirloom carrots, prosciutto-wrapped white asparagus and Waldorf salad. Exquisite petits-fours rounded out the repast.
The Gilded-Age setting was the 140-year-old ruins of Wiarton's 17-room Corran mansion, once filled with oriental carpets, bearskin rugs, a marble bath and extensive library. The remains sit on the Spirit Rock Conservation Area on Georgian Bay where families and pets can walk the Bruce Trail, play on sandy beaches and swim in crystal-clear waters. Of course, kids also love to visit the statue of Wiarton Willie in town.
( https://visitwiarton.ca > See&Do > Attractions )
But this is only one of many historical settings that work for intimate alfresco dining. The Grand River Railway Trestle Bridge, built in 1909, has been converted into a pedestrian bridge that is now part of the recreational Aboyne Trail between Elora and Fergus (www.alltrails.com/trail/canada/ontario/aboyne-trails). The base of the bridge became a riverside hideaway for our picnic of fusilli salad and fruit.
In Cambridge, we nibbled on a charcuterie plate at the Blair Sheave Tower, built in 1876 on Old Mill Road next to a rushing stream.
In St. Jacobs, we hitched a ride in the first-class lounge of the historic Waterloo Central Railway train (https://waterloocentralrailway.com). After a comfortable 90-minute journey through Mennonite country, we laid out our spread at the train yard. There, volunteer engineers and mechanics restore old rail cars and engines, and regale sightseers with their knowledge of locomotives. In a nod to Orient Express menus, we dined on herb-crusted roast turkey breast, Moroccan golden beet salad and quinoa tabbouleh.
Near Dunnville, the No. 6 RCAF Museum recalls the Second World War, when the airfield was a training school for the British Commonwealth Air Training Plan. In 2008, it served as a film set for some scenes in "Amelia" starring Hilary Swank, Richard Gere and Ewan McGregor. They would have enjoyed lunching with us under the Harvard aircraft on display there. We served wings, corn on the cob, coleslaw – and plane-shaped chocolates.
The museum is open to the public, and visitors are encouraged to explore the property (www.rcafmuseum.org). A seven-minute drive down the road is the 190-hectare Byng Island Conservation Area – a family playground for all ages. (Search Byng at www.grandriver.ca )
The 1860s-era Cottonwood Mansion in Selkirk was a fitting venue for our Victorian afternoon tea, which doubled as a birthday fête for my brother George Minow. Traditional English finger sandwiches (egg-and-cress, smoked salmon, cucumber), scones and specialty sweets were quite at home on an antique tea service borrowed from our neighbour Barry McIsaac. Battenberg lace napkins supplied by George's wife, Lori, were a suitable touch ( https://cottonwoodmansionmuseum.com )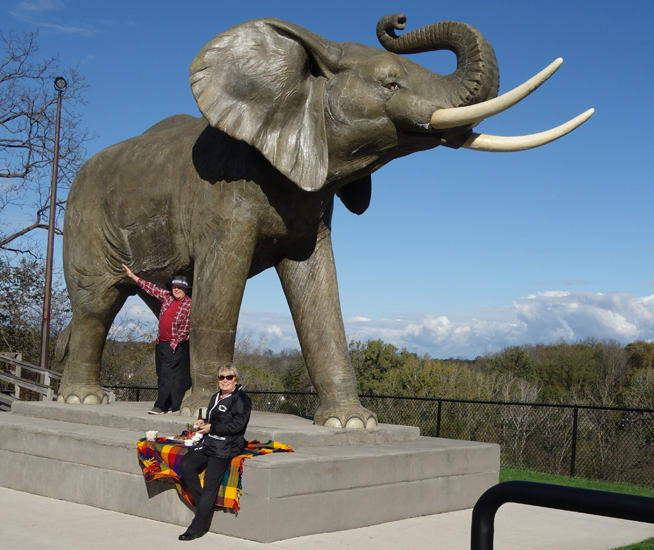 During a visit to St. Thomas, we stumbled upon the life-sized statue of P.T. Barnum's Jumbo the Elephant. Erected in 1985 to commemorate 100 years since the gentle giant died saving a smaller elephant from an oncoming train, it towers over a valley in the Railway City (www.theelginmilitarymuseum.ca/jumbo.html).
We returned a few weeks later packing a circus-inspired picnic of Schneiders "Juicy Jumbos" hotdogs, a candy-stripe beet salad and popcorn. A VQA Riesling from the local Quai du Vin Estate Winery helped it all go down. Afterwards, we toured the Elgin County Railway Museum and the Railway City Brewing Co., and then popped down to Port Stanley for some beach time.
Hearts in hand, we took a buffet to the Canadian Raptor Conservancy in Vittoria, where 200 well-trained birds of prey show off their prowess (https://canadianraptorconservancy.com). After a spectacular photo session organized by owners Shauna and James Cowan, we set up our piri-piri chicken, Mediterranean potato salad and Portuguese custard tarts, along with an excellent libation from the nearby Hounds of Erie Winery. Shauna enlisted Frodo, a three-kilogram, 70-centimetre-tall Eurasian eagle owl, to keep an eye on us.
At Borer's Falls on the Niagara Escarpment high above Hamilton, we laid our blanket at the upper edge of the curtain waterfall, which drops straight down for 15 metres (https://tourismhamilton.com/borers-falls). Salad from locally foraged dandelions and fiddleheads, topped with poached salmon on a bed of Ontario wild rice, was an ideal seasonal lunch. A sauvignon blanc from Peninsula Ridge Estate Winery down the road was a perfect pairing.
The wheels are in motion for this summer's quest. We'll take the grandkids to some new stops and meet up with friends at others. We'll hit the German Mill ruins in Cambridge, Point Abino Lighthouse in Fort Erie and Screaming Heads in Burk's Falls. After that, we'll boldly go where perhaps no one has picnicked before. Because we know that in Ontario, the sky's the limit.