Modern Canadian Renaissance Artist
By Jane Pinzhoffer | Photography by Alisha Townsend
Dayna Manning, singer-songwriter, producer, sound engineer, author, and mentor, is between projects. "I'm always in either a writing, recording, or production phase, and right now, I'm heading into the writing phase. I know they'll be another album, but I don't know what it will be like."
Dayna is known for her crystal-clear vocals and songs that intertwine Canadian history and lore. Though her music is often categorized as folk or pop, Dayna's last album, Morning Light, was her first foray into the genre of chamber folk. It is a style that embraces gentle finger-picked acoustic guitar music—Dayna's preferred guitar method.
Morning Light was recorded in Stratford in 2019, and Dayna received a Producer of the Year nomination from the 2021 Canadian Folk Music Awards for it. The album features homegrown talent in almost every role. The lineup includes Andrew Chung on violin, Derek Conrod on French horn, Laura Chambers on flute, and Ben Bolt-Martin on cello, who also arranged the album. "This is my classical family. Meeting Ben sounded like home. It's a very folk-based style that went well with my voice, and I really love the simplicity of the music," says Dayna. "I was broadening myself. It was an album that was easier to simplify and play live. It's when I started to think of myself a '100-mile artist. Telling stories about what's around me. I realized how many amazing musicians live in Stratford. Derek Conrod, French horn player for the Stratford Festival and the National Ballet, lives around the corner from me," says Dayna.
Of course, Dayna hasn't been doing much touring lately. Like most musicians, she had to pivot when pandemic restrictions prevented audiences from gathering indoors.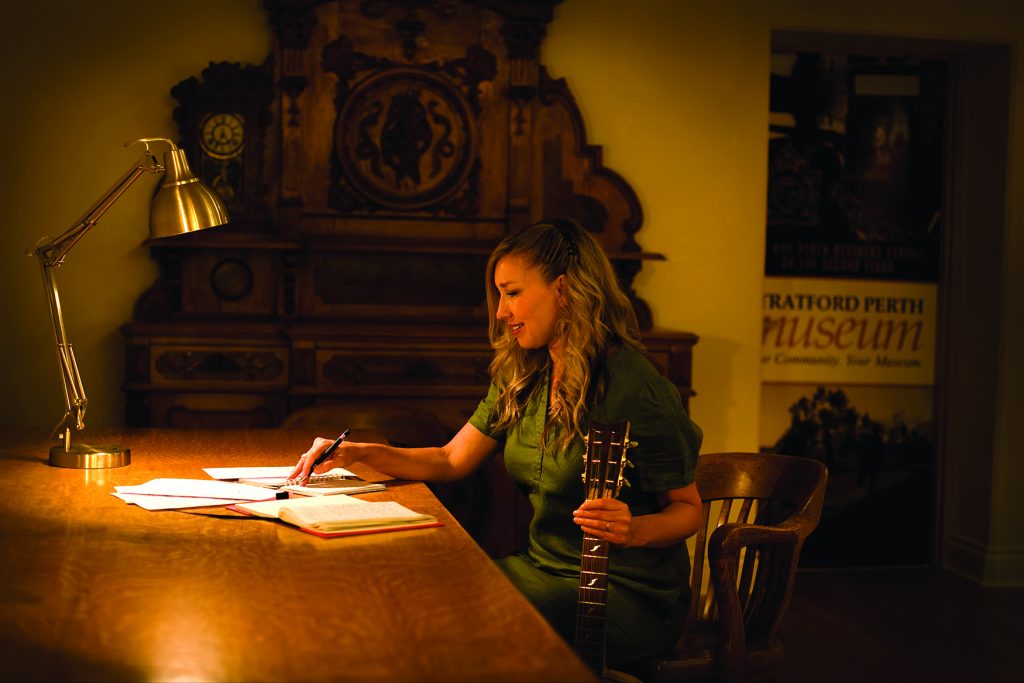 "I had never done any live streaming before, but as soon as the pandemic started in March 2020, I began playing songs on Facebook to lighten the mood," says Dayna. She also performed an hour-long set at Revival House live-streamed on the City of Stratford's Facebook page for Canada Day. In March, she played a virtual and in-person event with the Chamber Ensemble hosted by the Moose Jaw Cultural Centre.
During the pandemic, Dayna spent time making videos to accompany her songs. O Snow, her tribute to the snow day, was filmed any time there was a beautiful snowfall throughout winter 2021. You, You, You, celebrates all things Stratford through local scenes and stars Colton Curtis as a modern-day Puck. It offers the first glimpse of the Tom Patterson Theatre, where Dayna will be performing live this summer. King of the Background is an ode to Stratford-born Richard Manuel of The Band, and the video for When I Love You was released just this past February.
A native of Stratford, Dayna grew up surrounded by music, her mother played clarinet, and her father, a music teacher, played trumpet. Dayna was singing and playing both the guitar and keyboards at a young age. Landing gigs and open-mic nights soon followed. "I performed live a lot. I was fearless that way and loved trying out my songs in front of people," says Dayna.
She was just 17 when she opened for Burton Cummings in 1996, and by the following year, she was recording her debut album entitled Volume One, which was nominated for a Juno award. Dayna had a chance meeting with Sean Ono Lennon at Lee's Palace in Toronto when she was opening for the Pursuit of Happiness. "I was on stage when he came in," says Dayna. "He was playing there with Yoko the following night and checking out the venue. We started talking, and he wound up playing guitar on my first album."
Her second album, Shades, was recorded at Cello Studios in L.A., the legendary studio once known as Ocean Way, where the Beach Boys recorded their seminal album, Pet Sounds. Shades, produced by Jim Scott, had worked with the Dixie Chicks and the Red Hot Chili Peppers.
"As a teen, I listened to Tom Petty, and I also loved symphonic rock like Metallica and Rage Against the Machine," says Dayna.  "Volume 1 was an acoustic album that crossed over into rock and pop. People didn't know where to slot the first album. The second album was simpler, best described as Americana. It had some famous players but that genre didn't speak to me. It felt like the wrong place for my heart to be."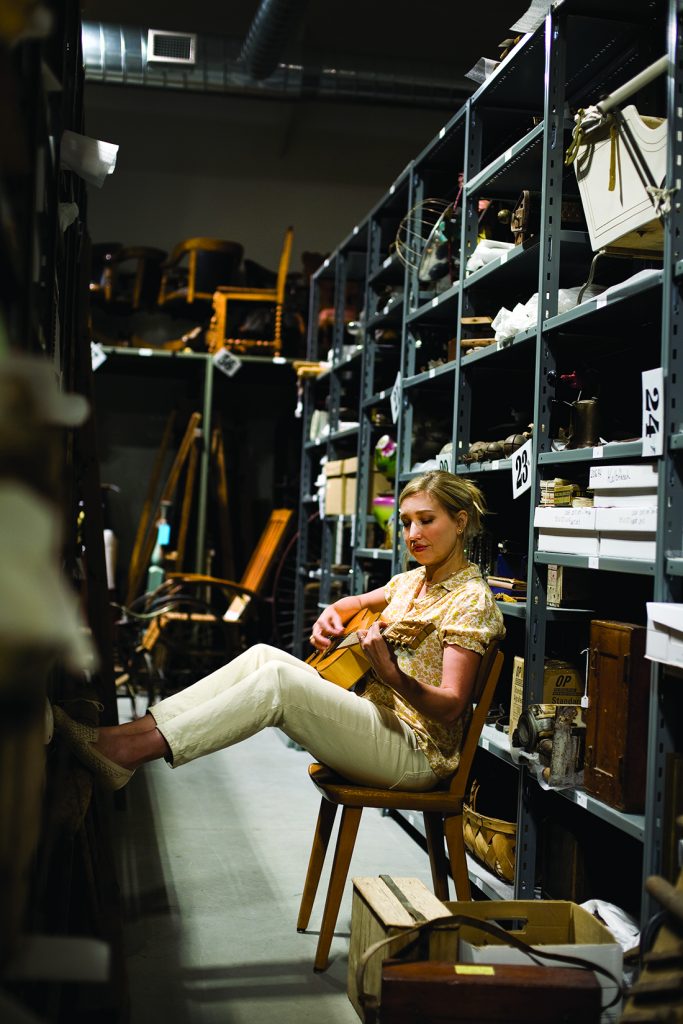 In 2006, Dayna coproduced and engineered her third album, Folkyo, and recorded it under her own label. "Although I loved this album, production wise, I recorded everything I could imagine on it and it became cumbersome and hard to perform live. This was a good lesson for me and I strove to simplify on future projects," says Dayna.
After hearing about all of the wonderful quirks and tales about Bill Lishman from a friend in 2013, Dayna watched the film Fly Away Home and was inspired to write a song about Canada's own Father Goose, the first person to conduct an aircraft-led migration of birds. "I loved the movie and wanted to write a song about it as if I were Bill. But it wasn't my story, so I called Bill, and he sent me a poem he'd written that I was able to incorporate into the song," says Dayna. "I had the honour of playing it in his home on Earth Day and at Bill's celebration of life when he passed away in 2017. Getting to know Bill and his family was one of the best of my life."
Dayna also mentors young women through an instructional guitar and singing program known as the Folk Army. "One winter, I decided to teach guitar and put out signs around town. I noticed it was almost exclusively little girls signing up, often from families who came to my shows. These lessons turned into a camp that focuses on communication, confidence, kindness, the Earth, and the environment," says Dayna. "The guitar is hard to learn. There are a lot of things you have to do all at once. I had one girl who was struggling, but as I got her to write songs with me, she blossomed. Seeing her transition from a shy girl to a few years later playing her songs in front of her class inspired me to start the Folk Army camp."
In 2019, Dayna released her first book, Many Moons: A Songwriter's Memoir, which includes a forward by Chris Hadfield. "We have a great publisher in Stratford called Blue Moon, and they approached me about writing a book. It's a memoir told through my songs and gives insight into the life of a singer-songwriter. Many Moons has 12 chapters, each titled after one of my songs. It begins with the lyrics and then tells the story of either an opportunity that came to me because of that song, an amazing experience I had because I wrote that song, or an amazing story that inspired the song. I hope it can inspire many people to write their own music." says Dayna.
On Monday, July 18, Dayna will be playing live with members of the Stratford Festival at the Tom Patterson Theatre in Stratford.
"My relationship with the Stratford Festival is what made me want to be a performer. Allowing me to play my own songs at the Tom Patterson Theatre is deeply meaningful to me," says Dayna.
Dayna is constantly evolving and always thinking about the next thing to do. "When I started, half my income would come from cd sales, and it's been a constant evolution of how to survive. What can I draw on, and how can I pull this off? The journey is about feeling inspired by what's around me," says Dayna. "I went to see Jackson Browne and James Taylor last night. It inspired me to work with bass and drums again. As an artist, you never know where inspiration will come from."