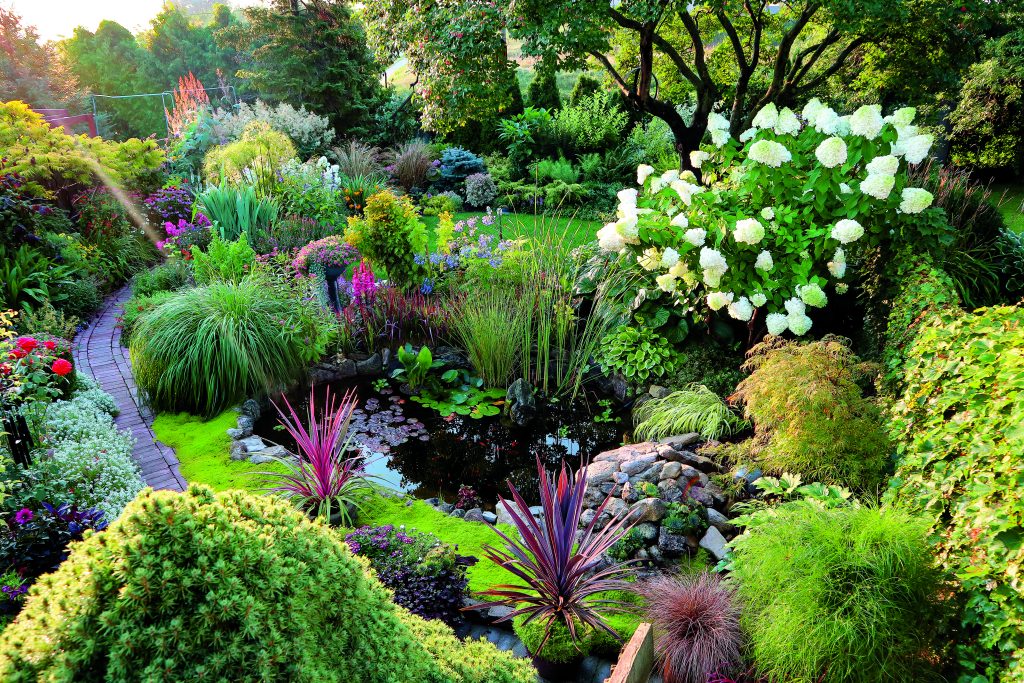 Story and photos by David Hobson
I grow plants for many reasons . . .
to please my eye or to please my soul,
to challenge the elements or to challenge my patience,
for novelty or for nostalgia,
but mostly for the joy in seeing them grow.
I wrote those words more than 20 years ago in my first column for what is now the Waterloo Region Record. Imagine my shock many years later when they started showing up on websites collecting inspirational quotes! It's lucky I am still a believer.
The fact is, my gardening life began long before I began writing about it.
I started out by gardening professionally. That sounds impressive, but it was only a summer job as a "gardener's boy," helping the head gardener at a house in the Yorkshire village where I grew up. Most of my time was spent on my hands and knees, weeding large flowerbeds.
At 13, this hardly endeared me to gardening, but being around plants and in direct contact with the soil for that one summer instilled something in me that has never left. Still, it wasn't until I owned a home of my own that I began to enjoy it. I've now been tending my third garden for almost 40 years. Unlike the large garden at the stately house of my youth, mine is on a typical suburban lot in Waterloo.
Had I realized I'd become tied to this small plot of land, we might have chosen a more favourable location – over the years, the country road behind the fence on the edge of the city has become a busy city street. It was a cornfield before becoming the turf-covered yard that changed very slowly over the first few years.
My focus has been mostly on the rear yard, about 300 square metres now filled with more plants than is rational. But on that one perfect morning in midsummer when it's at its peak, it's a picture of pure joy.
The journey to this point has had its share of loss, heartbreak and often tediousness – good practice for navigating the vagaries of life outside the garden. Gardening slows me down, makes me focus and encourages awareness. I feel I'm a part of nature, rather than separate. Perhaps it's something like Shinrin-yoku, or forest bathing, developed in Japan in the 1980s and an integral part of preventive health care there. Who doesn't feel well after a nature walk? I know I always feel happy and healthy in my garden where I can ignore the bodily creaks.
The evolution of my blank stretch of suburban yard took place without much of a plan, except for individual elements that have managed to complement each other. It's a Three-Rs garden — the bones were mostly put together with old barnboard for a fence, surplus bricks for pathways, and anything that will hold soil as a planter, of which I have about 80 that I fill with plants each year. From the beginning, it's been pesticide-free, and I've used little manufactured fertilizer, except for container plants.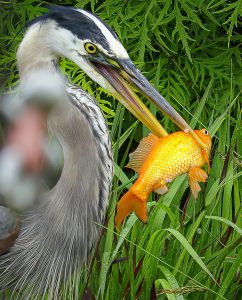 The garden supports me in so many ways that I return the favour by hauling in bags of leaves each fall to use as mulch or compost, guided by nature as I feed the soil. This way it benignly supports all forms of wildlife — some welcome, some not so much, like the heron that snatched goldfish from the pond.
With flowerbeds full and planters crowding the patio, five trellises provide with space for vertical gardening. Clematis race up them, competing with annual vines like Spanish Flag (Ipomea lobata), or in another year it might be a passion vine, the familiar blue version, or an outstanding red species. That original turf has shrunk each year as flowerbeds expand, absorbing the grass. The lawn vanished completely out front, and in the rear it's now barely large enough to support a weight-conscious rabbit.
If there is a style that I ascribe to, I've tried to make a succession garden where there are continuous blooms throughout the seasons. Each day another plant reveals fresh flowers. It begins as the last snow melts in spring when I'm eager to see a glimpse of green as I seek out that first snowdrop. From that day on, as crocuses then daffodils and tulips appear, there's something new every day until the garden winds down at the end of October to become less colourful, though still interesting winter space.
To ensure I find that little joy each day, I grow hundreds of plants — annuals, perennials and shrubs. I start many indoors under lights from seed, and there's a
 special pleasure in seeing a flower bloom in August that was planted under lights in January. Even before the traditional May 24 planting weekend, I'm seeking out something new for the season, hoping to spot a plant I've never grown before. Certainly, there's no shortage at garden centres and nurseries, but especially rare species must be tracked down or grown from seed.
I confess to being a plant person rather than garden designer, and that can be a challenge. I try to squeeze in plants that will complement others in form, colour and texture without creating a palette that has more mismatched colours than a clown convention.
I do make my share of mistakes. I'll sometimes find that a new plant isn't happy where I've placed it – or I'm not – so I'll move it, sometimes more than I should. Meanwhile, I'm forever making notes — trim back the spreading juniper that's crowding 'My Monet,' the dwarf weigela; move the 'Curly Fries' hosta to a shadier spot;  take the Scottish moss in hand before it hides the rock garden.
I have hastened the demise of more plants than I care to admit. That's partly because I challenge the elements by trying to grow plants that have no business living in southern Ontario. I overwinter many tender ones indoors because it's the only way to give them a chance to survive. Not all survive cold storage, but it brings great satisfaction to see something like a Justicia carnea, the flamingo flower, grow larger each year as it would in its native Brazil. It's pollinated by hummingbirds there, but in my garden, it's the flowers of Salvia guaranitica, the anise-scented sage, that are a magnet for our ruby-throated hummingbird.
Besides growing flowers, I like to photograph them, and it's when I'm observing flowers up close that I appreciate how each species is an exceptional work of art. Besides being attractive, many have the bonus of a delightful fragrance. The golden time occurs after the heat of the day has passed. Only a hint at first, then as the sun goes down on a still summer evening, the garden comes alive when flowers that draw nighttime pollinators release their beguiling scents.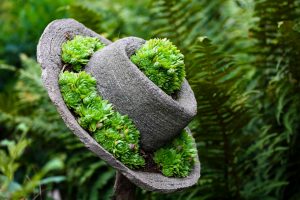 At any time of day, however, my tea roses will always reward those who stoop to sniff. Old as the garden, despite their chronic ailments, I hang onto them out of nostalgia for my father's rose garden. When the revered 'Peace' rose blooms, the rich fragrance awakens fond memories.
Sweetly fragrant or not, exquisitely beautiful or dull, the role of flowers is to attract pollinating insects. With an increasing awareness of their importance, and concerns about the decline of these essential creatures, I do what I can to support them and continue to add more native plants. Among my favourites are Vervain (Verbena simplex) and our beautiful native columbine (Aquilegia canadensis).
Although I enjoy the blazes of colour, I also spend time with less flamboyant plants on the shady side of the garden where the ferns and reliable hostas compete in peaceful shades of green.
Fruit and vegetables aren't forgotten as I patiently await that first tomato of the season as it slowly ripens with a freshness that can't be found in a store. There's always a bounty of raspberries and goji berries while the zucchini excels as zucchini do. These feed the body while the flowers of the garden feed the soul; all are rewards for my time spent tending my garden.
The first thought by many might be that it's all a lot of work, but it never feels that way. I'm an old-fashioned gardener and even when I'm struggling to dig out an old shrub while testing the strength of a shovel — and my back — it always gives me satisfaction.
Work, no. My garden has an energy that it returns to me, engrossing and inspiring me, everchanging as the years and seasons pass while we age together.
David Hobson gardens in Waterloo.
On the web: www.davidhobson.ca