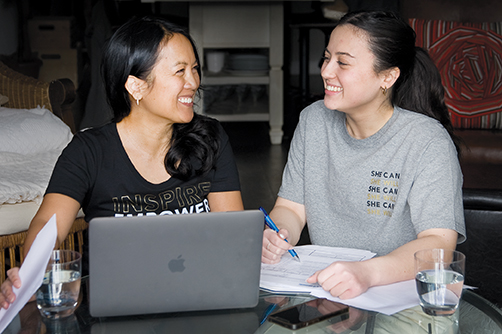 Meet Mother and Daughter Team Candie and Mattie Bower
Story by Jane Pinzhoffer | Photography by Alisha Townsend
Fitness and an active lifestyle have always been a part of Candie Bower's life. Growing up in Guelph, she was involved in recreational and competitive sports like track, gymnastics, cheerleading, and soccer, and later in life, she took up Taekwondo, which led to an interest in kickboxing. She's also a runner who's entered multiple races, including qualifying for and running in the Boston Marathon in April 2016.
Once her two kids were in school, she became a certified fitness instructor and started her own personal training business. She's taught everything from circuit training and kickboxing to Zumba and weight training. Candie's daughter Mattie started dancing when she was three years old and was competing by the time she was five. "It was something I instantly fell in love with, says Mattie. "My Mom and Dad tried to put me in soccer and volleyball, but I immediately went back to dance. Honestly, I never even tried those sports. I just wanted to dance."
When Mattie was 11 years old, she was diagnosed with type 1 diabetes. "I was at a dance competition and was taken to the hospital afterward. I didn't tell anyone I was feeling ill and kept it from my family and friends, but at the end of the competition, my parents knew something wasn't right, so they took me to the hospital. While all that was happening, the only thing I wanted to do was go back to the dance," says Mattie. Her determination and resilience in the face of her diagnosis inspired 'The Mattie Bower Award' created by The Dance Rage Dance Competition, which goes to a dancer who displays the same love, dedication, and passion for dance.
Candie was a busy wife and mother, working full time along with running her personal training business when she was introduced to One Tooth in 2015, but when the chance to become an owner of this activewear, athleisure apparel business presented itself, it was a natural fit.
One Tooth is a small Canadian manufacturing company based in western Canada. According to an old story from an ancient tribe near the company founder's hometown, telling a lie would result in losing one tooth, and he took the unusual name to represent his intention to build an ethical business. They offer high-quality yoga, active, and loungewear, including pants, capris, jackets, tops, hoodies, shorts, and more that are comfortable, stylish, and affordable.
"When I was introduced to the line, it was just great quality pieces. They're not a brand that changes every season, they're mainly a small Canadian manufactured brand, which is why they're so unique," says Candie. "One Tooth Guelph also carries multiple brands such as Lole, Kombi, MPGSport, Prana, BN3TH, BYoga, BMats, Halfmoon, and Epic Blend, just to name a few that are eco-friendly, sustainable, and ethical. We live in this clothing. We know the materials. We know how everything fits in the store. We really make an effort to know our products well and the companies well. We try everything on and get to know the feel. We make a point during training and team meetings of ensuring our staff also know the products we carry well. For example, we have different types of yoga mats and blocks, different thicknesses, sizes, materials, and grips, and we love just getting to know more about the customers, which allows us and them to make informed decisions."
One Tooth Guelph carries mainly women's apparel, although they're starting to carry more men's lines as their customer base continues to grow. "We are independently owned and operated, which allowed us to partner with the University of Guelph Gryphons Athletic Department," says Candie. "Our store carries a lot of the Gryphon apparel and caters to many other teams, organizations, and businesses in the community and surrounding areas with team apparel and accessories. We love supporting local small businesses."
In 2016, One Tooth was one of the first sponsors to sign up for She's Got Game, an initiative with the Gryphons Athletic Department to engage, inspire, and empower women and girls in all levels of sport and beyond, with 15% of their proceeds from this line going to female athletic scholarships. For more information on this initiative, visit shesgotgame.ca
Candie's vision for One Tooth Guelph goes way beyond selling active wear. It's about living an active lifestyle and creating a platform to let people know there's so much out there they can get involved with. The store also offers fashion consultations and does in-store events like Sip and Shops, private parties, Zumba and yoga classes, and more. Last year they brought back their popular OTG Wellness Social, and it sold out almost immediately. The event is all about engaging people throughout the community and surrounding areas on wellness-related topics and fundraising for great causes. The event, held in the parking lot in front of One Tooth Guelph store, featured classes and guest speakers throughout the day, a mini fashion show, vendors, chair massages, snacks, swag bags, and auction prizes. In June, One Tooth Guelph will be partnering with the Canadian Mental Health Association Waterloo Wellington and The Children's Foundation of Guelph and Wellington Free to Grow Program to host this year's Wellness Social event.
The store opened in 2015 in downtown Guelph but moved to the south end of Guelph in November 2019, a much better location with more accessible parking and easy access to the 401. "For four years we did not have an online store because we wanted it to be more community-driven, and then Covid kicked us in the butt to get the online store going," says Candie. "I had no idea how to do an online store. I was on the phone with Shopify for a few hours daily just learning. Mattie and I teamed together to make it work. We had to get creative and reach out to a lot of people to keep the store going through all the closures during Covid. Many customers also reached out to us and wanted us to succeed and keep going! I was teaching many of our elderly customers how to do facetime and then taking them through the store. They would say, 'Candie can you try this on?' We would do porch drop-offs, or customers would come to the door, and I'd run to the change room to try things on so they could see how it looked. It was quite entertaining and very humbling to have the support from so many amazing customers and the community."
"My Mom has really pushed me and really inspired me. Starting the store is what pushed me to study marketing and has gotten me to where I am now. Even my friends tell me how cool it is that we have such a close relationship." says Mattie. "My Mom moved the store right before the pandemic, and she's still here after the pandemic. She didn't let it get her down. As a mother and daughter team, we think a lot alike. We work together to provide fitness fashion and more to build a community as opposed to just being a retail store. People search us out, and so many people refer us to others knowing they're going to have a positive experience. Our team and family work hard and we also have a lot of fun in and out of the store and on our social media platforms."
"The biggest thing for us is we love fitness and fashion and when I opened I didn't want it to be just another store," says Candie. "Because of my background in the fitness industry and Mattie's in dance, I wanted it so that people came to us for our expertise. We've built that community, and we really listen to our customers. The store was based on the premise that it would be more than a store so that we could help people stay active and lead healthy lifestyles, and if you're comfortable in the clothing, that's great too."