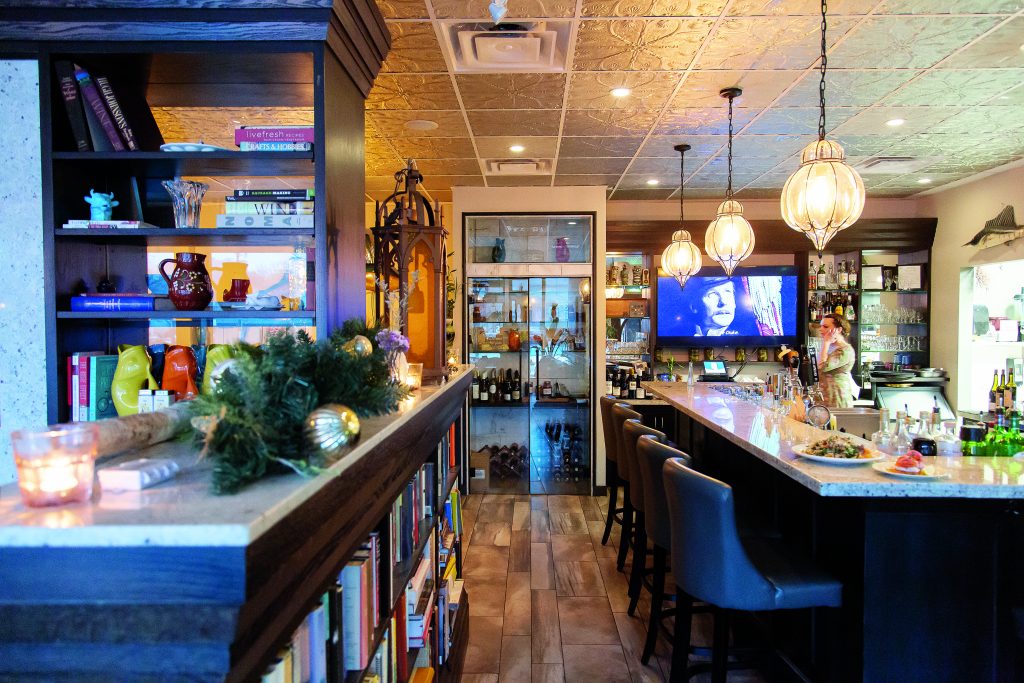 By Jane Pinzhoffer | Photography by  Tomasz Adamski
Public Kitchen & Bar wasn't the first K-W restaurant to serve tapas, but they've been the most successful at getting hungry people to think differently about small sharable plates and the foods that adorn them. Tapas are an appetizer, snack, or small dish in Spanish cuisine, that combine to make a creative and sophisticated meal. Public co-owners Carly Blasutti and her husband, chef Ryan Murphy met while working at the same restaurant. After years in the industry and the birth of their second child, they decided they'd had enough of working for other people and started MamaPapa Catering Co. out of their home. After city bylaws made it impossible to continue running a catering kitchen from the back of their home, the search began for a space to open a restaurant—always part of the plan. "We're both such die-hard romantics we always knew we wanted something more intimate than a catering facility," says Carly." "We knew we wanted to offer the full circle of restaurant service as an important component, and we both love pairing wine with foods."
Ryan had a game-changing meal while travelling in Europe and wanted to bring the spirit of Spain to K-W. Although Public isn't billed as a Spanish restaurant, the idea of an ever-changing menu utilizes seasonality to highlight interesting ingredients from Spain, France, and Italy.  Public Kitchen & Bar opened on Valentine's Day in 2013, tucked away in a strip mall on Lancaster Street between Lucy's Barber Shop and Grandma's Gluten-Free Foods in a spot previously home to a used clothing store. "Nothing made sense about the space, but it really felt energetically correct. The rent was affordable, the landlord was good, and everything felt right for us. Our first stove was my great-grandparent's gas stove, and Kevin from Janet Lynn's Bistro gave us his fridge and a lot of equipment when he moved from Uptown Waterloo to Belmont Street. We were just scrapping to make it work, but when I look back now, it feels like a sweet nostalgic memory," says Carly. They'd seen several employers try to sell tapas in their restaurants but without much success. "I think the city wasn't ready for it. There's a large educational component with serving tapas. It's always been our greatest challenge," says Carly.
From the start, every day was a struggle. After six months of near ruin, everything changed when they received a rave review in the K-W Record.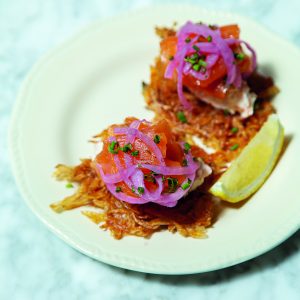 "It was like night and day. Suddenly the phone didn't stop ringing. We were booked weeks in advance after that article appeared," says Carly. "It also didn't hurt that by then the liquor license had come through. Ryan's the hardest-working person I've ever met in my life. He never gives up on his vision." There's no question that Chef Ryan's constantly-evolving menu of creative tapas packed with distinct and diverse flavours is the star attraction at Public. "We're too in love with food to not constantly be playing and wondering what is the next new dish we can't take off the menu," says Carly. Special features are often a precursor to what ends up on the menu. It's a real-time way to test dishes out and then dig into the feedback they get from customers. However, there is a handful of dishes you're sure to find on the menu. The smoked salmon from T.J.'s on Yukon potato rosti served with a dollop of cream cheese mousse has been a mainstay since day one, and Ryan and Carly wouldn't dream of taking it off the menu. Patatas bravas is made with chunks of fried potato topped with a spicy tomato sauce, yet the ingredients can vary wildly, and in the last ten years, Public has served up hundreds of variations on this classic Spanish dish. Pot de foie with seasonal preserves, grilled scallops with fennel soubise, or PEI mussels in a white wine garlic cream sauce, whatever's on the current menu, is sure to be made from scratch using the freshest ingredients. Public is also known for its old-world wines, Ontario craft beers, and diverse selection of cocktails. "We put a lot of creative energy into our cocktails. Nothing's complicated, there are not tons of ingredients. The focus is on fresh juices and using high-quality ingredients from all over. The Bee's Knees is made with lemon juice squeezed that afternoon. Freshness is key," says Carly.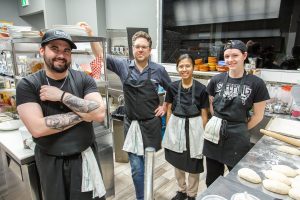 In December 2017, Public Kitchen & Bar moved to a larger space in a plaza at 300 Victoria Street North that seats about 70, roughly doubling that of the original location. A retro-elegant interior, ambient lighting, and an extremely eclectic playlist that often has diners scrolling through the Shazam app to identify the song playing are all vital elements to Public's unique atmosphere and success, as are the friendly, knowledgeable, and accommodating servers. "We're blessed to work with a tight-knit crew who believe in us and love what they're doing. It's a magical perfect storm of getting the elements right, and I think this authenticity comes across to people," says Carly. From the moment the new location opened, they had no trouble filling seats. That is until Covid came along. Like other restaurants, Public was forced to close down, and Ryan and Carly had to shift gears to survive. "Covid brought a focus on family. We went to a bigger format for the menu and started to do family dinners, which worked well for a while, but by the third lockdown, we began a return to the tapas format," says Carly.
The idea for Gord's restaurant within a restaurant was looming in the background before Covid, but was put on the fast track at the start of the pandemic. During Covid, Ryan and Carly served lunches in the restaurant, but the concept of Gord's burgers and classics has evolved into takeaway only. Public Kitchen & Bar's latest dining concept is called Thursday Crush. Tentatively set to run every second week, the idea is to create a 10-course themed tasting feast based on different regions of France, Italy, or Spain. Unsurprisingly, taste excursions to Provence and the French and Italian Riviera have proven wildly successful.