Stunning mountain view revealed the "X" that was one of the clues for a one-week international trip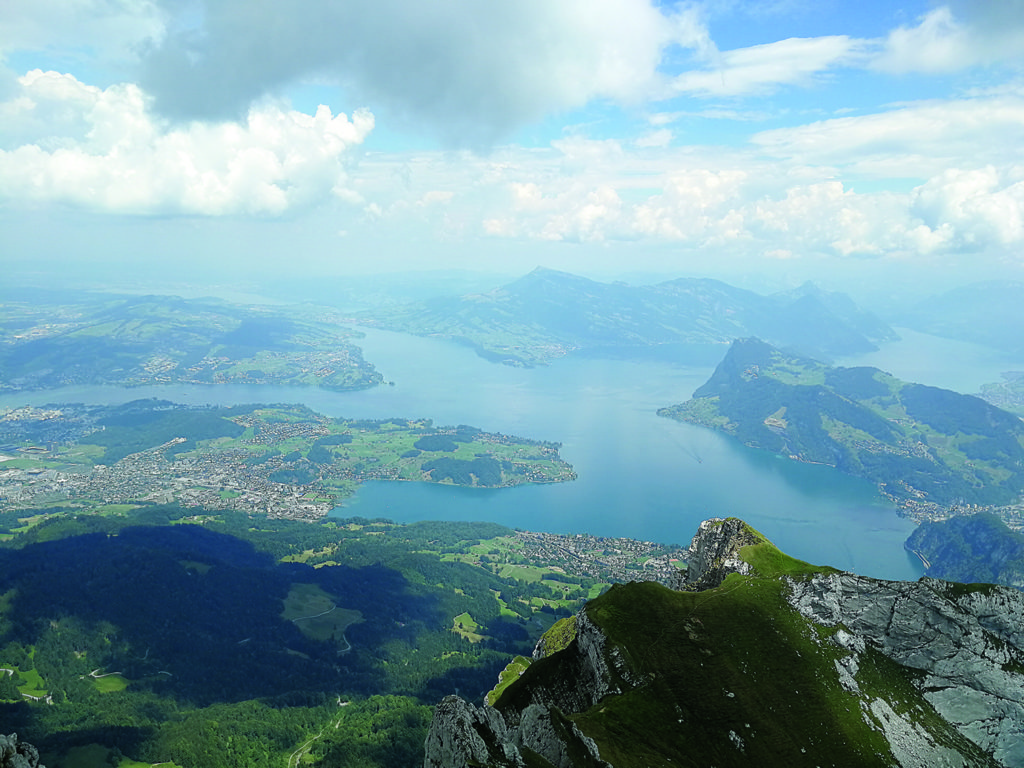 Answer to one of the clues for surprise trip was revealed at the top of a mountain
Story and photos by Lynn Haddrall
I was just hours away from boarding an international flight. I did not know where I was going, or what I would do there. All my travel plans for a weeklong vacation had been created by a stranger and kept secret from me.
What was I thinking?
I have travelled the world and always know where I am going. I'm a meticulous planner. I like to know all my options for sightseeing and events. I research accommodations, weather, landmarks and history.
This trip was different.
I decided to go outside my comfort zone. I was curious to learn more about a travel trend: companies that plan surprise vacations. Could a trip such as this work for a list-making uber-planner?
Yes, it made me anxious. But as my departure approached, I embraced the stress-free feeling of letting someone else do the work. I relished the thought of unknown experiences ahead. I let a new mantra wash over me: be spontaneous.
A few days before departure, I was given packing tips based on weather forecasts. Then the fun really began. I was sent two teasing clues by email.
Clue No. 1: The four "Arms" of this landmark won't give you a hug, but they mark your destination like an X on a treasure map.
Clue No. 2: One of the signature foods of your destination is remarkable not for what's in it, but for what's missing.
If you just read these clues and already know the answer, pat yourself on the back, puzzle genius. I put my brain to work and enlisted relatives, colleagues and strangers to figure out: where the heck was I going?
Could the food be an open-faced sandwich, missing half the bread and popular in Scandinavia?
Could "Arms" be a clue to a transit system, a flag, a coat of arms, waterways, or peninsulas?
My first Google search of Four Arms led me to a scary answer: North Korea! This seemed highly unlikely. I chose not to panic.
Guessing ramped up my anticipation. Part of me wanted to solve the mystery. The other part wanted to maintain it.
Credit goes to Don Lowe for the breakthrough. He's the father of a friend. He made a smart guess at the food clue. I combined his guess with the weather advice: pack for warm days, cool nights and colder weather in higher elevations.
This got me thinking about a country. I Googled satellite maps and found a city on a lake with four waterways forming an X.
That's got to be it, I thought. It matched both clues. On the day of my departure, I opened the final reveal. Drum roll please: Lucerne, Switzerland.
Have you got the food clue yet? It's Swiss cheese, which is full of holes. Weather advice pointed to mountains, also a Swiss thing. And geography pointed to Lucerne.
What I had not expected was that I would also be visiting Zürich, stopping in two cities in one week.
Multiple companies cater to people keen on a mystery trip. I chose the Vacation Hunt because it sells to Canadians and has a user-friendly website – thevacationhunt.com – with interesting testimonials.
An email confirming my booking arrived seven weeks before departure, providing approximate departure and return flight times.
"We've got some great shopping spots coming up for you, and some fantastic sightseeing," wrote Roshni Agarwal and Jeff Allen, the married couple behind the Vacation Hunt.
They love to travel and often took last-minute trips. Agarwal would leave clues to her destination on a whiteboard at work so colleagues could guess her destination. When a friend asked Agarwal to plan a trip and offered to pay for her time, a business idea was born.
The clues are a real hit. You get them through your choice of social media or email.
Planning a trip starts with an online survey to learn more about you and your travel preferences. You can provide general guidelines like: "I want to go somewhere warm and beachy," or "I love European culture and castles." You can also be specific about places to avoid.
I told them I was travelling alone and did not want a beach vacation or cruise. I wanted an international trip to combine physical activity, such as walks and hikes, with fine dining, cultural excursions and shopping.
I wanted to go somewhere I had never been and provided a long do-not-fly list. I did not reveal I was a journalist who might write about it.
Price points vary. You can book a short stay in the U.S. starting at US $750 per person or an international trip starting at US $1,850 per person.
It is a leap of faith to hand over passport information and personal details to a stranger and expect them to book a vacation based on what they think you might like. Agarwal and Allen responded quickly to my queries throughout the process.
As my departure approached, I waited for a package in the mail containing my tickets, itinerary and secret destination. I had thought about waiting until the airport to rip it open. But there was a small glitch.
Although the package was mailed in plenty of time and was being tracked, it had still not arrived the day before my departure. I alerted the company and they sent email attachments. I was already in Switzerland by the time the package reached my mailbox. The only item I did not get before departing was a pocket Frommer's guide on Switzerland.
My package included:
Round-trip Air Canada tickets and first-class train tickets;
Accommodations at three hotels;
Daily detailed itineraries and maps;
A reservation at a restaurant on my first night in Zurich;
A voucher for a bus trip through northern Switzerland and a Maid-of-the-Mist-style boat trip to the Rhine Falls;
Numerous links to helpful websites and resources;
Tips on transportation, currency, electronics and hotel city taxes.
A useful suggestion was to participate in free walking tours, guided by locals who are passionate about their hometowns. I joined tours in Lucerne and Zürich. The guides were entertaining, knowledgeable and multilingual. There are four official languages in Switzerland (German, French, Italian and Romansh), but everyone I met also spoke English.
Each city walking tour is organized independently, but they share a common website – www.freewalk.ch.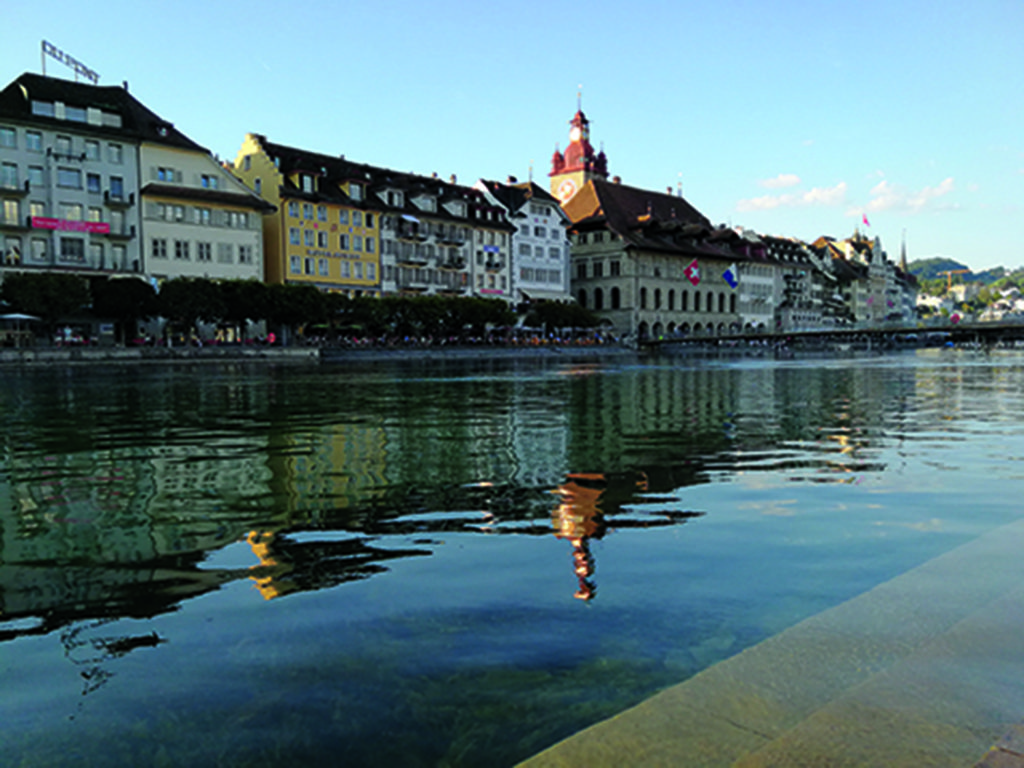 Simon Müller is finishing his master's degree in history at the University of Lucerne. He co-founded the Free Walk Lucerne tours as a hobby. Tour leaders are not paid but accept donations at the end of the tour.
"I love Lucerne, its beauty and its history, and I love to share that passion with people from all over the world who not only visit us, but also want to learn something about this place," Müller said after the tour. "Everyone should be able to see the city through our eyes – the eyes of a local. That's why we also do the tours off-season, when the streets are calm and the hotels half empty."
The two-hour walking tour with Müller started at the train station and covered city sites such as the Chapel Bridge, the old town and the Lion of Lucerne, a rock carving that honours the sacrifice of Swiss Guards who were massacred defending the Royal Family in the French Revolution. Mark Twain called it "the saddest and most moving piece of rock in the world."
Müller shared tidbits from the viewpoint of a Swiss citizen. A small sample:
Swiss citizens vote four times a year on a variety of issues. "The government has to ask us for approval if they can make those laws."
The city government brews its own beer. The drinking age is 16.
Many historic parts of Lucerne were renamed to "sound fancy." The wine market is where they sold fish.
You can drink safely from all public water fountains. Officials must mark fountains that are not drinkable. Locals and tourists fill their water bottles with the cool, refreshing water.
Women only got the vote in Switzerland in 1971, and the final canton held out until 1991.
Almost every Swiss household has a fully automatic assault rifle. After completing mandatory military service, citizens take their rifles home. "Switzerland has one of the highest gun rates in the world. We also have one of the lowest crime rates in the world."
I asked Müller for tips for travellers visiting Switzerland for the first time. He offered advice that resonated with me during the week:
Take advantage of public transportation: Easy and convenient. Lucerne Hotels give you a Visitor Card for free buses and discounts on activities such as lake tours. A Swiss Travel Pass provides full access to the public transportation network, including boats and some mountain lines. Download the SBB App. The Swiss take pride in being on time. "We are the land of watches for a reason here. We mastered the art of using them too," says Müller.
Be flexible: Visiting Switzerland involves a lot of outdoor activities and weather can change quickly. Bring sunglasses and an umbrella. "It can be sunny and almost summer-weather, while it can be cold and winter-like, sometimes even on the same day. But I guess I don't need to tell this to a Canadian."
Off-season travel: Nice weather in the summer season means crowds and lineups. Winter offers new possibilities – hiking gets replaced by skiing. "Instead of swimming in the lake, drink mulled wine at the Christmas market."
Financial planning: Switzerland is expensive, especially restaurants. Even non-tourist locations are pricey. "Eating out in restaurants is not as common here, as we mostly only do it on special occasions," says Müller. "You should be aware of this before you come here. It's not a cheap country, but the beauty is priceless."
Talking to the Swiss: English is commonly spoken, especially in tourist areas. "We love to help, but the Swiss are very reserved, not just towards tourists, but towards everyone, even towards each other – so don't take that as an offence. Unless you make the first step, it will be difficult to meet Swiss people and talk to them and, even then, we are horrible at small talk."
My trip highlight was a full-day excursion to the top of Mount Pilatus. It started with a one-hour boat ride on Lake Lucerne to Alpnachstad, a town near the mountain, followed by a 40-minute train ride on what is billed as the world's steepest cogwheel railway.
The views are spectacular on the way up. The only sound came from the gentle ringing of bells from grazing cows.
There's lots to do at the observation area, including live performances of Swiss music and dancing, food, and a gift shop. Medieval folks thought dragons with healing powers lived in the mountain so there are lots of dragon-themed gifts. You can also buy "previously worn" cow bells.
At the top, reaching 2,128 metres, I was finally able to see the X referenced in my first clue. Spectacular.
You can return the same way or opt for separate gondola and aerial cableway rides, followed by a short walk to a public bus stop in Kriens and back to the Lucerne train station. Swiss performers sang in our gondola. If you have time between gondola rides, sample some parkour with rope climbs and aerial challenges.
Another, less physical highlight was the Rosengart Museum in Lucerne, a short walk from the train station. It has stunning Picassos as well as works by Chagall and some Impressionists. One room is devoted to candid photographs of Pablo Picasso taken by David Douglas Duncan.
It is housed in a former bank dating from the 1920s. A video presentation in the wood-panelled boardroom tells the remarkable story of Angela Rosengart and her father, an art dealer who befriended Picasso.
I spent my last days in Zürich, the business capital with high-end shopping. A day-trip took me to the Rhine Falls, an exhilarating experience that left me a little damp. But I was dry by the time I wandered the medieval streets of nearby Stein am Rhein.
Throughout my trip, friends and family followed me on social media after I had enlisted them in guessing my destination. It turned a solo excursion into a group experience.
It was exciting not to know what to expect and liberating to shed the long hours of planning I usually put into a trip. Once I gave that over to someone else, it was a stress-free experience that, thankfully, did not involve visiting North Korea.
Agarwal laughed about that. "I think that's what a lot of people are concerned about. And I'm like, why would I send you there? Honestly, from a business perspective, we're not going to send you anywhere that's not a good business practice."
I would absolutely travel this way again. In fact, I'm already not planning my next trip.
Things to Consider before booking a mystery trip
Do your homework. Research the company. Do they specialize in the kind of trip you would like to take? What do other travellers say about the experience?
Be honest with yourself. If you're not comfortable with the whole trip being a surprise, choose a destination and let the travel company plan the itinerary. Start small. Get a feel with a shorter excursion, perhaps a weekend trip to the U.S.
Identify your must-haves. A successful trip relies on lots of input from you. I prefer direct flights and paid more to avoid connections. I didn't request air-conditioned accommodations. Only one of my three hotel rooms had air conditioning, which might have been an issue in hotter weather.
Travel light. I did not know I would be staying in three hotels in two cities while travelling by train. It helped to have just a carry-on and small backpack.