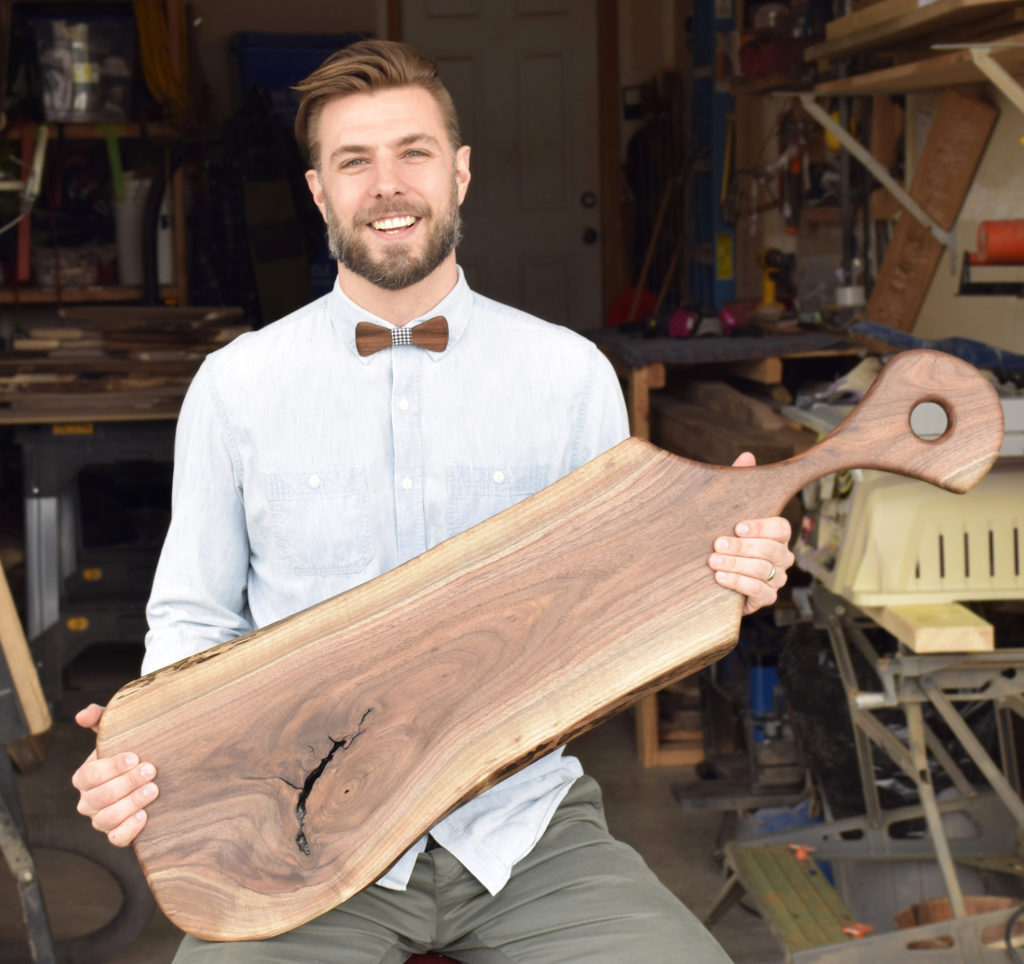 Derrick Stryker wears one of his signature wooden bowties while holding a charcuterie board he created in his Breslau garage turned workshop. – Photo by Declan Outhit
Lynn Haddrall, In Grand Style
Beauty emerges when woodworker Derrick Stryker gets bored. His best ideas take shape when he's surrounded by stories embedded in reclaimed wood.
It's hard to believe he could ever be bored. Stryker works full time as the athletics co-ordinator for the Waterloo Catholic District School Board. He has a busy family life with his wife, Kirsten, and their sons, Sullivan, 8, and Owen, 6. They also have Gus, a lively Newfoundland poodle-cross.
It's a lot to keep him occupied. Yet he still needs to create with his hands. He feeds that need through his business, Stryker Woodworking.
"I'm a guy who can't sit still. You make time for things you're passionate about, " Stryker says. "I don't know if it's a stress relief or a getaway, but obviously my kids and family are my priority and my job that puts food on the table is a priority, but you also have to put yourself in there too and keep yourself healthy, your mind and body. That's why I do it and how I fit it in."
Stryker launched his creative passion partly out of necessity. About 10 years ago he needed a table for his Toronto apartment. So, he built one. In university, he built a poker table for his buddies.
Recently he was pondering what to make next, in the former garage in his Breslau home that's now transformed into a workshop. His mind wandered to an upcoming wedding. What could he wear that would be stylish but different? How about a wooden bowtie?
He made one and wore it. It was a hit. Guests wanted one too. Now he produces them for wedding parties, ringbearers and fathers-of-the-bride. He has even had a request for dog bowties.
A recent creation emerged during the March break from school. "I was just sitting in my shop for half a day and looking around thinking 'what can I make?' "
Three examples of Derrick Stryker's creations – wooden bowtie beside his distinctive Stryker Woodworking brand (top), planters for succulents (middle) and hex shelves (bottom). Stryker does custom work, producing everything from coffee tables and fireplace mantels to wooden barbecue scrapers and cheese boards.
– Photo by Declan Outhit
He points to some planters. "That's where those things came out of. They're so new, I don't even have a name for them, they're like succulent planters, I guess."
Stryker, 35, has always been a handyman. When he's not creating, he's solving problems.
"If something's broken around the house, I'm probably going to take a stab at it first – before I hire someone to do it right, " he says with a hearty laugh. "I like creating things, mostly, I'd say."
His wife suggests ideas. They met at university. After graduating, they moved to New Zealand for a year. "I just followed her along there. I asked her to marry me on the way over in Fiji."
They later returned home to Waterloo Region, nearer to family. His grandfather lived in Breslau and Stryker's children go to the same school his uncles and aunt attended.
Stryker seeks Kirsten's feedback and quips that she inspires him "by telling me to make things for her."
Their Breslau home is tastefully accented with his finished products – end tables, wall art, and samples such as massive charcuterie boards and wooden barbecue scrapers.
"Wood has never gone out of style, " he says. "You can see wood all over the place or more subtly, but it's always kind of there I think. In that same breath, you can go into a wood cabin and it's all wood, but it's all different, so eclectic; it's a completely different style, but roughly the same thing."
Stryker posts his creations on Instagram (@strykerwoodworking) and appears at Etsy shows (etsy.com). Prices depend on size, type of wood and uniqueness of the product. Bow ties are $20 for children and $25 for adults. Charcuterie boards range from $40 to $150.
Woodworking runs in Stryker's extended family. His wife's grandfather made a clock they display proudly in their home. The double S logo that Stryker attaches to his products reflects the common initial the couple shares in their surnames – Stryker and Snow.
Andrew Bates has known Stryker since they were kids. They competed against each other as young athletes. Both attended Brock University, living together for three years.
"When he puts his mind to something, he's very passionate about it. He's just a well-versed guy. He's an athletic guy. He's a family guy. And he likes to work with his hands. Even in university he was building, " says Bates, athletics and recreation manager at Conestoga College.
Stryker completed three projects in the Bates' home – a custom bar top, a huge wooden mantel for a new fireplace, and floating shelves to display family photos.
Bates and his wife suggested concepts for Stryker. The results thrilled them.
"I definitely trust his style, " Bates says. "He likes to experiment and I'm really happy that he's experimenting with his wood because it seems to be working for him. He's not overly one-dimensional where he makes one or two things and that's kind of it. He's open to anything that people can come up with."
The unique pieces in the Bates' home reflect the character of the wood. Some of that wood is more than a century old.
Stryker prefers salvaged or reclaimed wood. He likes to work with the live edge, the wood's original edge, because it reveals more personality. He fills his workshop with various types and ages of wood.
"I like the story of where the wood comes from, " says Stryker. He points to a stack of underground wooden pipes he salvaged. In another corner there's wood from a 130-year-old house that was being demolished.
Charcuterie boards are popular right now. Stryker makes them in different sizes, some up to five feet long. "He showed me a picture the other day of one that's like the size of him. And he's not a small guy, " says Bates.
Stryker starts the process with a rough-cut piece of wood, strips the bark, works on a layout for size, planes it for a smooth finish and adds a handle hole for hanging. There's sanding and a food-grade oil finish. The distinctive logo is the finishing touch.
He loves his woodworking projects, but Stryker is equally passionate about his day job. He knows how important it is for student athletes to get proper coaching. You might think he had an easy time with youth sports at his height of six feet, six inches. But he recalls a dearth of strong coaches when he was growing up. It wasn't always fun for him.
Stryker wants to change that and focuses on giving coaches the skills they need to get youth involved in healthy, fun exercise, regardless of skill level.
"I'm still super passionate about sport. I love engaging kids in physical activity. Every good coach produces 100 good kids."
Long term, Stryker dreams of buying land and building a cottage to enjoy with family. For now, product ideas percolate. The summer sun is shining on his workshop, but this woodworker is already thinking about Christmas. Custom tree ornaments, anyone?
Lynn Haddrall's column appears regularly in Grand.