By Jane Pinzhoffer | Photography by TOMASZ ADAMSKI
Back in 2014, Cam Formica and brothers Jordan and Nolan van der Heyden were just out of university and brainstorming business ideas. The three friends, who grew up together in Ayr, shared a love of whisky, and realized that while craft beer was booming in Ontario, craft distilleries hadn't caught on the way they had in the U.S. With the belief that people were looking for more variety in liquor and wanted to buy local over big-name brands, the plan was to get ahead of the craft distilling wave before it started.
Although they had no formal training or family background in the distillery business, they did have the van der Heyden family's 100-acre farm on the outskirts of Ayr, which they named Willibald. The middle name of the van der Heydens' grandfather seemed to fit the unique nature of their business.
"When three guys in their 20s walked into the township office to get approval for a distillery, they looked at us like we had three heads," says Cam. "It was like, well, good luck. I think we were curious and naïve enough to make it work."
Admittedly, it took a giant leap of faith to go into debt, purchase German distillery equipment, deal with planning setbacks for zoning, licensing, and building permits, and then wait out two years of construction before they could even begin developing any product.
They started making whisky in May 2016, but to be called Canadian whisky, it needs to be aged a minimum of three years. While waiting, they switched to making gin. Starting from scratch, doing a lot of research, experimentation, and sampling, it took eight months and around 100 distillations to get it right. The result was an amber-hued, barrel-aged gin infused with botanicals, a potable that's almost a gin-whisky hybrid.
"All gins are made with juniper, and most have coriander to increase the citrus notes and Angelica root to bring the flavours together. From there, we wanted to add a modern twist and came up with adding grapefruit peel to the complexity of cardamom and caraway and aged it after layering processes, so it's dynamic and complex," says Cam. "When we were finally able to open the retail space, it had been three years since we started. The gin was just ready and we were labelling right before we opened. The first weekend was crazy busy. Ayr is a small town, and there was a lot of excitement. But that tapered off, and we realized we needed more products."
Next, they developed Pink Gin, which gets its unique colour and balance of flavours from fresh Niagara red wine casks. It's infused with Willibald Raw Honey made from the 28 beehives on the farm that produce 5,000 pounds of honey a year.
By April 2017, the century barn was converted into a distillery tasting room and retail store, but at the time, distilleries weren't allowed to offer mixed drinks and it was hard to get people to drive to Ayr just to drink straight gin. They knew they needed another element to attract people.
In September 2018, they switched the tasting room into a restaurant, and things really picked up. The dining room seats about 40 and retains a rustic charm that overlooks lush pastures where cows graze. The menu has a decidedly farm-to-table focus, largely using locally sourced ingredients. Head chef Byron Hallet creates seasonal fare, but the installation of a wood-fired oven means pizza is always on the menu. Check out Chef Byron's delicious Focaccia recipe you can make at home on page 28.
The brewery opened in 2019 and added another lifelong friend to the ownership. "Joe Freund was another one of our good friends we'd stayed in touch with. He'd been brewing beer in Michigan, L.A, and Copenhagen and had been thinking of moving back to the area. He called and said, do you want to do something? We had the space; it was a natural fit. We said, let's do it," says Cam.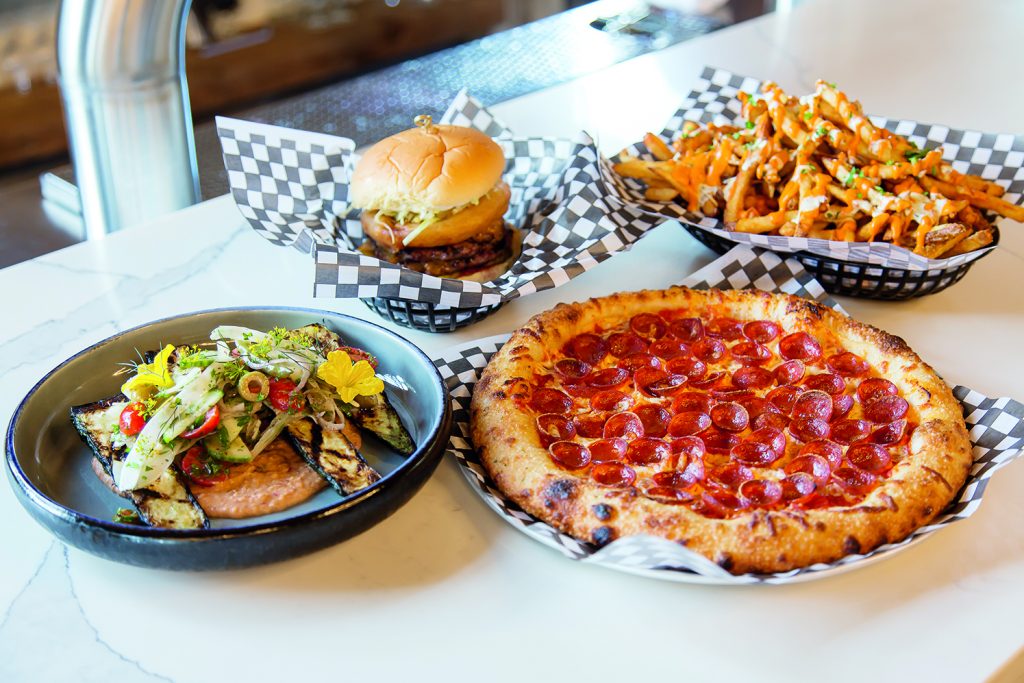 By this time, the restaurant was getting popular. Fridays and Saturdays were booked weeks in advance. And then Covid came along and shut everything down. "We thought, we're screwed, says Cam. "After a week of panic, the funniest thing happened. Our business transformed during Covid. Suddenly, everyone was sitting at home wondering, what am I going to drink today? Our orders went from five a month in February 2020 to 1,200 to 1,400 a month by the end of March. We were getting exposed to so many customers and weren't prepared for the number of people discovering us online."
Canned cocktails were another game-changer. While in Florida during the pandemic, they had the idea to make seltzers and came up with recipes they liked that were light and refreshing without being too sweet. Willibald is the only private distillery in Ontario with the ability to can their own cocktails. Flavours like Strawberry-Rhubarb, Watermelon, and Pina Colada are made with Willibald Vodka and have been wildly popular. The first batch sold in three days, the second in 24 hours, and the third in eight hours.
By December 2021, they were finally able to release their first 500 bottles of Willibald Whisky. In a way, the release brought the business full circle since it was a love of whisky that steered them toward distilling in the first place. It sold out online in seven minutes.
As Willibald evolves, the focus continues to be on flavour. "An interesting thing about spirits is that people's perceptions can be very rigid," says Cam. I quit my full-time job to work as a bartender before we opened, and it seemed customers would order the same things because they didn't know what to ask for. We're trying to get people away from this and think differently. It doesn't have to be the traditional ingredients. We want to expose people to our brand and get them to try alcohol outside their comfort zone."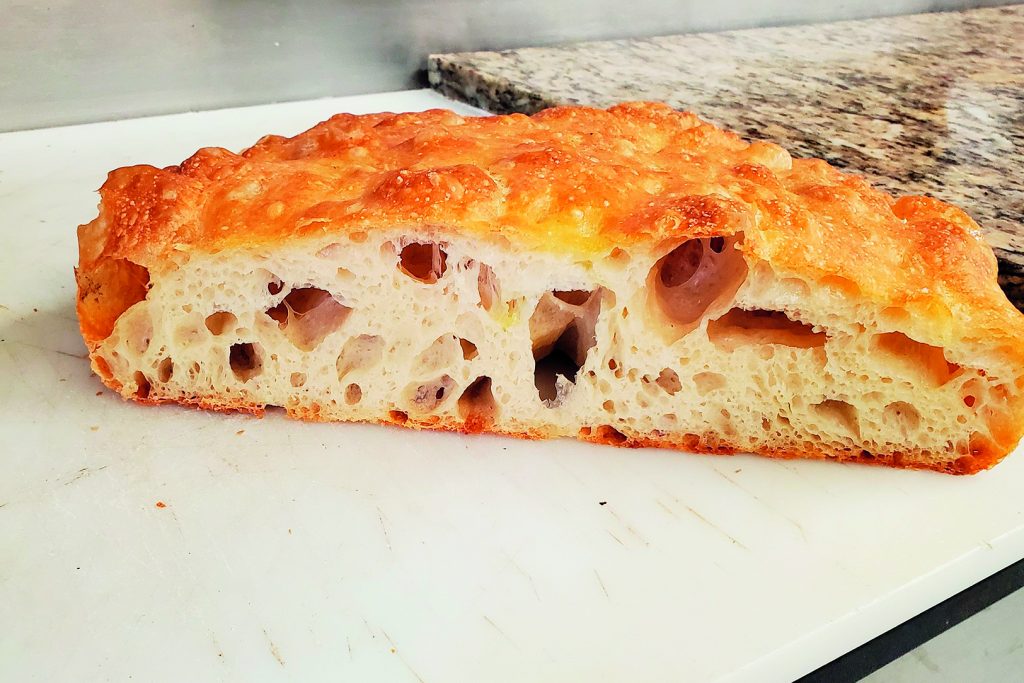 Focaccia
Yields one 12"x17" sheet pan
680 grams water
55 grams olive oil + more to grease the pan and on top on the dough just before baking
17 grams salt (preferably kosher salt)
600 grams bread flour
260 grams all purpose flour
• Combine all ingredients except the olive oil in stand mixer on low speed or mix by hand.
• Mix dough until it is in a shaggy mass and not quite fully incorporated, about 1-2 minutes. At this point stream in the olive oil while the mixer is running until fully incorporated, about 2-4 minutes mixing time (if mixing by hand add olive oil in small amounts until fully incorporated).
• Once all ingredients are fully incorporated, cover the dough with plastic wrap while still in the mixing bowl and let rest for 15-20 minutes.
• After the resting time, mix again on medium speed for 2 minutes or vigorously by hand for 5 minutes.
• Place the dough in a well oiled container or bowl, wrap and let rest for 15 minutes (this dough will more than double in size so choose your vessel wisely).
• Over the next hour the dough requires a series of folds during its bulk fermentation, these folds have enormous impact on developing healthy gluten structure, strengthening the dough and are essential to the eventual bread volume as there will be no final shaping of the dough.
• To fold the dough put a small amount of oil on your fingers to prevent sticking (although it is inevitable) fold the dough like a business letter then flip over so the seam side is down, wrap and let rest.
• Repeat this process four more times leaving 20 minutes in between.
• After the last fold, wrap and let the dough rest for another 30 minutes, then put the dough in the fridge overnight.
• Storing the dough in the fridge overnight will allow for a slower fermentation which produces lactic and acetic acids that contribute to the flavour of the bread. I recommend storing the dough in the fridge for up to 12 hours. Once you go past this point the acids can begin to break down your gluten network which will affect the bread's rise.
• The next day liberally oil a parchment paper lined sheet pan and dump the dough onto it. Spread the dough out with your hands as far as the dough will allow without tearing, wrap and let rest. Repeat this process until the dough covers the sheet pan or close to, wrap and let rest.
• Preheat oven to 500 degrees fahrenheit.
• Let the dough rise until almost doubled in size.
• Drizzle more olive oil over the top of the dough and dimple the dough with your fingers, don't be afraid to push your fingers right down to the sheet pan (at this point you can also add olives, tomatoes, onions etc. etc. etc whatever you want to further flavour your bread. Personally I just add a generous amount of large flake sea salt.
• Put the bread in the preheated oven and lower the temp to 460 degrees fahrenheit and bake for 30-35 minutes until golden brown.
• Once out of the oven place the bread on a resting rack if available and let rest for a minimum of 30 minutes to an hour before eating to allow the breads crumb to set.