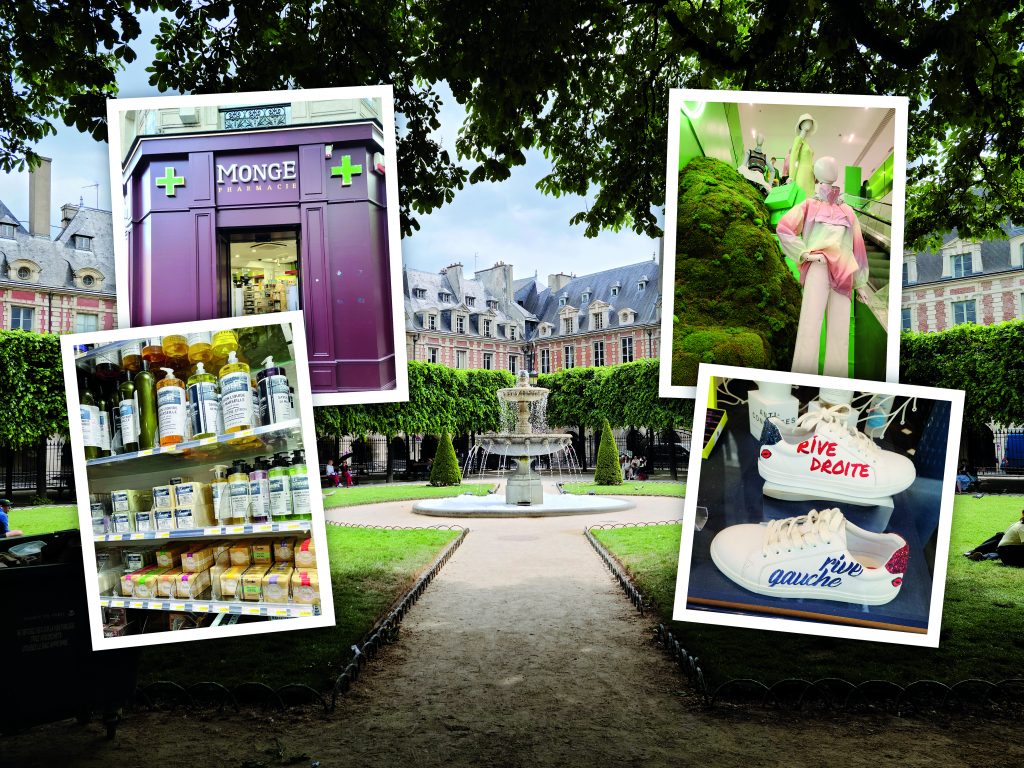 By Lynn Haddrall | PHOTOGRAPHY • LYNN HADDRALL | PHOTO ILLUSTRATION • DECLAN OUTHIT
A  text sent from Paris, France:
"I've walked past 1,000 people probably today and not a single other person was in shorts. Update – One other person with shorts. Looked American. 18C in Paris."
A friend sent this to me. It made me smile. Like me, he was visiting Paris and checking out street styles. It was easy to spot the tourists.
I marvel at the seemingly effortless style of French women. You see it as they walk their children to school. You see it as they pop into the patisserie. They look cool on foot, on scooter or taking the Metro. They are still stylish when the nightlife takes hold.
Everyday French style is not what you see in the "Emily in Paris" series. It's also not a beret, striped shirt and scarf all worn at once.
I've had my own vantage point to ponder French style during many trips. Spending a month in France this spring let me observe French fashion up close again.
Jennifer Dugdale lives in Aix-en-Provence in southern France but also spends time in Paris running group tours that immerse visitors in the workplaces and homes of locals. She aims to provide a Paris experience from a Parisian point of view. She partners with Kathy Wood of European Experiences to also offer the chance to see life outside large cities in places such as Provence and the French Riviera.
Dugdale says styles are more relaxed outside big cities, but she sees similarities that connect to a firmly embedded French style concept: simplicity.
"It's about keeping it simple. French women stick to classics. There might be something that's a bit more in style or current, but the rest of the outfit is going to be classic. They'll use something to give a little bit of flash," Dugdale says.
"French women are almost ageless. They start to get their own personal style when they're younger and they keep that with them for life. They will adapt to fashion to some degree, but they keep the classic look as the base. And then they might accessorize with something more up-to-date.
One thing that contributes to the fresh-faced no-makeup look is the attention French women pay to their skin care and personal wellness. Dugdale noticed this when she moved to France 18 years ago.
"It's for the inner beauty, for their well-being. French women in general are all about self-care, but not in a kind of egocentric way. It's almost like they're just born into it," she says.
"The French women I've observed over the years, they eat very healthily as well. They eat a balanced diet, very important for them to drink well too. They focus on their calcium, but a lot of it is through their diet, which is why they eat cheese. And so equally just lots of fruits and vegetables. And on top of that, their skin care, their nails, their hair."
Dugdale sees this attention to wellness as such an important part of a French woman's daily routine that she includes a special stop on her Paris group tours – a parapharmacy.
"It's been through living here and going in and out of the parapharmacies that little by little I've discovered them. It's not just about the skin care either. It's lots of different products for well-being. For example, a lot of them are natural based. There's a lot of springs and spa towns in France. And out of these spa towns, different parapharmacy brands emerge."
The French pharmacies, easy to spot with a bright green cross, have medicines and prescriptions. The parapharmacies are located in or beside some pharmacies and that's where you will find the non-medicinal wellness products.
The parapharmacies have become popular with tourists, and some provide staff who speak languages such as English and Japanese. The made-in-France packaging on many items also makes for lovely gifts like soaps and lotions that pack easily.
I visited Paris parapharmacies on Saint-Germain-des-Prés and on Rue Monge. Staff answered questions and offered advice for skin care. The shops saw a steady flow of locals. I felt no pressure to buy. You can try products and take away samples. I enjoyed learning about the Exertier company, based in the French Alps. Caudalie sunscreen was a great choice for sunny days in rural Provence.
Visiting places where French women shop is a good opportunity to take note of brands you see on the streets. I watch for those labels when I return to Canada. Happily, there are many French labels stocked by area boutiques with knowledgeable owners who can help you pull together a look that works in Waterloo Region or on the cobblestone streets of Europe.
Devon Brock, co-owner of Kennedy Park in Guelph, is impressed with the attention to detail in French brands she carries. She added clothing brand Des Petits Hauts to her lineup because it was in demand locally. Customers asked her to carry it after another popular Guelph boutique that carried French brands closed.
"It's very special because of the details. And I think that's what French fashion is all about, like the notions, the buttons, the way seams are put together, the piping and the prints, and the feel. It's all the details like that. There's such care taken in it."
For this fall, Brock expects to see more nostalgic colour palettes in the French brands, with rich hues and jewel tones.
Danna Nicole, owner of Danna Nicole boutique in Stratford, carries a selection of Canadian and European designs, including French lines Mat de Misaine, La Fée Maraboutée and Des Petits Hauts.
Nicole says French designers have access to European textile mills that produce handwoven trims, embellishments and hand-dyed details that play out through each season's collection. "If the T-shirt is trimmed in gold, the blazer might have a gold trim that's in the same palette. If there's a blue weave in the blazer, it might pull in the blue in the graphic T-shirt."
She also likes the thought that goes into colour palettes that carry from season to season, making it easier to mix and match items from previous years.
"What you bought one season, you can coordinate in other seasons because in Canada the weather fluctuates so much and we all tend to shop for winter and summer. We forget about spring and fall. You're taking that sweater from your fall piece and mixing it with your T-shirt from your summer piece for a hot afternoon."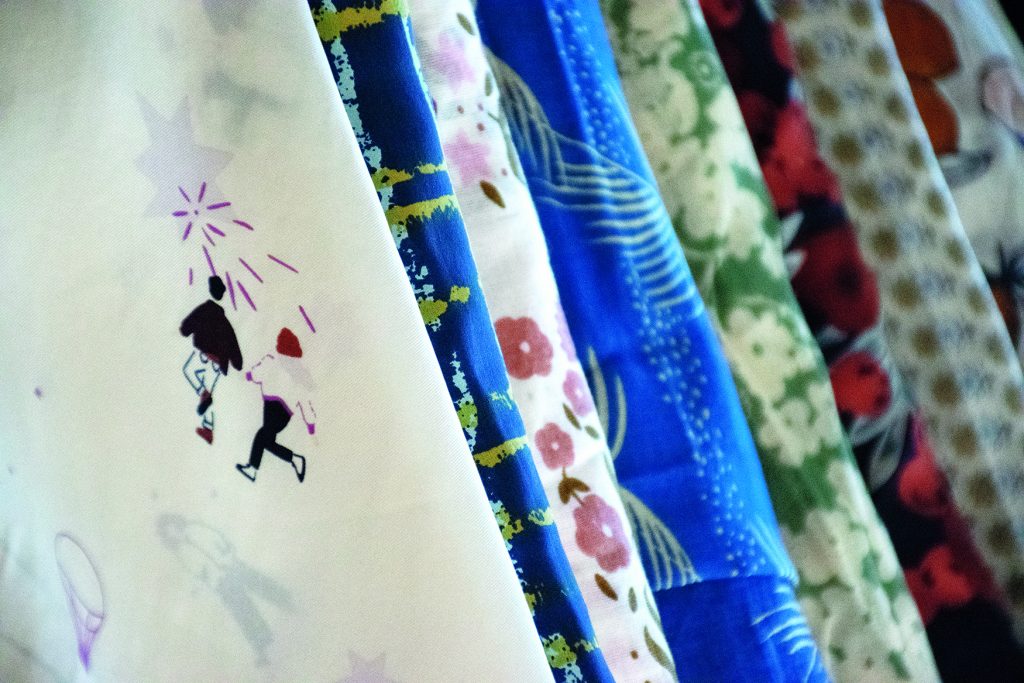 Nothing is more French than a well-tied scarf. Nicole always packs a few when travelling. She went to France with just a carry-on. "It's three dresses, three pants, three tops, three jackets, and then three scarves – one solid, one plaid and one floral."
There is a wide selection of scarves in her store; Nicole encourages women to use them through all seasons. When she first opened her boutique, she did a tutorial on YouTube on how to style a scarf.
"Let's say you're wearing blue jeans and a white T-shirt.  Now, you put a scarf on that's got a blue flower in it with a white background, and it pulls the outfit together and it somehow looks effortless. It looks like 'Oh, I didn't put too much effort into getting dressed, but yeah, I look amazing.' "
Our daily style choices help us achieve that confidant feeling, whether sipping wine in Paris, viewing lavender fields in Provence or working in the office at home. It starts with the basics and that's something at which French style excels.
Brock sums it up by describing the sense of nostalgia in prints used by French designers.
"It's like a textural reverie that I think we're really drawn to. It's become so magical, that French fashion," she says. "And I think there's something about French style that it makes anyone feel chic, you know?"