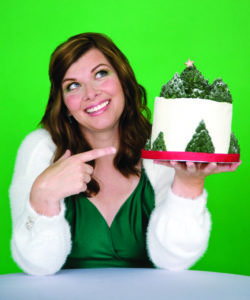 Jen Gardiner Blends Cake Artistry and Acting
By Jane Pinzhoffer | Photography by Alisha Townsend
"I got into cake decorating as a fluke; didn't even take home economics in school. I was 20, pregnant, and bored when I was in Michael's craft store with my Mom and saw an advertisement for cake-decorating classes, so I signed up," says Jen Gardiner of Sweet Treats by Jen.
What originally started as a hobby preparing cakes and cookies for friends and family, quickly turned into a dessert artistry business that has thrived since its opening in 2004.
Today, Sweet Treats by Jen offers creative sugar confections that are edible works of art. Jen's main focus is on distinctive cake decoration like Paddington Bear and Jack Skellington and creating one-of-a-kind delicacies for clients all across Ontario. "Customers come to me with their own ideas and I put it together," says Jen.
Her brand has also become known for specialty treats like made-from-scratch Easter Cream Eggs made with a milk chocolate shell, a white ganache filling, and detailing using royal icing and chocolate.
The online success of Sweet Treats by Jen led to her second business, teaching marketing and website design. "Everyone was always picking my brain about sales and marketing so I created an online course," says Jen.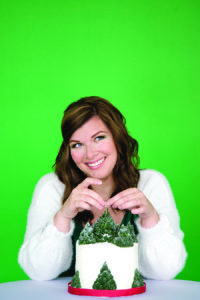 You might think that building two successful businesses and being a mother of five kids ranging between the ages of five and 17 would be enough to keep anyone busy, but Jen felt there was a void in her career.
As a kid growing up in Wellesley, Jen wanted to become a doctor. Although she took biology and chemistry courses in high school that would help her achieve this dream, she was also into soccer and martial arts and had a love for the performing arts, joining the drama club and participating in musicals like Oliver Twist and The Wizard of Oz.
Interestingly, it was her cake business that also led her to an acting career. Jen had been doing a monthly segment teaching cake artistry on Rogers Daytime TV for about a year. When the show ended in 2018, a producer who knew she was interested in drama suggested she audition for a TV show in Hamilton that was looking for actors.
"I still had this hole to fill due to not pursuing my childhood dream of becoming a doctor to help people and was always trying to find something to do that with. I knew I wanted to help people and I did that on a small scale creating cakes to cheer people up through my pro-bono cake project called the Smile Project. I was offered a show for it as well with Rogers TV Kitchener but only was able to film the pilot. People would nominate someone who needed cheering up or someone who was doing a lot of good and I would design a cake for them. Then the nominator and I would surprise them with it." When the opportunity came along, I thought, let's give acting a shot," says Jen. "The director saw something in me that I didn't and I was offered the lead role of spy assassin Isabella Watkins in I, Terrorist, an upcoming series that follows a group of activists who discover a secret society with plans for world domination."
The director liked her work so much he suggested she audition for another lead role in Martyrs—The Chronicles of Blood, a vampire series that takes place during early medieval times.
For this role, she learned how to do a Scottish accent overnight with acting coach Carly Street at Armstrong Acting Studios in Toronto who was able to teach her specific lines in the accent, enough to get her the audition. Although Jen didn't get the lead part, she landed a principal role as Pict Queen, Modwenna. "I like playing this character for her strong personality dealing with loss and loyalty as she and her king are faced with hard choices when they encounter a vampire," says Jen.
In October, Jen will walk the red carpet at the Royal Theatre in Toronto during Hollywood Suites Shocktober for the premiere of feature film, The Taste of Blood, the sequel to The Sanctuary which has won over 60 awards and still counting by AKool Film Company based in St Mary's.
Jen also plays the lead role of Cassidy in the upcoming feature film, Human Nature in which art imitates life. Written pre-pandemic, it's about a virus that has infected a group of people who are trapped in a cabin with only two antidotes.
Additionally, Jen is going into the second season of her online talk show called Coffee Chat, on her YouTube channel. The first guest of season two will be actor Tazito Garcia, who has an upcoming film with Jackie Chan and John Cena. In The Kitchen with Jen is another series on her YouTube channel that teaches baking and cake decorating.
Although her career has ended up 180 degrees from being a doctor, Jen has found her niche and no longer sees herself making any career changes. "There are so many different avenues to take in this industry," says Jen, who has already worked as a stunt coordinator and producer on feature films. "I still want to help people," says Jen. "I hope someday to be in the position to use my acting career to help others."