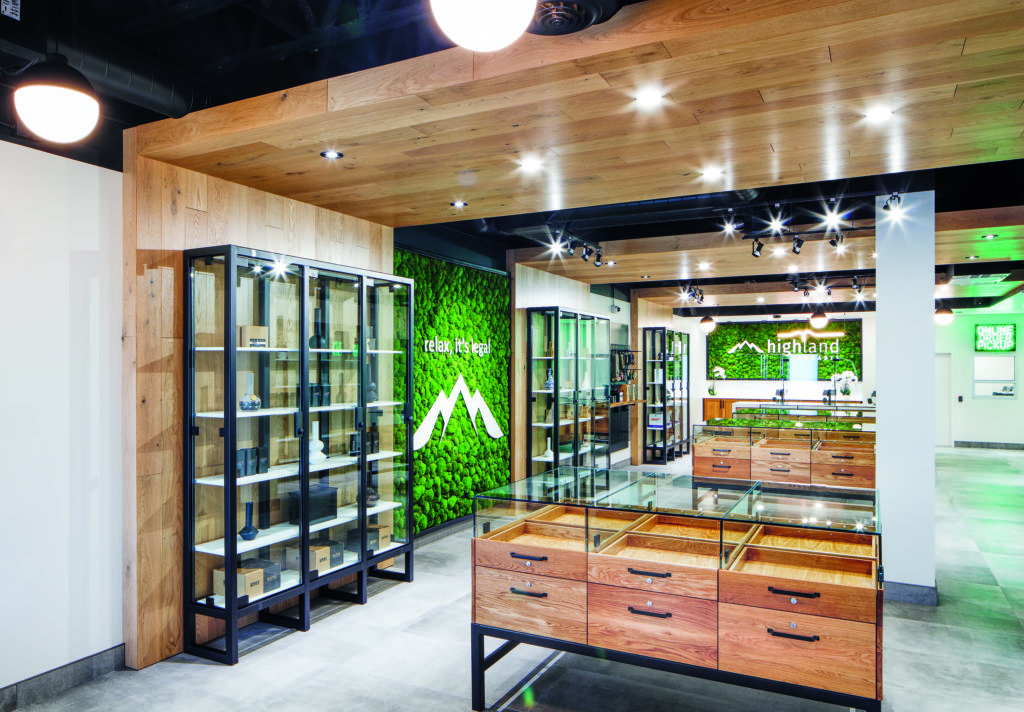 By Barbara Aggerholm | Photography by Alisha Townshend
If Benjamin Ouellette is designing your kitchen, he'll ask what kind of gin you drink.
Maybe you're a cocktail person, or wine or beer is your preference.
Ouellette, 35, is a multiple award-winning interior designer. He spends a lot of time chatting with his clients, discovering the meals they like to eat, their style of entertainment, where their children like to do homework, even the TV shows they watch. And if high-quality gin is your thing, he'll think about storage and accessibility and accessories.
"I'm not just, 'Here's your table and chairs.' I try to provide a service that truly makes them happy," Ouellette says. "Your interior spaces are very personal and the littlest detail can throw you off."
He obviously listens well. Many of his projects have gained national and international attention, and he has judged design competitions around North America. His list of design awards is longer than many people's grocery list. They include the career-enhancing 30 Under 30 Award for outstanding professional and future leader from the National Kitchen and Bath Association.
Most recently, Ouellette captured first place in a national competition for a commercial design of a classy cannabis retail shop in Kitchener. The prize, awarded by the Decorators and Designers Association of Canada, was the first time he'd won for a commercial project.
It is a long, narrow unit in a plaza, and Ouellette's design made it seem wider, with unique, suspended wooden features running across the width of the ceiling. There are three eye-catching green walls of preserved moss and custom-designed display cases. A moss wall, with the words "relax, it's legal" on it, has become customers' Instagram photo op.
"We wanted to make it a high-end, professional shop. We didn't want it to be like anyone else," says Owen Allerton, who owns Highland Cannabis with his wife, Niki. "We needed to stand out."
Earlier, the couple had used Ouellette's skills in various rental property properties. "He's a great listener and every project starts with his listening to all the ideas," Allerton says. "His approach is: 'Instead of specifics, let's talk about what effect you want. What are you going for?' "
Among their projects, the couple bought and gutted an older, smaller house and gave Ouellette a "blank canvas."
"I wanted people to walk in and fall in love," Allerton says. Ouellette moved the kitchen and added an island. He combined the dining and sitting room, literally "opening up" the house.
"He did a phenomenal job," Allerton says. "He can see a space and know what can go there. We just learned to totally trust him."
He compares Ouellette to a marriage counsellor, a master chef, the conductor of a symphony.
"He'll listen to both sides and he'll give his opinion, and my wife and I agree to listen to Ben," he says with a laugh. "He's like the arbitrator.
"Can you imagine an orchestra with no conductor? I make it clear, there is one chef in the kitchen and it's Ben."
Friendly and engaging, Ouellette takes time to know his clients, says Ouellette's husband, Andriy Shkilko, a Wilfrid Laurier University finance professor who holds a Canada Research Chair in Financial Markets.
He's not like the designer stars on HGTV, the home decorating and interior design channel, "who come in and say: 'This is what we'll do,' " Shkilko says.
"Ben is extremely passionate about what he does. He has a Canadian subtlety to him. He's not the most in-your-face person about how good he is and how many awards he has won."
Indeed, while the awards are a "neat validation" of his work, Ouellette is most satisfied when he feels he has made others happy.
"That's awesome because I've improved someone's life," he says. "When someone asks me about my style, it's doesn't matter. I try to find the clients' style and make it functional and esthetically pleasing and safe. My style is not about what I like esthetically, but how I bring it together for clients."
That said, he is not a minimalist, he says. He's more into maximalism, which "is kind of finding elements and going all in. It doesn't mean eclecticism. . . . You have to respect proportions and balance, but do it in a way that's more intense.
"(Fashion designer Coco) Chanel said to always take one piece off before you leave the house. I do that in design. Every element needs to be there for a reason."
It's why he'll ask what you love about a certain chair, or why an antique plate is meaningful to you.
"I need to understand why and how you love things so I can give you space that's fully yours. I am so into creating a space based on emotion. That's my thing," he says. "Space should appeal to all five senses."
While he wants you to be open with him about what you want in your design, you'll also learn about him in the course of your conversations.
"I'm the kind of guy with my heart on my sleeve," he says. "I'm very open. I don't hide things or have ulterior motives. I'm not just a logo. You get to know me."
Ouellette says he's a lot like his mother, Nancy – extroverted, chatty, friendly. "We joked that you'd fall asleep and wake up and she'd still be talking," he says with a smile.
Tragically, Nancy Ouellette was hit and killed by a waste management truck, along with her dog, Lady, while walking on the morning of July 14, 2020.
When a waste management truck was involved in a second pedestrian death seven months later, Ouellette publicly appealed to the contractor, the Region of Waterloo, to review safety protocols.
His mother's death, at age 68, made him assess his own life and allow time for his "brain to slow down."
"It helped me recognize there is more to life than work. I take days off now."
Over the many months of COVID, Ouellette has been in particular demand. People haven't been able to travel so they put their money into their houses. Kitchens are being ripped up, bathrooms reimagined, bedrooms turned into oases. High demand for products and materials has created backlogs; yet people want things done as soon as possible.
"A lot of projects are opening up spaces, taking down walls and reconfiguring rooms," he says. The kitchen is no longer a separate area. "It's part of living."
Ouellette's day starts at 6 a.m. for a demanding CrossFit workout. CrossFit is a high-intensity strength and conditioning workout that uses different kinds of exercise including interval training, weight lifting and gymnastics. He likes the variety of exercise, the challenge and the community of people who do it.
There's a parallel between CrossFit and interior design, he says. You need to know a little bit about everything. You learn and achieve the best.
Sometimes, he'll take his dad's kayak to the Grand River before starting the work day.
He and Shkilko are creating their own, unique space in a Waterloo home they bought late last year after putting in offers on 10 other houses that were snapped up during the region's housing market frenzy. They renovated the entire top floor, including a foyer, bedroom, ensuite and walk-in closet, and they expanded the kitchen. If you thought it would be an easy task for a designer, think again.
"As a designer, how do you figure out what is best for you? It took a lot of editing," Ouellette says.
The result is striking. The bold, masculine design of a favourite bottle of fragrance called Narciso Rodriguez Bleu Noir – Ouellette is a "fragrance fanatic" – became the inspiration for the bathroom. "I wanted to define the way I felt when I experienced this fragrance, and bring that feeling to life in my bathroom design," he says.
The room also features a large-scale mural of palm leaves, a reminder of Hawaii, the couple's favourite vacation spot, navy accent tile in the shower and an "enormous" bathtub given that Shkilko is six-foot-three-inches tall, Ouellette says with a laugh.
The kitchen, with its fridges built into the cabinetry, has a large entertainment island and separate cleaning and prepping areas. A full-size wine refrigerator reveals Ouellette's passion for fine wine. Whenever he travels, he likes to investigate the country's wine regions.
It's on his bucket list to design a winery someday.
Ouellette describes the renovations of their home as "tailored maximalism" and he features them on his Instagram page in playful videos that show the dramatic changes.   
"There is something in every corner. It's a visually consistent space."
Shkilko says that while the renovations were a collaboration with his partner, he doesn't share Ouellette's ability to envision what a space might look like. He loves the transformation in his new home.
"I really enjoy living here now," he says. "I never imagined what it would be like."
Ouellette was an aspiring musician before changing direction.
Piano lessons were part of his life from the age of six. He has a Grade 9 level in piano from the Royal Conservatory of Music, the level before university studies. He performed in stage bands and sang in school choirs at Cameron Heights Collegiate Institute in Kitchener, and also in the choir of composer/conductor Alfred Kunz.
He pivoted from classical music to jazz, which he loved for its technique and creativity, and experimented with computer-based mixing and recording. A poster of Canadian jazz singer and pianist Diana Krall, whose music and style he loves, was on his wall.
His creativity, "engineering-brained mind," fondness for math and empathetic nature made him a good musical candidate and he researched post-secondary music programs and careers. But he decided interior design was his calling.
It had always interested him. When he was a teen, his family saw a new layout in his bedroom about once a month. He painted the walls and ceiling a rich, royal blue with bright, orange trim. He created a wall feature out of laundry exhaust pipes that he spray painted red.
"Looking back, it was horrifying," Ouellette says with a laugh.
His music lessons have not been wasted. "A lot of what I learned in music is easily transposed in interior design.
"If a client is stressed, in design I tell them, 'This is a symphony. Don't get hung up on Handel. All pieces add up to the final piece. Every part is important but keep your eye on the prize.'"
Ouellette graduated from the School of Design at Fanshawe College in London in 2008. He worked for a department store's marketing division and a design firm before being hired by Casey's Creative Kitchens 10 years ago. He started his own company in 2012 and continues his association with Casey's as well.
"The two companies have great synergy," he says.
Ouellette enjoys living and working in Kitchener and Waterloo. He appreciates his clients, some of whom work in the science, technology and engineering fields.
"I love K-W," he says. "It's a great community. People who respect technology want the best for their homes. They respect that design aspect of things."
At the same time, he does projects outside the community, including a huge addition to a home in Barrie and a new home on the island of Aruba.
Joanne Papp and her husband decided to do a living room update, a project that "exploded" into the main part of their Waterloo house and included a spacious kitchen.
Papp knew she wanted three sinks, one for cleaning, one for preparing food and one for preparing beverages. She didn't want to trip over anyone in the kitchen.
"He created an awesome space," Papp says. She and her husband love nature, she says, so it was important to bring natural elements into the design. Ouellette sourced granite with ammonite and orthoptera fossils for the kitchen backsplash and fireplace mantel.
For herself, she got an unobtrusive floor-to-ceiling space for her science, art and classic books. "Books are somebody's artwork," she says. "Books give a profile of what a person is about."
Ouellette ended up doing several projects for the Papp family's home, winning three awards. A large, open-concept dressing room/walk-in closet took over their daughter's former bedroom and made it a warm, embracing place, Papp says. That project won first place in national and provincial design awards. For the bedroom, Ouellette found an area craftsman to make end tables, head board and desk space for the bedroom. "The head board looks like someone sliced a tree trunk," she says.
Ouellette designed the custom bedding and chairs, working with a company to pick fabric, sizes, layering. "It's a great example of maximalism. It's about layering in a way that's not overwhelming but definitely not boring," he says.
"He's very flexible, malleable and he's excited about exploring new ideas and going different places he hasn't gone before," Papp says. "I give him a very skeletal structure I want and he just goes."
In addition, Ouellette is a "very gentle soul and he's personable. He really has his ear open."
The resulting designs are like a symphony, Papp says. "There's no French horn blaring out. Everything is well integrated."
Ouellette is looking forward to the post-COVID time when he can travel again to experience other cultures, their architecture, interior design, and yes, their wine regions. Shkilko's work in research and finance has taken them all over the world. Last year, Ouellette was scheduled to go to Milan, Italy, for the largest kitchen and bath show in the world where he would help a company decide its 2020-21 collection. COVID prevented the trip.   
He's especially anxious to visit Milan as well as Argentina and Barcelona, Spain.
"Seeing a different perspective and travelling all over the world adds to my knowledge of what works and how we feel in different places," Ouellette says.
At conferences, "I can go five days straight and chat the whole time," he says with a laugh. "I love to hear what other people are doing, see what our future is like. It invigorates me."