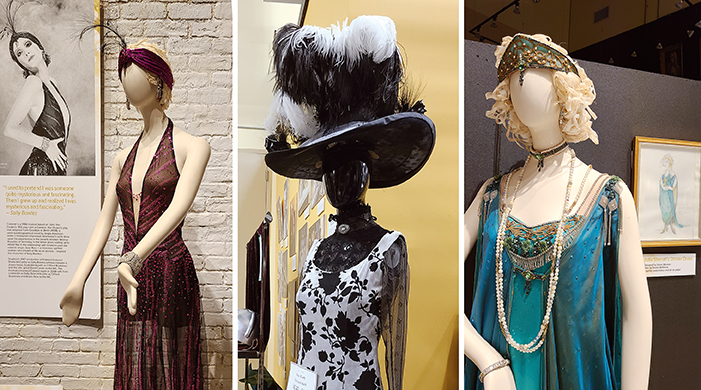 By Lynn Haddrall
Imagine your workplace immerses you in a treasure trove of fashion and style. "Some days you just go there and breathe it all in because it's so beautiful," says Dona Hrabluk, head of props and co-head of the Stratford Festival's costume and props warehouse. If you marvel at stunning costumes and props while attending a play at the Stratford Festival, the warehouse is where you go to see colour and creativity up close. "There's little pockets all over the warehouse that you just fall in love with," says Hrabluk. You can be forgiven for a double-take when approaching the non-descript 100,000-square-foot warehouse. But for a small sign over the door, there's no hint at the treasures inside. Step through that door, however, and you'll discover the exacting detail that goes into every costume and prop created for a show.
The Stratford Treasures Tour guides you through the building. Volunteers lead you past racks of wardrobe and props, sharing anecdotes and fun facts. Here's one: sometimes they spray clothes with vodka to remove stains. Hrabluk has been with the Stratford Festival for 15 years. She describes the facility as a working warehouse. As tour groups wander, she enjoys hearing them reminisce when they see items they recognize from their childhood or a family heirloom."We love showing off because we love what we do. The cut-off finger is really big, especially with the kids, so we want to talk about that. And then the furniture is so interesting because you hear as they're going by 'I used to have that sofa,' " Hrabluk says. She smiles to recall one of her favourite props, noticed early in her tenure.
"I found a peelable banana that you can reuse and reuse. And it was so realistic. And it's still around. And I just love it. I know it's not something spectacular, but it was the thought process that went into creating this prop," she says. Once you've viewed costumes and props you can explore a public section of the archives. "The archive is the largest single theatrical archive in the world," says Ann Swerdfager, publicity director for the festival. It holds materials dating back to 1952, including scripts, letters, documentation,and individuals' archives. Festival designers use it to research their shows. There are also about 350 research requests from around the world each year. Some come from interesting places. "We were contacted by the Klingon Assault Group, an international costuming and fan club, in 2017," says archivist Christine Schindler. "They asked for photographs of Stratford actors who went on to play iconic roles in the Star Trek franchise – particularly John Colicos, who went from playing King Lear at Stratford in 1964 to playing Commander Kor of the Klingon Empire in 1967. The photographs were used in a tribute by the group to the 50th Anniversary of the Klingon Empire."
Swerdfager, who has been with the Stratford Festival for 17 years, describes the warehouse as "a whole lot of everything," while the archives feature "a slice" of legacy items. "For instance, we absolutely keep every Juliet's gown. We absolutely keep the three caskets from every production of "The Merchant of Venice". And then there are costumes that are worn by certain people in certain roles that will be kept." Those include William Shatner, Christopher Plummer, Maggie Smith and Eric McCormack.
The warehouse accepts donations for use or repurpose. Last summer they received a 1970s stewardess uniform, complete with skirt, jacket, blouse, scarf and suitcase. "We were so excited with the little suitcase," says Hrabluk. "How would we ever find that kind of detail? It had all the pins that went with it. We get amazing donations." They were recently offered war medals which they gladly accepted. The name of the donor will go on them. "It gives something to the actor. And also, I just think it's a nice gesture to do for the donors," she says. Hrabluk and Swerdfager credit the late designer Desmond Healy for his design innovations that focused on cost, durability and weight in the creation of wardrobe and props. Swerdfager describes Healy as "a hero in the world of design." Many of his creations can be seen in the warehouse, including a chandelier made of plastic cups, plastic cutlery and tape. "That chandelier still glistened like crystal, wouldn't break like crystal, didn't weigh like crystal, didn't cost like crystal. And yet it looked magnificent because of the distance you are from it," Swerdfager says. Healy also liked to use pool noodles to make moulding for antique-style furniture. "He had an amazing creative mind and taught so many people here at the festival and throughout Canada and the U.S. He certainly left a fascinating legacy. I don't think he'd mind that the pool noodle in props is part of his legacy, or the knife and fork and cup chandelier. He'd love it," she says.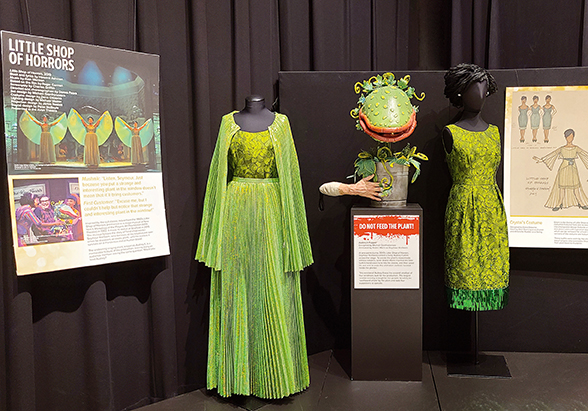 Beyond props and costumes, the tour gives you access to curated displays in the archives area. Last summer, you could see items from shows such as "Cabaret", "Little Shop of Horrors" and "A Chorus Line". This year's archives exhibition is called Rewind! The Stratford Festival in the 1980s. It is promoted as "a retro-chic world of totally awesome costumes, rad design sketches, bedazzled jewelry, analog tech (and) preppy props." Housing the archives, costumes and props in the same facility mirrors the collaborative spirit that runs through the festival.
Michelle Barnier, costume director and co-head of the warehouse, witnessed that team ethic when she arrived at the festival 16 years ago. "It's deeply embedded in this place in the most amazing way. You see it between departments. You see it  between actors, actor directors, actor designers, designer to cutter, cutter to sewers," Barnier says. "I like to say that there's never just one way to do something. If we can all keep an open mind it allows for the best answer." Barnier says she aims to understand the needs of each department and tries to make things as seamless as possible.
A walk through workshops at the Festival Theatre building at 55 Queen St. lets you see where research and creativity meet. There is a room named 'the cage' because it was once surrounded by chainlink fence. It houses stacks of fabric that are constantly replenished. There's the "dye, paint and breakdown" room where garments are dyed in large vats and aged appropriately. They might also add blood-spatter effects. Other rooms are fully stocked with bijou, wigs, accessories, hats, shoes and boots. The creations coming to life earlier this year were for shows as diverse as "King Lear", "Rent" and "Spamalot". The costumes taking form for "A Wrinkle in Time" looked otherworldly.
When this season begins, audiences will see the results of all the wardrobe and prop work. Designers attend preview performances to ensure the vision and also the practical needs of actors moving around the stage. They take notes and adjustments are made right up to opening night. The staff who work behind the scenes making costumes and props speak with pride when they explain their role in the creative process. Each has a talent that breathes life and reality into a show. You see that same pride in volunteers at the warehouse. Hrabluk says it's all about making everything realistic for the audience and easy for the actors. "We want you to come into our world," she explains. "So, if somebody notices that something's not right, then we've lost you. It's important to us for that detail. And because it's fun to do it." Items sent to the warehouse are catalogued and stored for future use and research. That is the end point for a creative process that begins with a vision for each show. The wardrobe and props you see on stage this season may well show up in a future warehouse tour, completing a full circle of creativity on and off the stage.