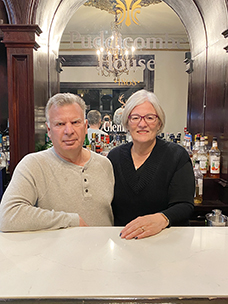 by Jane Pinzhoffer | Photography by Alex Bielak
When Puddicombe House caught the eye of Karen and Lyle Cressman, it was a mere shadow of its former glory. The once grand home of prominent local New Hamburg businessman and politician Samuel Merner had become a rundown facility long ago divided into rental units.
Merner had spared no expense when Puddicombe House was built in 1868, evidenced by the elegant Italianate architectural design of the exterior's gables, porches, and heavily ornamented windows. In 1888, the home was sold to Robert Puddicombe and remained in their family until 1969, when it was sold and divided into apartments.
Fast forward to 2004, when the Cressmans saw the potential of what Puddicombe House could be. Karen had been managing a catering business run out of the family dairy farm located south of New Hamburg. The enterprising couple had also renovated and sold investment properties before they purchased Puddicombe House and completely renovated it to incorporate a restaurant, bed and breakfast, and spa salon. Every effort was made to restore and preserve the building's original architecture and history as much as possible.
"When my parents took it over, it was split up into six apartments, and they were in very poor condition. There were drop ceilings and holes in the plaster where they had ran plumbing pipes," says Nick Cressman, General Manager at The Puddicombe House.
Although the establishment is classified as an inn, over the last few years, the restaurant has become the staple of the business.
"Over Covid we did lots of unique things that put us on the map," says Nick. "The addition of outdoor greenhouses and a big outdoor patio breathed new life into the restaurant and was immediately successful. We took some ambitious steps and thought through the process of how we could make it work."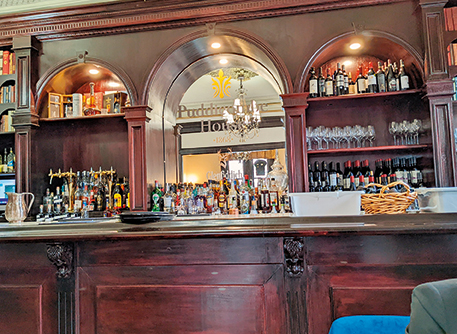 Although Puddicombe House always had a patio, in the summer of 2020, a decision was made to increase its size to seat approximately 100 people, adding covered areas and two large private gazebos with the intention of using the beautiful grounds to their full potential. Key to this was getting rid of the parking lot in the middle of the property to create an elegant courtyard reminiscent of a European piazza. At night, lights strung across the patio showcase the mansion's architecture to its full advantage.
"We realized near the end of summer 2020 that we were going to have to figure out something for winter, and we came up with this greenhouse concept that went a little viral," says Nick. "Each has its own individual fireplace. We had a six-week waiting list for a reservation in the greenhouses. They're still very popular for the privacy and unique experience. Some people say it's like sitting in a snow globe in the winter."
Walking into the dining room at Puddicombe House, with its 12-foot ceilings, cornice molding, ornate marble fireplace, and burnished wood floors, is a little like stepping back in time.
"One of our strengths is that we're casual fine. Over Covid, we changed the menu to make it a little more approachable. We added the wood-fired pizza and pasta dishes to offer elevated food at a reasonable price," says Nick. "We have burgers and pizza if you want a casual meal and a drink on the patio, but we still offer a very formal, elegant dinner from steaks to higher-end entrées. The braised beef short ribs are one of the most popular items on the menu. We try to keep things pretty reasonable for the quality we offer, and we have a great team of chefs led by Executive Chef Jammie Monk. The restaurant has been named to the Open Table Top 100 Restaurants to Dine Outdoors in Canada and the top 100 Romantic Restaurants in Canada."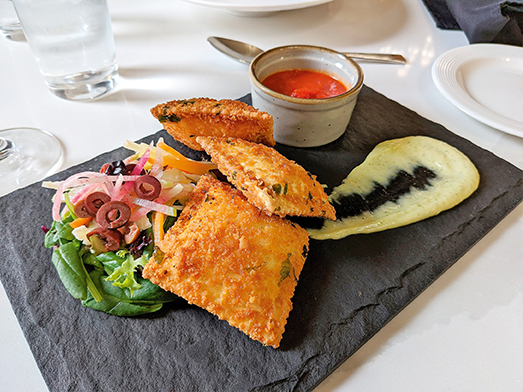 The elegant setting was also the backdrop for "The Love Club." Filming of the four-part Hallmark mini-series shut down business for two weeks and aired on W Network earlier this year.
Although Puddicombe House has held weddings since the first day it opened, a wedding venue was added in 2016. The Banquet and Event Hall is located at the rear of the Puddicombe House and was designed to complement the Italianate architecture of the original building.
The venue includes a ballroom and banquet hall, ideal for ceremonies, receptions, bridal showers, engagement parties, and rehearsal dinners. It offers plenty of options, from an intimate gathering of 20 enjoying a simple cocktail reception to a large party of up to 250 people feasting on a gourmet chef-d'œuvre. Family and friends also have the option of staying on-site in one of the inn's eight guest rooms.
Nick's sister Amber is a trained stylist and esthetician and runs the spa salon. In addition to the full complement of hair salon services, it offers a menu of luxurious body treatments, nail services, facials, waxing, and makeup application. A new hydro hydrafacial machine has been added to the menu of spa services.
The aim of the Banquet and Event Hall was to embrace and extend the beauty of the main house and create a sort of one-stop wedding shop. You can have your rehearsal dinner in the restaurant, stay overnight, then go downstairs to the spa for treatments in the morning, before the ceremony and reception.
'We just kept on adding to it and making it better. That's one thing about our business, we always love to see how we can make it better," says Nick. "We're always tweaking and always playing with it, adding something new, and trying to make it the best we can."
The Puddicombe House Scallion Cornbread
600 grams all-purpose flour
500 grams cornmeal
200 grams brown sugar
35 grams baking powder
30 grams salt
2 bunches scallions
300 grams egg
825 ml 2% milk
375 grams butter (melted)
3 cups corn
3 cups cheddar cheese
3 tbsp. honey
Method:
Mix wet ingredients into the dry ones.
Spray a hotel pan well with cooking spray.
Pour mix in and smooth the top.
Set the oven to 325°F (60% moisture) and bake for 20 minutes.
Change the temperature to 300°F and cook for another 6 minutes or until firm.
Let set and cool overnight on the tray.