Gym owner's health challenges fuel mission to motivate others.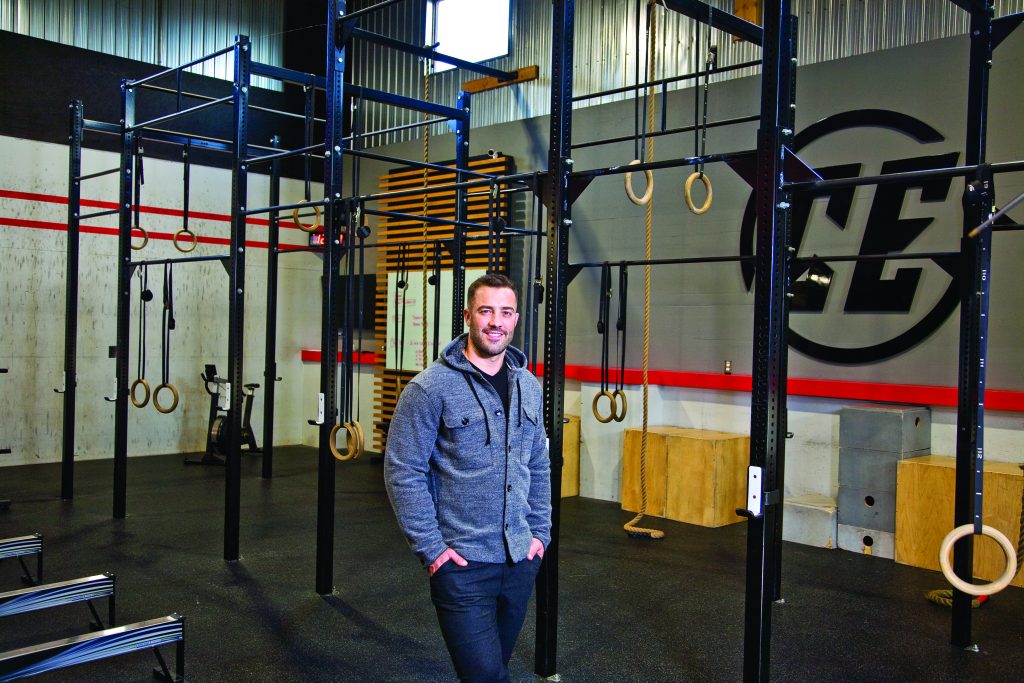 By Barbara Aggerholm  |  Photos by Alisha Townshend
It's a good thing you can laugh when you're on your knees, rolling a barbell behind you on your calves.
It's uncomfortable, it's groan-worthy, but "flexible, healthy calves are key," says coach Kirby Martin, owner of CrossFit Elmira during a recent workout with a group at his gym.
It's 4:30 p.m. on a work day and members of CrossFit Elmira have come to work out with Martin, 34. For some, the day has been stressful, full of deadlines and demands, but for this hour, they're focused on their health with like-minded people.
The atmosphere is easy even if the exercises are not. The spacious, classy-looking gym is in a former warehouse, all shining equipment with the gym's name on the wall in large black and red letters. There are no mirrors, no hard-pounding tunes; just the hint of music in the background and the sound of people talking, metal hitting metal, jump ropes slapping the rubber floor, laughter.
CrossFit is a branded fitness regime that uses strength, cardio, gymnastics and plyometrics (jump) training. The workouts "are guaranteed to improve your strength, stamina, balance, co-ordination, agility, and will make you look great naked," says CrossFit Elmira's webpage.
"If you're an athlete looking to deadlift 500 pounds to improve your strength and power or you're a grandparent wanting to pick your grandchild up off the floor, your technique and movement principles are the same," Martin says.
Coming from Elmira, Drayton, Alma, Linwood, St. Jacobs and surrounding areas, moms and dads are building energy here so they can play with their children after a day's work, Martin says. There might be someone grappling with depression who feels better after the physical challenges and camaraderie. Everyone is connected by the same goal – to be as healthy and fit as possible.
"You're here to do a pull-up, right?" Martin says to me when I walk through the gym doors and stand on the rubber floor. "Yah, right," I reply with a laugh.
I'm a bit awed by the bright, open space and the equipment in front of me: Olympic barbells, bumper plates, pull-up bars, gymnastics rings, squat racks, medicine balls, dumbbells, kettlebells, jump ropes, bikes, rowing machines and SkiErgs, Nordic skiing machines.
Martin is fresh from a 7 a.m. personal workout and from coaching classes at 9 a.m. and noon. He'll coach another class after we chat at 4:30 p.m. Me? Well, my morning workout involved a keyboard.
Martin was a seeker before landing here, in this leased, 5,000-square-foot warehouse in which he opened CrossFit Elmira almost seven years ago. When he was younger, he had no idea that coaching people, young and older, would satisfy the passion he had to do something good, something worthwhile, something that helped people.
He didn't know that he'd travel to Manila, capital of the Philippines, to discover that passion.
His challenges – testicular cancer and surgery, and the ramifications of COVID on his business — were still ahead.
Martin grew up the youngest of three in a Mennonite household in Linwood. His parents owned a drapery business and also ran a home daycare. Later, when the family moved to Elmira, his parents started a bus line located in Wallenstein, just west of Elmira.
"They are entrepreneurs at heart," he says.
Martin played school sports but enjoyed street hockey most of all. "I was not a workout person," he says, standing on the warehouse's open second level overlooking the gym.
Like his parents, he was a bit of an entrepreneur from a young age, working in a cabinet shop, mowing lawns with his brother, delivering Record newspapers, working in a hardware store.
"Part of the Mennonite background is hard work from a young age rather than sports or soccer," he says. "It was fun making money when I was a kid, and seeing how work turns into a jar full of money was pretty exciting."
But it didn't satisfy his yen to fix things. His father was an auto mechanic before he and his wife started their businesses. Martin liked to tinker with lawnmowers and bicycles, pastimes that led him to a high school co-op job at an automotive shop. After high school, he learned to repair heavy equipment such as bulldozers and excavators at his uncle's shop.
"Having something broken that you can make work like new is so unbelievably fascinating and so rewarding," Martin says.
But still, he felt restless. He started asking: "What's my purpose?"
"I chatted with a friend and decided to do something crazy and do volunteer work," he says. He quit his job and flew to the Philippines to spend three months with his brother and friend as part of an Elmira-based Christian charity.
"Manila is very different from Linwood," he says with a smile. "There were different smells; it was humid, crazy loud. There were no horse and buggies."
He fell in love with the hospitable, fun-loving and energetic people he met. The three Canadians were assigned to take food to squatter communities where Martin was "blown away" by the poverty and generosity he witnessed.
"It was mind-blowing to see the quality of life of some people who were living in homes smaller than this office – a mother with six kids – and they want to make sure you had bread to eat."
The feeling that he couldn't change the situation for thousands of people in poverty "was a lot to take in," he says. One day, he met a group of children living under a bridge. He wondered how he could help them.
"I wanted to be a part of something more. That was a pivotal day."
Back in Canada, Martin married Shavonne, whom he'd known since childhood, in 2009. She was a personal support worker; he was working in an auto repair shop. But he was still thinking about the children under the bridge.
"Part of our dating conversation was, 'I know I want to live in the Philippines. Would you consider leaving everything and moving to the Philippines?' She said yes."
They packed four suitcases and moved to Manila in winter 2011 after holding a giant fundraiser dinner to support them and the work of the charitable organization that employed them. The couple rolled up their sleeves and helped at the family restaurant of a Filipino friend, owned by his friend's hardworking mom, a single mother of four children. To create more jobs, they helped expand the kitchen and find catering opportunities. While there was poverty in Manila, there was also wealth, Martin says.
"He just wanted to help people," Shavonne Martin says.
"We didn't really know what it would look like. He was exploring."
Martin realized that while he might not be able to help 50 people under a bridge, "there's a lot of opportunity to create sustainable change if you help one person at a time. A father with a good job at the restaurant could create a better life."
Eventually, the couple decided to stop receiving support from the charitable organization in favour of finding their own income. They earned a bit of money working at the restaurant. They met a fellow Canadian who was working at a CrossFit gym. They asked him if Shavonne, who loved working out, could get a job coaching. The owner agreed and Shavonne began coaching one day a week.
"I went to watch her class one day and fell in love with the community and the work-hard mentality," he says. He began working out there and the owner said he also could learn how to coach CrossFit.
It was a light-bulb moment. "I fell in love instantly," Martin says. "Literally from the first class I was coaching, I knew this was the thing I was looking for." He could help people fix their health.
"It was that repair process of fixing things but so much more rewarding than having a person drive a car you just fixed," he says. He discovered a fire for knowledge that he hadn't known before. He devoured books about exercise and nutrition and learned everything he could from other coaches, clients and athletes. "I think I read two books in high school," Martin chuckles.
Between restaurant work and coaching, the couple was able to make ends meet.
"We did it for a year and visualized it might be forever." But they had to make a decision. Would they build a life and business in Manila or Canada? "It was time to come back."
They moved back to Elmira in December 2014 where Martin worked in an auto shop, did some personal training and dreamed about owning a gym. Shavonne worked in the shop's office and the generous owner offered to help them start a gym.
In March 2014, Martin found a small space for a gym in Elmira where his auto shop employer paid the rent until he could afford it on his own. In return, his benefactor would receive a gym membership until the cost amounted to the total he'd given them in rent money.
A line of credit helped buy equipment and flooring while a friend built the pull-up bars, and Martin and his mother painted the walls. He persuaded his dad to work out and he personally trained his grandpa. "I needed a client," he says, laughing.
After six months, the gym moved to the big, airy warehouse where it is today. Living in his parents' basement, saving everything they could, and accessing a business bank loan helped them put in rubber floors and add equipment.
"The amount of work that has gone into it, strictly from a business perspective, probably isn't worth it but providing that hour for someone's day is," Martin says.
"Having a space where people can experience that is everything to me. When we do our classes, there's laughter and cheering and occasionally tears. My goal is to make this the best hour of somebody's day."
But it wasn't smooth sailing by any means. "Lots of ups and downs," Shavonne says.
Martin was waiting in a doctor's office, checking back-squat techniques that he'd recorded on his phone, when the urologist told him he had testicular cancer. He was scheduled for surgery the next week, he was told. It was the first time he'd been told the lump he'd found was cancerous.
"My ears started ringing and I couldn't hear what he was saying," he says. "I was fit and healthy and caring about what I eat, working out lots – to have cancer, what have I done wrong?"
He returned to his gym, worked out with a class. "This fitness means more to me than a workout. It's a form of therapy."
He spoke openly to his CrossFit classes about his surgery and later helped to raise money for men's health.
"Definitely it was scary for a little while," Shavonne says. "People stepped up and offered to coach some classes because he couldn't."
It wasn't over. A subsequent scan showed an abnormality in his thyroid which led to five biopsies over the next two-and-a-half years.
But Martin felt good and was building his strength again. In the gym, "it's that clearing of your mind and you put yourself through something uncomfortable. It builds resilience in your life to withstand difficulties.
"You get relief through training. Some people find it through drugs or alcohol. Training is for me the tool that brings you back to the present and focuses you on what matters."
Martin had surgery to remove half his thyroid for testing in fall of 2020. Thankfully, the large nodule wasn't cancerous, but it needed to be removed. He was doing workouts soon after. But then the full impact of the pandemic struck his gym, like so many other businesses.
The gym closed and the exercises went online. "We were able to maintain a lot of members through this and a lot of people have supported us."
But he wrestled with it. "I wasn't providing the quality of experience people had signed up for." The pandemic changed the couple's ability to reach their financial goals.
Now, with the gym open for business again, Martin,is building his membership numbers, including children's classes.
He's making a difference, as he yearned to do, and as his gym members will tell you.
Laughter is one reason Shari DeCaire, director of adult services at a private social services agency, considers Martin's gym to be the best of all the CrossFit gyms in which she has exercised over the last 10 years. She's at the gym five or six days a week.
"It's a super positive space with a good message," DeCaire says. She likes the gym's two rules: 1. Be nice to people. 2. Try your best.
"You have a really rough day at work and then everyone is cheering everyone else here. I get such a high from seeing other people do really well."
DeCaire, 43, credits Martin for being caring, encouraging, knowledgeable and able to modify the workouts for individuals.
His coaches share his passion for seeing people succeed, she says.
She recalls how she felt when she joined CrossFit Elmira after moving to Elmira in 2013.
Before having twins, she'd achieved a high level of fitness. But her body was taking a long time to come back, she says.
During an exercise, "I started crying and I'm not a crier," she says. "I was so down because I couldn't do what I used to.
"I remember Kirby taking me out of the class and making me feel good about myself. He turned it around. The feeling was, you're here, you're trying hard, what's more important?"
Jayme Amos, 44, joined Martin's gym in late 2017.
Amos, owner of a roofing company, was 36 when he had a sensory stroke in 2013. To help in his recovery, he started back at his regular gym, "but I knew I had to do more than what I was doing."
He had signed up at a CrossFit gym before and had "chickened out," he says. But after his stroke, he walked into CrossFit Waterloo one day and gave it another try. "I saw super fit people. It was intimidating. But after the first elements class, it was: 'OK. I can do this.' As you go, you realize how everybody starts where you start. It wasn't for the elite. This is truly for everybody. It made me fall in love with it."
Amos changed his habits, worked out regularly and became a coach about a year after joining CrossFit Elmira. "Outside of my wife and work and family, it's the most important thing in my life.
"Kirby really does care about the people at his gym," Amos says.
Adds DeCaire: "I said to him once: 'It's really inspiring to see someone do what
you know they were put on this planet to do.'"