From the Boxing Ring to Subscription Boxes in Support of Local Business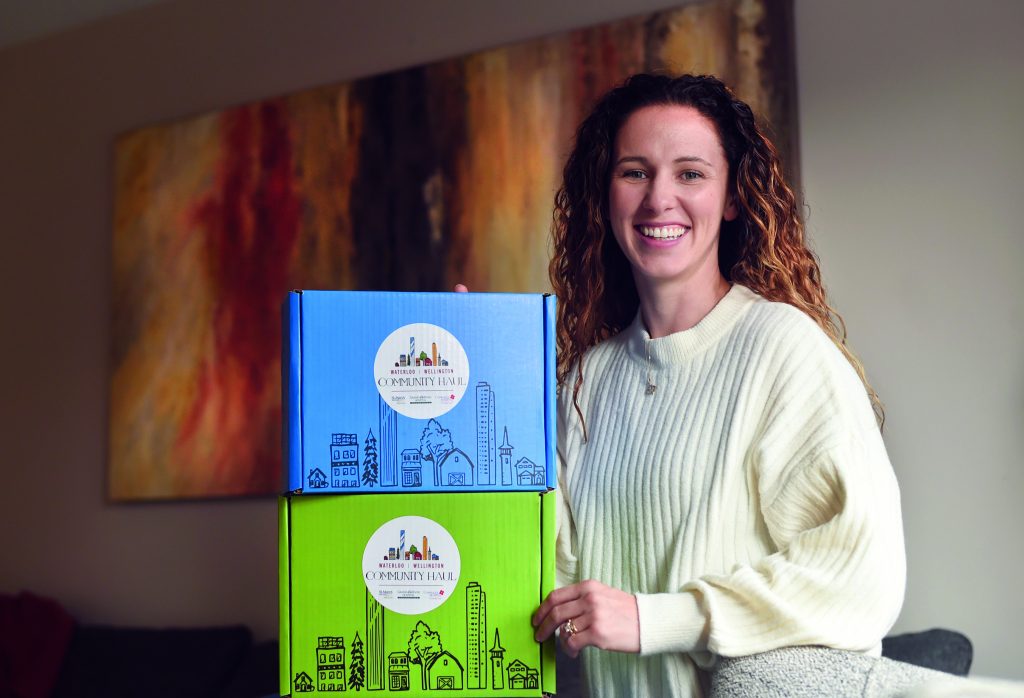 By Jane Pinzhoffer | Photos by DAVID BEBEE
Mandy Bujold knows about fighting. In the boxing ring, she's been an eleven-time Canadian Champion, a two-time Pan Am Games Gold Medalist, and a two-time Olympian. Now Mandy is fighting to help local businesses and vendors in our community build a better future.
Mandy and former super-middleweight champion Syd Vanderpool have joined forces to launch Waterloo-Wellington Community Haul, a monthly subscription box that delivers beautiful and unique locally sourced products right to your doorstep every month.
The idea is to celebrate the best our communities have to offer by highlighting and supporting local companies. Additionally, $5 from every box sold will be donated directly to three cause partners: St. Mary's General Hospital, Grand River Hospital Foundation, and the Cambridge Memorial Hospital Foundation.
"Now that my boxing career is coming to an end, I was thinking about my transition and what I could do to help the community that has always been supportive of me," says Mandy.
Small local businesses have been particularly hard hit since the onset of the Covid-19 pandemic. But a positive trend that's emerged in light of the economic downturn is that many people's attitudes are shifting about where they spend their money. There's been increased interest in local goods and services and recognizing the important role local businesses play in creating community identity. Shopping local means local jobs and keeping money in the community. To put it in perspective, for every $100 you spend at a local business, $73 stays in the community for every $100 you spend at a multinational, that amount plummets to only $14.
Waterloo-Wellington Community Haul puts the spotlight on the business, not the product. Each month subscribers will receive four to six locally sourced and produced goods, but the specific items will be a mystery. "We want it to be about supporting local vendors and businesses," says Mandy. "The boxes will have an element of surprise. We hand-pick items that appeal to a mass audience, with the idea that if it's something you don't use, you can pass it along to someone in your circle of friends. They'll tell someone else about this great product, and these local businesses will benefit from word-of-mouth."
Different businesses are featured each month and every box will have an insert with a description about the company and where to find them—all the information you need to buy the product yourself. Subscribers can expect items such as soaps, bath and body products, sweets and treats, jams, jellies, spices, sauces, teas, locally roasted coffees, clothing, and beautiful art and craft pieces.
"Syd and I know the people running Community Haul in Nova Scotia," says Mandy. "They were able to raise a lot of money for charity and suggested we could use their model in a supportive community like K-W. It worked out and we didn't have to start from scratch." Mandy handles the day-to-day operations, reaching out to vendors, while Syd spreads the word on the corporate side.
"We search to find high-quality local luxuries and unique products that showcase the best of what our regions have to offer to share with our subscribers," says Mandy. "The whole idea is to show the community that there are local alternatives to buying from big corporations. I had no idea how many cool products are made right here. We already have over 100 local companies, and new local businesses are popping up all the time. Instead of going to the mall and buying a national brand, I'd much rather buy from someone making it locally, and it's usually the same price."
Community Haul subscription boxes will be available in two options.  The Long Haul is $52+tax per month for a one-year subscription (a total of 12 boxes) or a No Strings Attached $60+tax per box, per month, that allows you to cancel at any time. The boxes get delivered on the 15th of each month, the first boxes were delivered November 15. There's also a corporate program in which you can curate boxes to recognize employees.
Originally from Cobourg, Mandy's family moved to Moncton, New Brunswick, before settling in Kitchener. Mandy was just 16 when she walked into the gym looking for a fitness program. "I was following in my brother's footsteps," says Mandy. "I thought boxing looked cool, and I got hooked right away. It was demanding, always a challenge, impossible to master. I never played sports, but there was something about the way boxing made me push myself. It was all on me. I had to do the work. I didn't have anyone else to rely on. I had no idea it was in me. Boxing gave me confidence. It helped me carry myself with confidence, and this feeling carried over to other aspects of my life."
Mandy's boxing career was launched just two years later when she claimed the Canadian National Championship and Boxer of the Year titles in the flyweight division. Her victories include 11 Canadian National Championships and three Continental Championships. She won gold medals at the 2011 and 2015 Pan American Games—the only female boxer in history to win the title twice. In 2014 she took home the bronze medal at the first Commonwealth Games to include women's boxing.
In 2016, she realized her ultimate goal of being a part of Canada's Boxing Olympic team.
Winning the qualifying event in Buenos Aires, Mandy was one of only three boxers representing Canada and regarded as the best hope for a boxing medal. After a promising first bout, she was set to go to the quarterfinals but fell ill the night before her match and ended up in the hospital. She lost almost five pounds in fluids but was determined to fight. Two hours after she left her hospital bed, she was in the ring facing one of the best boxers in the world. Although unsure she'd even be able to step through the ropes, Mandy wasn't about to give up after all her years of hard work. After losing an extremely hard-fought match, she took some time away from the sport to start a family.
Mandy returned to international competition in 2019 after the birth of her daughter, Kate Olympia (KO), with top-three podium finishes every time she competed. After winning a gold medal at the Canadian Olympic Qualifier, Mandy had completed step one of two in her qualification process for the Tokyo Olympics with the hope to be the first female to box for Canada at consecutive Olympics.
Fate would once again step in when the Covid-19 pandemic hit, and the remaining qualifying events were cancelled. The organizing committee then retroactively selected events for Olympic qualification that were only held during her pregnancy and the postpartum period. Mandy was in for a new kind of fight, this time against the International Olympic Committee for gender equity in sports.
She won the precedent-setting case so that in the future, there will be accommodations made for women who were pregnant or postpartum during the qualification period. Thanks to Mandy, female athletes will never again have to decide between an Olympic dream and starting a family.
"Throughout my 16-year career representing Canada in the boxing ring, I got to travel the world and meet amazing people. As an athlete trying to raise money to get to the next event, it was almost always local businesses and the community that supported me. Now I'm in a position to help them get more customers and pay for employers to help send their kids to sports," says Mandy.
"I moved to Kitchener just a few years before I walked into that gym. I feel fortunate because I might have gone my whole life without boxing."
To learn more or subscribe to Waterloo-Wellington Community Haul and help Mandy and Syd fight-for-local, please visit WWcommunityhaul.ca.