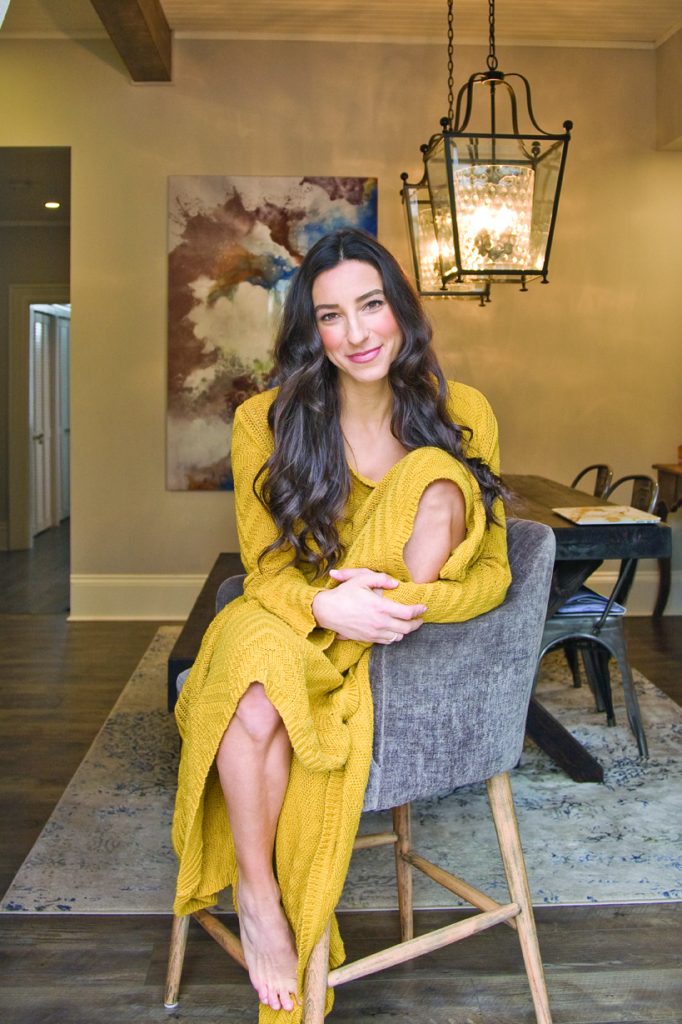 Kitchener native lights up the stage with talent, hard work – and inner calm
By Barbara Aggerholm | Photography by Alisha Townsend
It's showtime at last at Stratford Festival and Bethany Kovarik, cast in the sizzling musical "Chicago", is almost vibrating with exhilaration.
Kovarik, 34, born and raised in Kitchener, plays Liz, also called Pop, one of the six "murderesses" in the  long-awaited production, which was postponed two years ago when the stage went dark during pandemic shutdowns. "Getting a second chance and being able to do this is really a dream come true," says Kovarik, a vivacious woman with long, dark hair and expressive brown eyes. Such a role is particularly precious in 2022 after two years of forced COVID seclusion in which Kovarik sought inner peace and inspiration in her charming Stratford home, her backyard yoga studio and her rose garden. "I really do believe that when you create a safe and comforting space and especially as an artist, it really helps you in your living," she says. "I have this very introverted-extroverted type of personality." The introverted part "fills my cup in this quiet space." But the extroverted part? Well, let's just say it's more than primed for the "big rush" of playing a featured dancer in "Chicago".
The Stratford Festival visitors guide describes the play as a "deliciously lurid tale of adultery, murder and justice." Set in jazzy 1920s Chicago, it's the tale of two murderesses, Roxie Hart and Velma Kelly, who compete for the attentions of their slick, lustful lawyer, Billy Flynn. Kovarik's character, the sassy Liz, is in Cook County Jail with them after shooting her annoying, gum-popping husband. Fresh from a rehearsal, Kovarik describes the excitement of performing the electric song, "Cell Block Tango," in which Liz and the other murderesses justify to the audience why their husbands or lovers "had it coming" when they killed them. "One of my favourite parts of a production is the rehearsal process," Kovarik says. "The room is filled with inspiration, excitement and the unknown. We're into the creative process, and I freakin' love it." Donna Feore, musical director and choreographer for "Chicago", describes Kovarik as "fearless" and "effervescent."   "She's very special," says Feore, interviewed during a rehearsal break. "Literally, the room lights up when she's there. She doesn't need lighting because she's completely lit up because of her energy. "She's incredibly talented, an astounding dancer, coupled with the fact that she is also a very talented singer and actor. What's not to love?"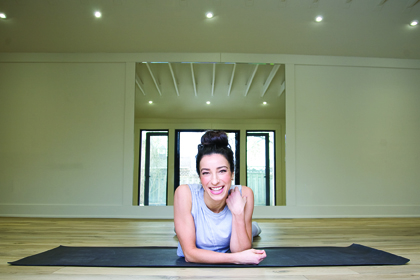 That's high praise from one of Canada's leading lights in musical theatre direction and choreography.  Besides "Chicago", Feore has also been readying a couple of shows for production in New York these days and producing a TV series for CBC Gem. Since 2014, Feore has worked with Kovarik in six musicals at Stratford Festival – "Crazy for You", "A Chorus Line", "Guys and Dolls", "The Rocky Horror Show", "The Music Man" and now "Chicago". "She (Feore) brings out the best in everyone," Kovarik says. "She pushes me. She inspires me. Her vision comes to life because she has that spectacular eye to detail." Kovarik is a veteran who leads by example, Feore says. "Bethany leads with kindness and respect of others. It's how she enters a space and it's how she enters a conversation and how she enters a rehearsal. "And her work ethic is unbelievable."
Off stage, Kovarik works just as hard to stay healthy physically, emotionally and mentally. That aspiration led her to explore yoga in her early 20s and to sign up for training in Montreal in 2019 to become a certified yoga instructor. In Stratford, her two worlds come together nicely. After all-day rehearsals, Kovarik comes home to a beautifully decorated heritage home designed in the Ontario Cottage style, a rectangular house with white trim and gingerbread at its peak. The house, which Kovarik bought in 2016, is a 10-minute walk from Avon Theatre. With the help of a designer, she modernized the interior, giving it a light, happy feeling. She was happy to discover many kinds of roses, planted by many hands over the decades, at the side of the house, and her yard has room for a little vegetable garden. Last year, she had the garage converted into a yoga studio, so she can teach yoga and dance virtually, and later, live. A visitor steps under a pretty wooden structure that frames the glass doors into an airy, 480-square-foot studio with floor-to-ceiling mirrors, wood laminate flooring, a large TV wall screen, yoga mats and a little palm tree that acts as a backdrop for videotaping. The whole effect is calming. Kovarik's yoga practice, meditation, journaling, nutritious diet, and morning and night-time routines help balance her life.
On stage, "you are committed to being your best self in the room and then to come off of this, you're vibrating, on a high from your day and you're excited because it's what you want, a passion. But you're carrying it with you," she says. "Coming off of that is a very personal ritual to practise and to recognize when you are done with your performance." Feore has taken Kovarik's yoga sessions with her daughter, Anna, a professional volleyball athlete on Team Canada, and found her instruction "very, very helpful." Kovarik is a gentle teacher, an empath, a deep thinker, Feore says.
At Sheridan College, where she has taught, Kovarik brings to her students all that she has learned on the stage and on the yoga mat. She also added a yoga piece last year to Dance Canada competitions in which she works with dancers to help them be "the best versions of themselves as an artist and a person." She wants them to learn how to handle "the bumps in the road." "I really did struggle in believing in myself like we all do when we're young and I didn't have the tools to figure that out," she says. Slow down, breathe and remember why you love to dance, she tells her students.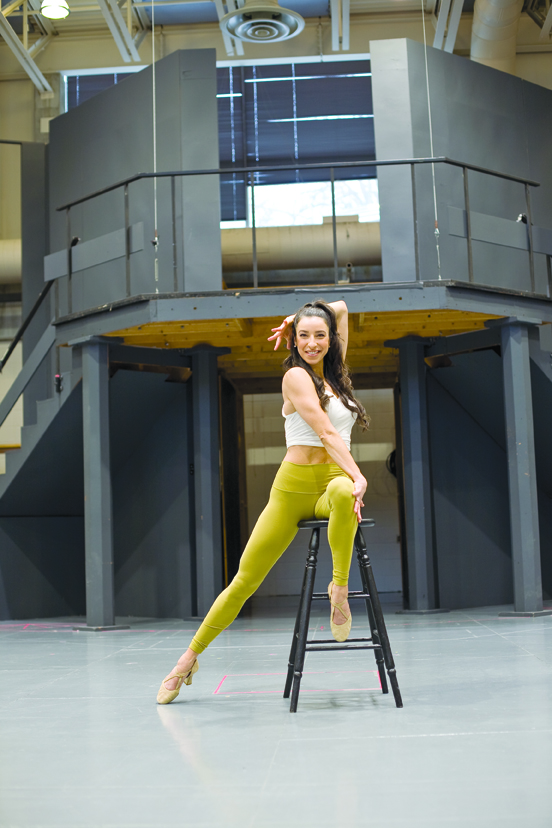 Kovarik has been dancing since she was three years old. Her family loves hockey and the arts, she says, and her parents were often in the car driving her to dance competitions and her older brother to hockey games. Music and dance are a big part of the professional life of her family who have run dance competitions for the last 23 years. When she was 12 years old, Kovarik danced in the Raptors Junior Dance Pak, a high-energy group that entertained during breaks in Toronto Raptor games. She also won a dance scholarship that sent her to New York City where, in addition to participating in intensive dance workshops, she saw "Chicago" and other Broadway shows with her father. "Chicago" sealed her determination to perform professionally. "I saw a piece of myself on that stage," she says. After high school, Kovarik continued training in Toronto. She got an agent "because you just want to dive right in." She was successful in her first audition, for a dairy farmers' milk commercial. It was followed by a role as a dance double in the 2008 movie "Make It Happen". Her initial success made it even more disappointing when she did not get into Sheridan's challenging dance, singing and acting school in 2006. However, after a year of sharpening her singing and acting skills, she was accepted the following year. After graduating in 2010, Kovarik put her hard work and talent to work. "I lived with my family, driving back and forth to the city and training. I continued auditioning, booking work and not booking work," she says. "You sometimes don't book it and you pick yourself up and begin again and learn and grow." She landed multiple TV and film roles in Toronto and Vancouver and theatre work in Alberta and Ontario. In 2014, she was a swing in "Crazy for You" at Stratford Festival, learning eight roles. It was "a huge learning curve" and a busy, busy time. She yearned for balance. "At one point I just felt like I needed to take a step back and reassess and reflect," she says.
In 2015, Kovarik decided to take a break and she backpacked for three months in Thailand, Laos, Cambodia and Vietnam. "It's almost like I needed a moment, and I needed to personally grow and learn about myself away from the stage and away from the art and learn about the individual I am and other things I love. "It was awesome," she says. "I'd go camping at the top of the mountain. All you can see is the sky. It's a million-star hotel. "I learned I have this side of me that is disciplined and hard-working, but what I found there was a lot of freedom and openness and playfulness and that sense of learning about who you are without anybody telling you who you are." She returned to Canada and headed into performances in Drayton Festival Theatre's production of "Chicago", where she put that sense of "freedom and playfulness" into her work. "I didn't even know I'd been searching for that." That fall of 2015, she performed in "Return to Grace", an Elvis tribute show, in Niagara Falls. The show toured to Bangkok, Thailand, and she decided to stay a little longer to visit Bali.
A dizzying list of productions filled the following years. Among them, Kovarik was a featured dancer in "Joseph and the Amazing Technicolor Dreamcoat" at Theatre Aquarius in Hamilton, and she performed in Stratford Festival's longest-running production, "The Rocky Horror Show". Her parents came to "The Rocky Horror Show" 14 times, she says with a laugh. In addition, her film and TV work included "The Boys", "What We Do in the Shadows", "Warrior", "Warehouse 13", "Hellcats", "Bomb Girls" and "The L.A. Complex".  When the pandemic struck and the Stratford Festival stages went dark in March 2020, Kovarik landed a couple of TV and film roles in Toronto, but it was her yoga practice that helped keep her "sane and grounded." She taught yoga virtually, and those lessons were a lifeline for people like Kiersten Polard, a third-year student in Sheridan's musical theatre program. "It has taught me so much about my relationship with myself, which is a lot different than what is taught in school," says Polard, 22, who first met Kovarik when Kovarik talked to her class after a performance of "The Music Man" at Stratford Festival. Later, Kovarik was a teacher at Sheridan whose "contagious" energy she admired. "As a performer, it's a very anxiety-filled career," Polard says. "There are a lot of unknowns and uncertainties. It's not very stable, and it's really nice to have a yoga practice that is consistent as long as you have your mat." Polard, a Jasper, Alberta native who lives in Oakville while she's at school, will be in the audience to see Kovarik perform in "Chicago".  I'll probably be there multiple times," she says with a laugh. "She is so electric on stage. Your eyes go to her immediately. She just wears her heart on her sleeve when she performs.
"I think she was born for this show."