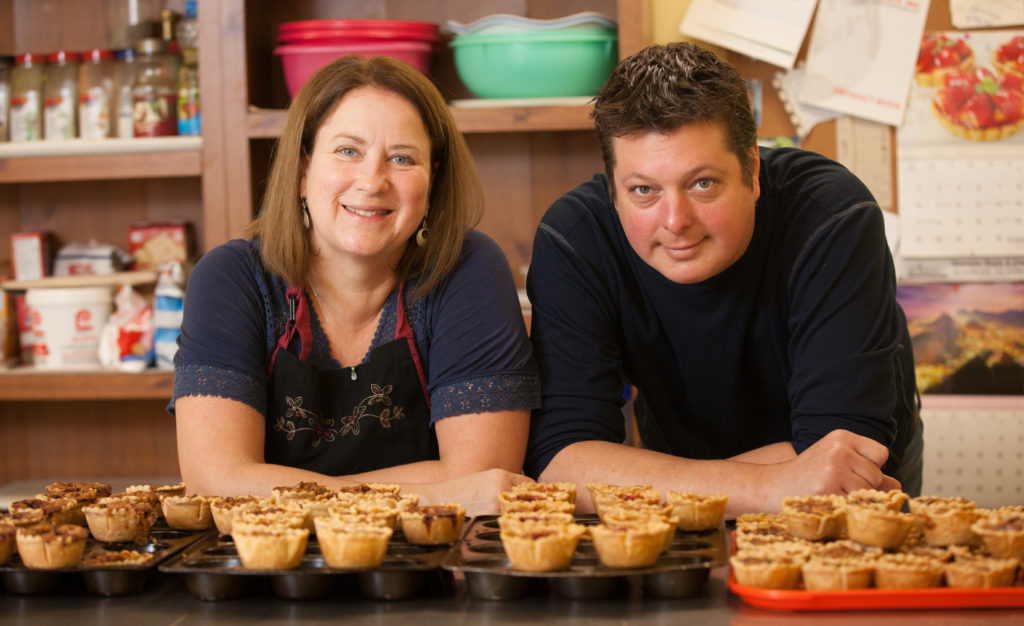 Mike and Julie Woelfle, owners of Belwood Country Market, say they sold 149,000 butter tarts in 2018.                      — Photo by Chris Seto
Butter tarts so popular pastry makers, such as Belwood Country Market, sell them as fast as they can make them
By Sonia Day
Oh boy, butter tarts. Who doesn't love them? As I bite into one – at Belwood Country Market, outside Fergus – it strikes me as a little bit of heaven on a dreary day.
The pastry in my particular tart is perfect – golden brown, flaky on the tongue, but not leathery or too much like shortbread. Nor is it laden with fat. And the filling? Well, the flavour is as buttery, sort of gooey and enticing as we expect from this legendary culinary confection. Yet it's not overly sweet either. The sugar hit doesn't send my tastebuds into overdrive, prompting worries about empty calories, piling on pounds, and how – yikes! – my impulsive purchase might plug up my arteries like cement.
No, this little indulgence actually comes across as GOOD for me. A welcome dose of therapy. More uplifting to this winter-weary Canadian than a session at the gym and cheaper – at $1.75 per tart – than a latte at Starbucks. Vastly more pleasurable, too.
So, nutrition nabobs – no nagging, please. No way I'm going to feel guilty about consuming these calories.
Instead, I nibble my tart with deliberate slowness, savouring the divine combination of melted butter, smooth syrup and liquid egg (plus, in this instance, raisins) mingling in my mouth. Then, satiated, I climb into my car and drive away from Belwood, feeling immensely cheered by the experience.
Good butter tarts can have that effect on you. They are somehow so comforting, so Canadian, so emblematic of this province where our love affair with them is supposed to have started – although exactly where (and when) is a matter of endless debate.
Some historians say Ontario's claim to have originated the idea of tarts made with this kind of sweet filling is a crock – that they actually began with les filles du roi, the hundreds of young women sent over from France to populate Quebec in the late 17th century. (Those plucky damsels, after all, had lots of maple syrup to use up.)
True or not, there is general agreement that Ontario can claim the honour of publishing the first recipe. Back in 1900, Margaret MacLeod wrote instructions for preparing this "filling for tarts" in a book put out by the Royal Victoria Hospital Women's Auxiliary in Barrie – and a culinary legend was born.
The yummy little tarts are now a fixture on the countertops of rural bakeries, diners and small stores all over the province. But they're particularly popular here in southern Ontario – where, in a bid to boost tourism, several marketing-minded municipalities have devised a "Butter Tart Trail" with maps showing locations where fans can dig into this sweet delight.
But wherever we buy our butter tarts – everyone seems to have a favourite – it is surely time to raise our collective coffee cups to the people keeping this scrumptious tradition alive. Pastry-making is a ton of work and thousands of these tarts are regularly churned out by hand in country kitchens, often without the benefit of mechanized equipment. Then the people who cheerfully undertake all that pastry-rolling, butter-melting, syrup-making and more must find a way to market what they produce. That's no mean feat, when you consider the stiff competition for our sweet tooth that they face from big supermarket chains.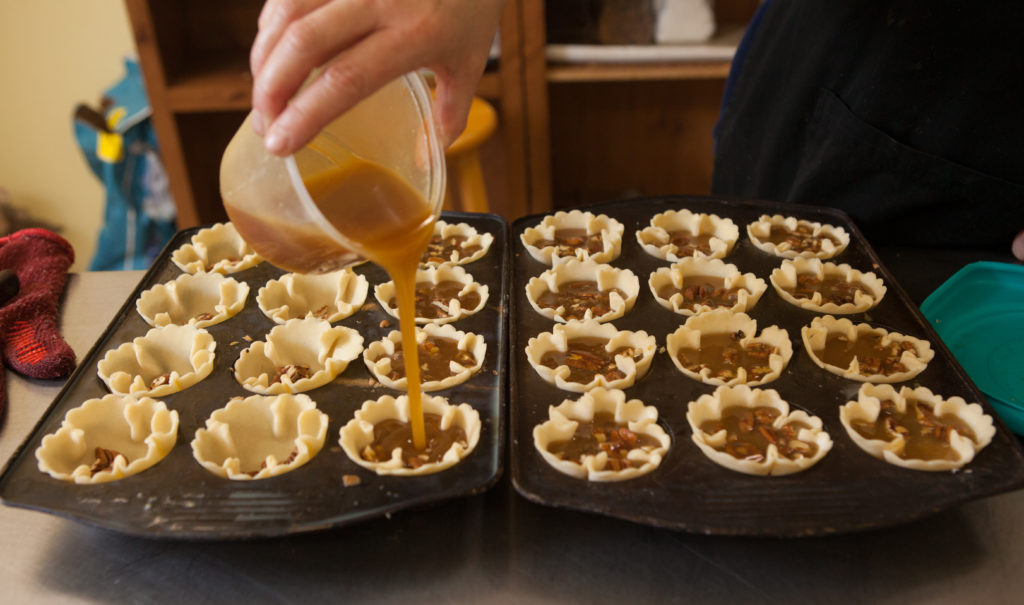 Once the filling ingredients are mixed together, Julie Woelfle carefully pours the sweet blend into the tart shells. Belwood Country Market offers seven butter tart flavours, including plain, raisin, pecan, raspberry/coconut, blueberry/white chocolate, Reese's peanut butter cups and Skor.    — Photo by Chris Seto
Mike and Julie Woelfle, operators of the Country Market in the village of Belwood, 10 kilometres east of Fergus, are a good example of this cottage industry in action. Little establishments like theirs are, alas, vanishing from Ontario – drive country roads and it's depressing just how many boarded up village stores you see – but this enterprising couple has found a way to break the mould and earn a living in a rural spot that's quite a hike from urban centres.
Their ability to survive is fuelled, partly, by butter tarts.
They started making them in 2013, and sales have been climbing steadily every year. They estimate they sold 149,000 tarts in 2018.
"That's a record for us, " Julie says, sounding a bit surprised herself, as she melts butter for yet another batch in their modest kitchen at the back of the store. Every step is carried out by hand, except for the pastry. Because they produce so many tarts now, the couple recently started buying ready-to-go dough from a local woman.
"When we got into this, we had no idea our tarts would be so popular, " Julie says. "Mike was making meals to go, like shepherd's pie and chili, and we just decided to add some tarts as a sideline."
Now, they hardly have time to cook anything else.
"And that's ironic, " Mike adds with a rueful laugh, while pinching circles of thin pastry into metal muffin tins, "because I'm not really a baker. I've never done stuff like bread and cupcakes before – and now here I am, making all these tarts."
He laughs again and returns to the muffin tins.
Yet in truth, neither of the Woelfles are really neophytes at the art of producing and selling prepared food. Both have solid backgrounds in the urban restaurant industry.
They wound up putting down roots in tiny Belwood – their home is a boxy white house across Belwood Lake from the rented store – for reasons that included being near where Julie was raised. Her parents, Gerry and Carol Ellen, now rent out their family farm nearby. At age 12, Julie actually had a summer job in the store she now owns with Mike. The business was then called Town and Country.
Julie left home to study business administration at Sheridan College in Mississauga and later met Mike while working at a restaurant in Brampton.
"I was the manager, he was the bartender. So I was the boss, " she says.
"She still is, too, " quips Mike.
He'd studied cooking and restaurant management at George Brown College, the Toronto culinary institution that has produced some of Canada's finest chefs. Then he found employment in various restaurants there and in Ottawa, starting as a dishwasher, then becoming the "prep guy" peeling tedious buckets of potatoes, and finally a chef.
The pair got married and had two daughters. Yet after several years living and working for restaurants in Brampton, they decided to make a major change in their lives.
"We didn't want to raise our kids in the city, " Julie explains, as Mike nods in emphatic agreement. "So the opportunity to take on the old Belwood store came up, and I said to him: 'Why not?' "
Why not, indeed. The store had been closed for a while and needed a major overhaul. But they took the plunge, signed a lease with the longtime owner, and admit candidly that it hasn't all been a cakewalk since then.
Starting out a decade ago, they mostly depended – like any typical convenience store – on "gas and smokes" for their survival. Another idea – selling fresh local Ontario produce – didn't pan out, because the stuff tended to go bad before anyone came along buy it. So Mike, in a bid to use up vegetables, began making soups and take-out meals from scratch. Then everything sort of mushroomed from there.
Even now, despite their booming business in Ontario's sweetest treasure, he says that – like many similar businesses – catering for weddings, dinners and parties is what keeps them afloat in quiet times of the year.
"It's a balancing act, " he says. "You have to be prepared to take on anything."
He credits his training at George Brown for teaching him the proper way to cook food.
"You can't just be creative in the kitchen, as many novice chefs think, " he says. "You need a foundation in the basics, just like you do if you're in construction."
And when it comes to running an off-the-beaten-track village store such as Belwood Country Market, what's equally important is business savvy.
"A course I took in kitchen management was the most useful thing I learned, " he says. "Regardless of what you're cooking, you have to be able to make money doing it."
Julie's degree in business administration and her experience running restaurants has been a vital factor in their success too.
But let's get back to those beautiful butter tarts. The couple bake theirs in seven varieties: plain, pecan, raisin, raspberry/coconut, blueberry/white chocolate, Reese's peanut butter cups and Skor, made with broken-up pieces of the chocolate and nut candy bar.
Yum. Which is the best?
"It's whatever your grandmother made, " concludes Mike, shrugging.
He adds with a wry grin: "People can get really defensive about butter tarts."
The older generation, he explains, tend to stick with raisin and pecan, and argue that anything else isn't "authentic." One woman actually got miffed that the couple dared to add things such as coconut, frozen raspberries and peanut butter to their fillings.
The Skor version, which comes out of the oven like molten lava, is hugely popular with younger customers. The peanut butter one is gaining fans too.
And mine – the traditional raisin kind – nibbled on that bleak morning, was nothing short of memorable.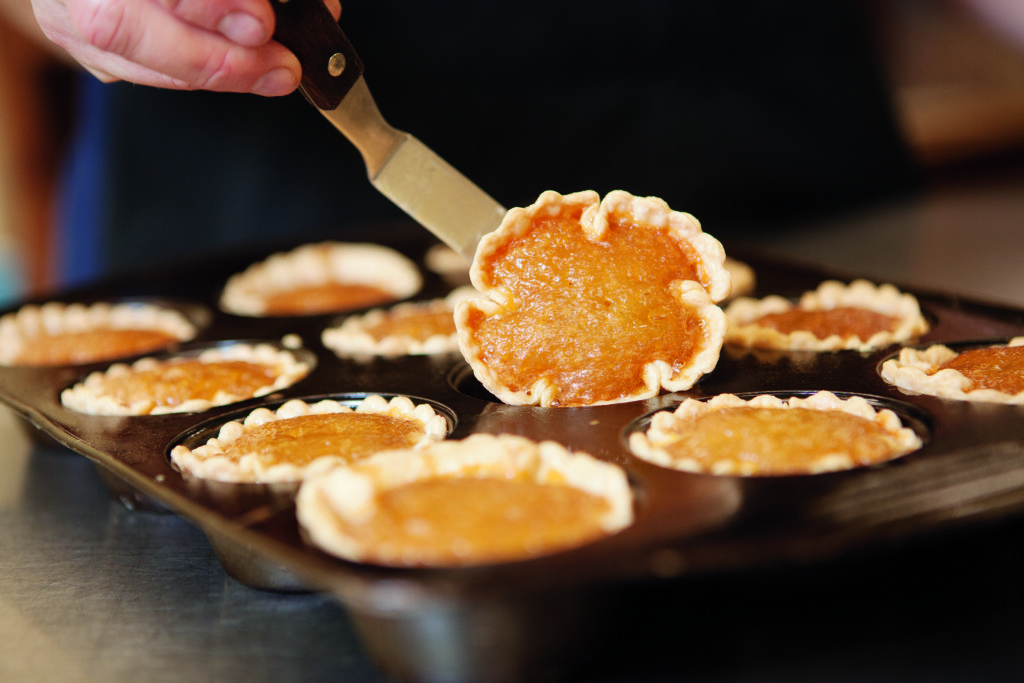 When the butter tarts are done in the oven, Julie Woelfle will remove them from the baking tins to look at the bottom of each one. If the tart is not done, it will be put back in the oven. If it's too dark or broken, it will be set aside to be sold at a discounted price. If the tarts are ready they'll be placed on a tray to cool and then brought to the front display, or packed up for customers. — Photo by Chris Seto