By Jane Pinzhoffer | Photography by John Thompson
The St. John Ambulance Therapy Dog Program of Kitchener-Waterloo started in 1996 and has since grown to over 70 volunteer teams of handlers and their pets. They bring comfort and companionship to adults residing in long-term care and palliative facilities. In hospitals, they provide relief to those suffering from physical and emotional pain. In schools, their dogs help young children learn to read with the "Paws 4 Stories" and visit children with special needs. University, college, and high school visits help relieve stress during exam periods. Community outreach includes youth at risk, the homeless, those with PTSD and anyone who needs the comfort that the touch of a dog can provide.
Over 72,000 Smiles Every Year
When it comes to which breeds do well as volunteer therapy dogs, it has more to do with the temperament of the individual dog. Being predictable, calm, friendly, and good in crowds and with other dogs are the most important traits. "We've had every kind of dog, from a Chihuahua to a St. Bernard," says Anne Ramsoomair, Therapy Dog Coordinator. The most common volunteer breed is the Golden Retriever, followed by the mutt, like Anne's own dog Hailey, a 12-year-old German Shepherd Border Collie Labrador mix. Hailey knows when her scarf goes on that she's going for a visit and instinctively behaves differently than when she's at home with Anne and her husband.
Many dogs seem to intuitively understand when someone needs to be comforted with an unconditional acceptance that goes beyond words. Therapy Dogs not only heal the soul by easing feelings of loneliness and depression, stroking and touching a dog has proven to lower blood pressure, reduce stress, and refresh the minds of those who are confused.
"There was a lady we would visit with early onset Alzheimer's who went from kneeing down to hug Hailey, to using a walker, then a wheelchair, until she was just lying in the chair with her eyes closed. But once she had her hand on Hailey's head, she would smile even before opening her eyes," says Anne. "Dementia takes away a lot, but it can't take away the love of music or dogs."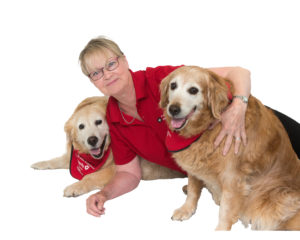 A Health Crisis Changes Everything
Therapy Dog visits are no longer possible as nursing homes have been off limits to all visitors and schools have closed due to physical distancing measures resulting from the Coronavirus pandemic since mid-March.
Now more than ever people are feeling vulnerable and alone. Nursing home residents in particular can feel isolated under the current restrictions. However, this hasn't stopped Therapy Dogs from reaching out. Almost immediately, the program began doing window visits at long term care facilities.   
Like many of us, Therapy Dogs and their owners have more spare time these days and they have used it to find creative ways to stay connected, like sending letters, pictures, and compiling newsletters.
Heather Leong, Therapy Dogs Coordinator for Cambridge has assembled a library of videos starring Therapy Dogs from all across Ontario that has been shared on You Tube as St. John Ambulance Digital Therapy Dogs  https://www.youtube.com/channel/UCoespKEMvQ9MYWAreLRwKCw.
In these videos people have profiled their pets, showing them in their day-to-day life, taking walks with their families, enjoying treats, or playing with t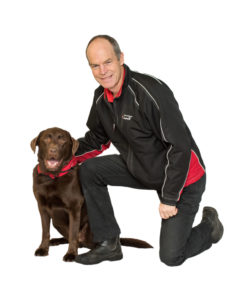 heir favourite toys. Although these virtual visits don't provide the same kind of contact as an in-person call, it's a way for people to still see the dogs and stay connected. To date the library contains over 150 videos and they keep pouring in. A Therapy Dog Thank You https://www.youtube.com/watch?time_continue=4&v=ml2UXxdMW-Q to front-line workers has also been posted on You Tube.
As the province begins to emerge from the shutdown, Anne believes some dog teams may need retraining when restrictions are finally lifted as there are su
re to be new protocols in the places they visit. "It will be hard the first time going back to nursing homes because some of the people we visited won't be there and the dogs will be looking for them," says Anne.