Building miniature dream home aided Waterloo woman's recovery after stroke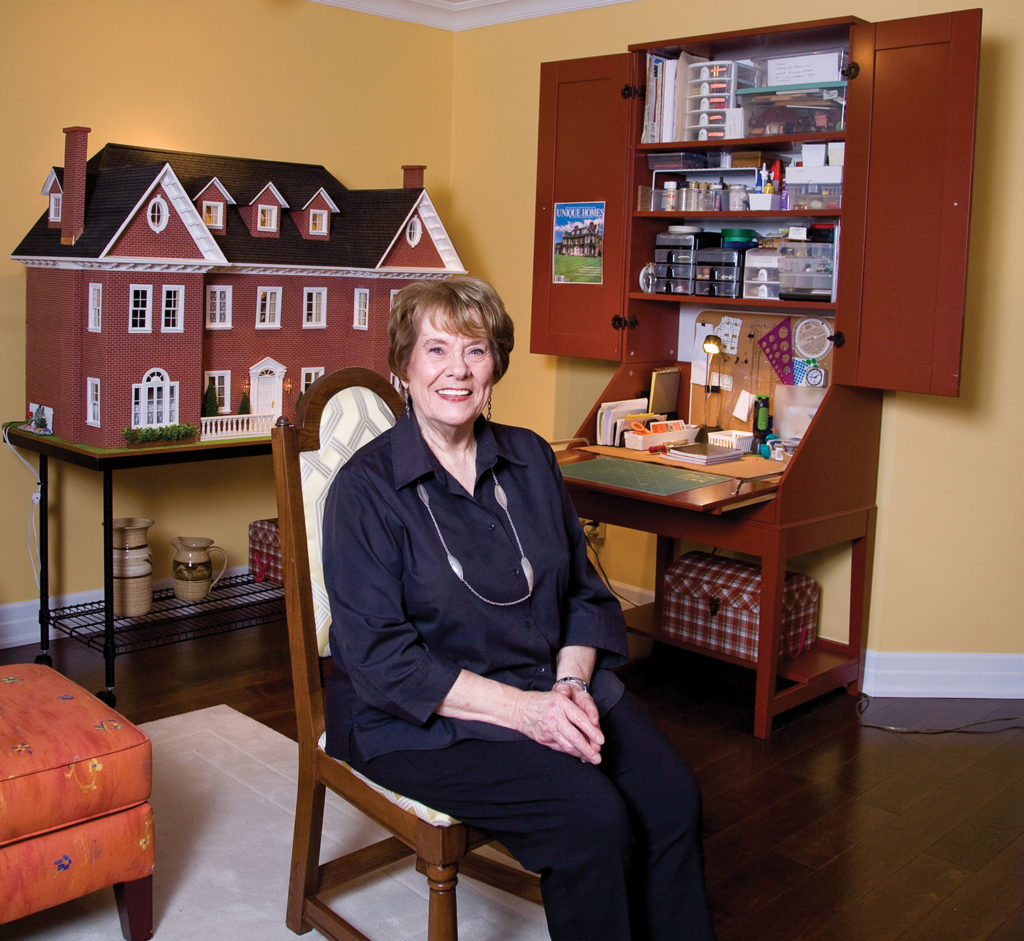 "I don't believe the person I was before the stroke could have done what the person I was after the stroke did, " says Joan Gross. — Photo by Alisha Townsend (freshstudios.ca)
Story by Carol Jankowski
Joan Gross grew up wanting a dollhouse of her own; as one of 10 children everything had been shared. Furthermore, she wanted to build it herself.
However, Gross never imagined that one day the dollhouse ambition would become a key part of her recovery from a stroke.
For 50 years, she collected little things that one day might enhance a dollhouse, but two things stood in the way of getting started: she didn't want to use a kit, and most dollhouse patterns are for American house styles, whereas she wanted British architecture.
Her patience paid off. In 1989, the cover of Unique Homes magazine pictured the house of her dreams — a Neo-Renaissance English manor built in 1890 in West Clandon, Surrey.
The scale for miniatures is one inch to a foot (2.54 centimetres to 0.3 metres). Gross began making a pattern by measuring the width of the house on the cover photo and then the width of its Palladian window. She also had to keep in mind that one day she'd need to get the finished dollhouse out of the basement.
Indeed, its finished size is almost a metre tall, 1.3 metres wide and a half metre deep. It resides on a cart in the family room.
After two practice efforts, the actual shell for the house was built with 3/8-inch furniture-grade plywood.
At that point, Gross told her husband "this is my house." No help other than encouragement would be welcome.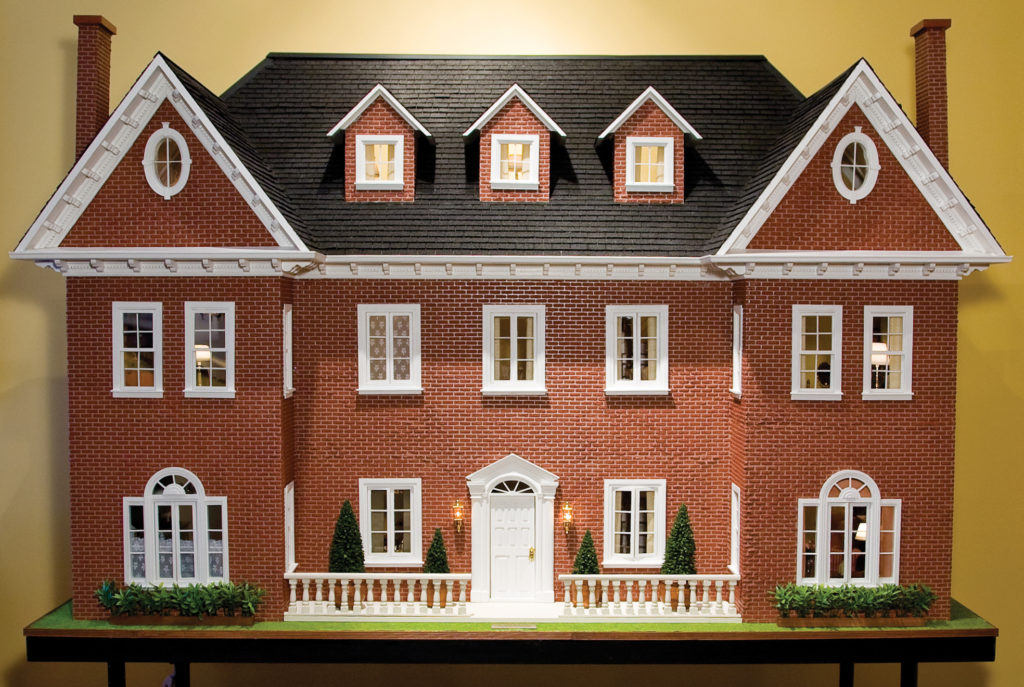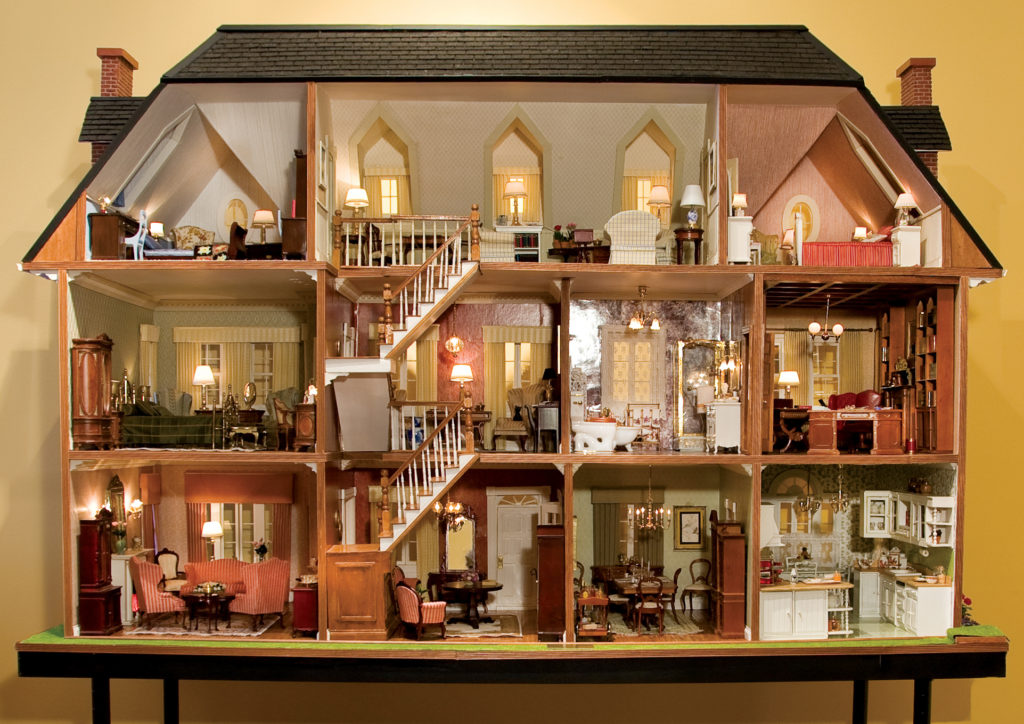 Building a dollhouse was a labour of love for Joan Gross – and she loved every minute of it. — Photos by Alisha Townsend (freshstudios.ca)
Gross retired in 2006, but in 2007 she suffered a debilitating stroke. When she left hospital, no one recommended physiotherapy although her left side was numb. She had also lost the ability to do math, which had been her strong suit as a financial planner.
She began daily walks, squeezing a sponge ball with her left hand; she'd been told that whatever abilities she had two years post-stroke would be all she could expect.
In 2009, following the death of her elderly mother, Gross started building. Considering how tiny the tools and hardware are for building in miniature, everything was a struggle. "But I was never frustrated, impatient or in tears," Gross says. "I knew I was not the person I'd been."
Figuring out the order in which to do things was key to progress. "I'd sit for hours just looking at the house. You have to be organized and a planner. Many times while working on it, I'd forget where I was. . . . I might have to recount 20 times, but I loved every minute of it.
"The first thing I had to do was the wiring for the mechanicals. I knew nothing about wiring, but I had to reach into the house with my unsteady left hand. I would really, really concentrate hard to do that." Receptacles were installed later once the rooms were designed.
Then she focused on the exterior, carefully sticking a stencil on the wood walls as a guide for the tiny bricks she handmade. "Bricks in the chimney had to fit perfectly. A small ruler — or sometimes masking tape — became an extra hand. After four hours, I'd stop because you become sloppy."
Each piece of ornamental moulding, whether around a window or a wall, had to be glued separately and allowed to dry before the next piece was added. Putting trim around a window could take eight or 10 hours. She's proud of never cutting corners, even adding trim under the eaves where it's not visible unless she points it out.
Wallpapering interior rooms was a big challenge because her unreliable left hand, which never regained full sensation, was so necessary.
"Concentration was what brought my brain back," Gross says. "When I left hospital with my left side numb, the right side of my brain was tingling all the time. Six months after I started construction, I noticed the tingling was going away."
Gross finds men appreciate the fine construction details, whereas women focus on the tiny, charming furnishings: a mini crossword puzzle and pencil on a table in the library, or the little cigars and pipes set neatly on a tea cart.
She decorated the house in the English Manor style. All the floors are hardwood except in the boys' bedroom. Gross crafted the staircase herself, but had the draperies and bed covers custom-made. Water-colour paintings in the family room are originals.
She has no idea how many thousands of hours she devoted to the house: "I was enjoying it so much I didn't keep track." She was 70 when she started building and concedes the work got harder as years passed. Her husband, Jim, and the owner of Out of the Ordinary miniatures in Cambridge (now an online shop) were the only two who truly believed she would finish it, she says. Indeed, there are still moments when she looks at her house and thinks "did I really do that?"
While there is a lingering nostalgia that her dollhouse is finished, she won't build another. Furnishings can make it an expensive hobby — most of her $25,000 budget has been spent — and she wants the challenge of learning something new. She has moved on — to making miniature furniture.
"The project was an excellent rehabilitation aid for both my brain and my body," Gross says. "The concentration helped me to retrieve much of the knowledge I had lost and the continuous use of my left hand contributed to more controlled use of my left side.
"I don't believe the person I was before the stroke could have done what the person I was after the stroke did."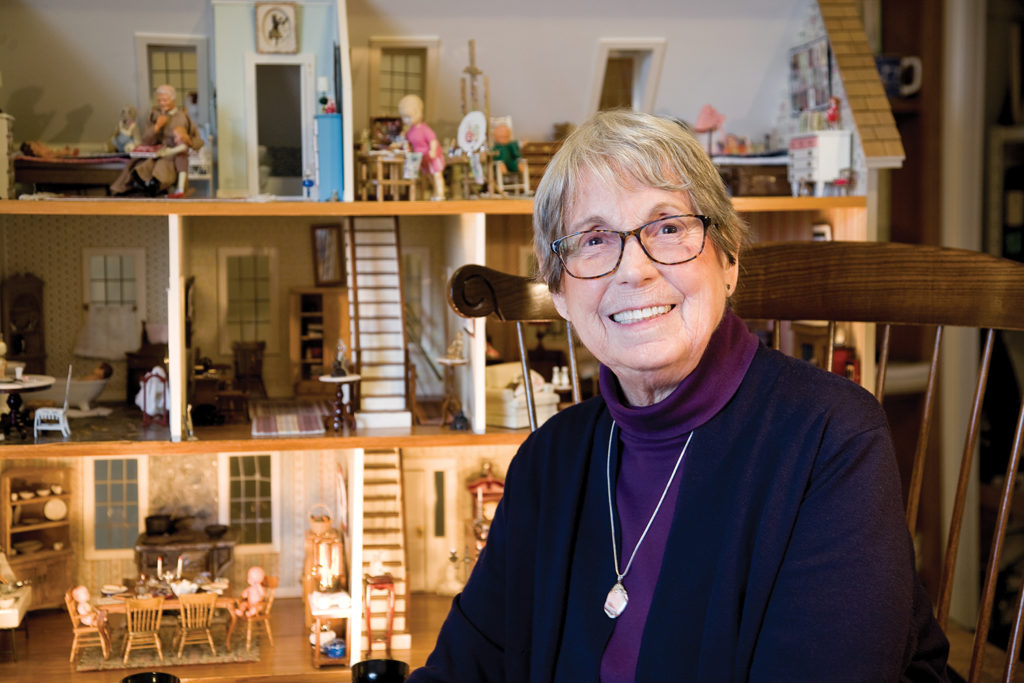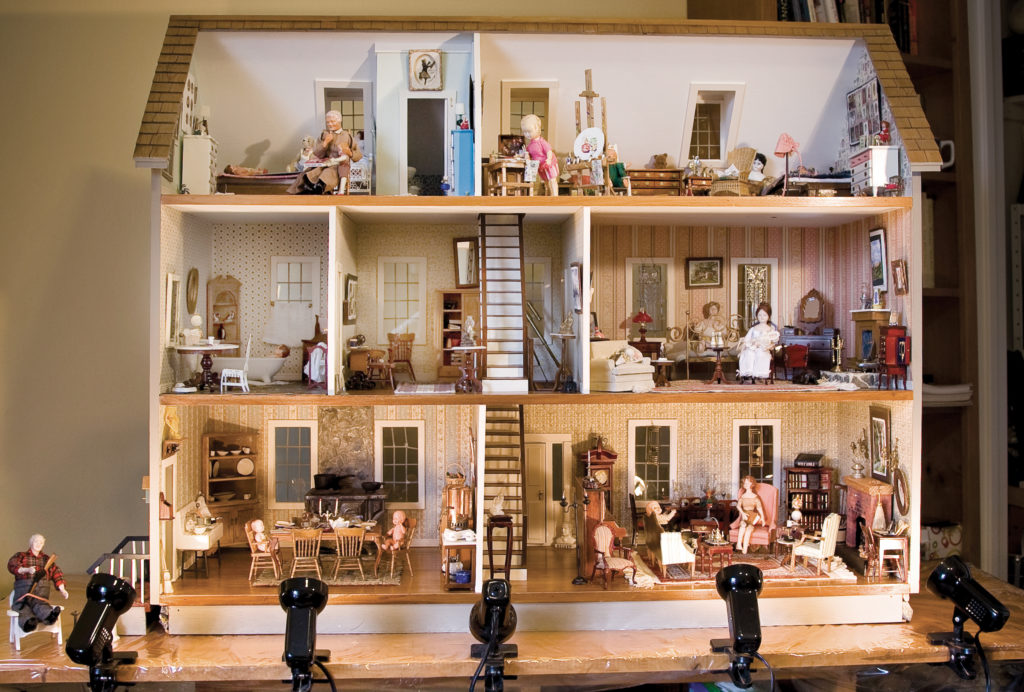 Ingenuity plays a role in finishing a doll house. Scraps of Newfoundland slate left behind by road crews were hammered and shaved, then tinted with Joan Lapp's own mix of acrylic paints and with a thin grout fastened as flooring in the second-floor bathroom, as fireplace hearths in the master bedroom and living room, and as a fireproof backdrop to a remarkably detailed wood-burning stove in the kitchen. — Photos by Alisha Townsend (freshstudios.ca)
Joan Lapp, now also in her early 80s and living in Waterloo, inherited her first dollhouse from a granddaughter who left it behind when the family moved to Singapore.
It had no sentimental value to Lapp. The little house had been a garage sale find, but with fresh wallpaper and a new roof, it became a raffle prize for a staff Christmas party at Central Park Lodge where Lapp worked a nurse.
Then her granddaughter returned on a visit and wanted her dollhouse back. Of course it was too late, but the Lapps headed to a miniatures show in Toronto where a vendor selling Muskoka-style kits agreed to sell them his display model. The Lapps took it home, finished the interior and shipped it to Singapore.
But a spark had been lit in Lapp. On their next annual vacation in Maine, the Lapps bought a New England-style miniature wood house. Nineteen years ago, when Lapp retired, she started furnishing her dollhouse.
In New England tradition, the roof of the house is covered with cedar shakes, bedroom windows are dormers. All the windows are glass.
The house has a room of its own in Lapp's apartment. Set on a wheeled table, it is 0.8 metres tall at its peak; just over a metre wide and 0.4 metres deep. Drawers below hold small tools.
A gardener has left a tiny pair of boots by the side door. Miniature Adirondack chairs on the lawn wait for guests. Inside, hand-tied silk coasters, discovered on vacations in Turkey and Athens, serve as rugs in the little rooms. Most of the landscapes on the walls were painted and framed by Lapp.
The nursery and children's room are on the top floor. The nursery accommodates a crib and a double bed; toys include a dollhouse (with an extremely small doll) and a tiny Raggedy Ann.
The second-floor hallway hosts a treadle sewing machine and in the adjacent master bedroom, the lady of the house holds a baby dressed head to toe in a crocheted outfit. Miniature copies of Frank Lloyd Wright stained-glass windows add a flash of sophistication to the room.
The kitchen features a remarkably detailed wood-burning stove.
The adventure of hunting for just the right accessory, the memories relived as the owner shows off the dollhouse to someone new, ensures the pleasure of ownership never gets old.