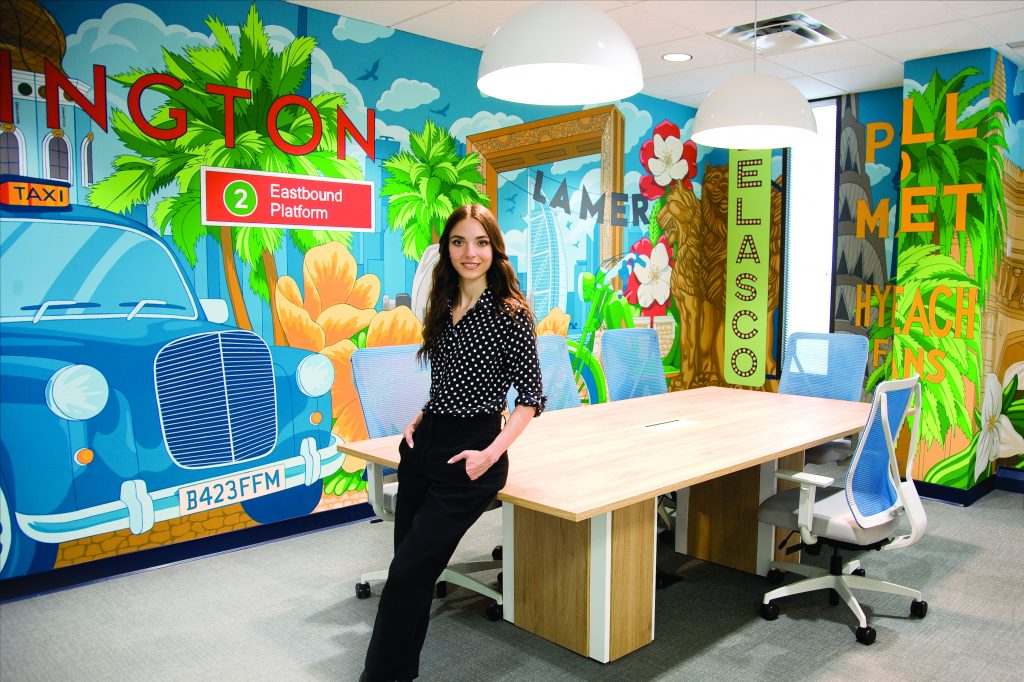 By Barbara Aggerholm |Photography by Alisha Townsend
Stephanie Scott's bookcase hints at an artist who loves fashion, shapes, nature, myth, history, Andy Warhol, architecture, economics and, above all, colour and detail.
The multi-level bookcase covers the wall beside her desk and computer where she designs the large-scale murals that brighten Waterloo Region's buildings, inside and out.
The history of rugs, the Hermès scarf, the intriguing M.C. Escher, Pierre Berton's fantasy adventure, "The Secret World of Og", Graeme Base's "Animalia", "Basic Economics": these are among the prized volumes of a woman who is insightful, curious and a fan of research.
"I buy a ton of books. They're just fun to escape into that little world and I think of things I'd like to incorporate in my work someday," Scott says in an interview at the tidy live/work space she shares with her partner near Waterloo Park.
"I love learning and exploring different ideas and theories. I love fashion and I like to incorporate elements of style," she says. "I like creating things that have a hint of nostalgia to them or kind of reference something historical."
You've likely seen Scott's distinctive work on exterior walls in downtown Kitchener, at the two universities, St. Jacobs, Elmira and in local businesses such as Shopify, Communitech, Titanium.Agency and Catalyst137. Having sewed since she was a child, she used her fabric scraps as a guide to create an arresting outdoor mural for Garment Street Condos in downtown Kitchener.
And who can miss her gorgeous florals on the long, brick wall at 9 Eby St. E. in Kitchener? Or the vintage-style sign in St. Jacobs that declares: "A Little Bit of Country Is Good for the Soul." In Elmira's downtown, there's the lovely face of a woman with long hair that sweeps toward images of bike trails and nature in greens, yellows, reds and purples.
Her funky signs for the American burger chain Shake Shack are printed on vinyl and displayed in restaurants all over the world.
On her Instagram page, Scott's photographs of herself standing in front of her latest smile-invoking mural might give you the impression that she is more flamboyant than she actually is. In one striking photo, she's wearing a leopard print coat, a lucky vintage store find that she took apart and remade to suit her petite frame and style.
She says she is quieter, more serious than her photos might suggest. She's a "nerd," she adds, with a laugh.
"I always have a moment of sheer terror before I post photos of myself and the murals," Scott says. "There's part of me that wants to be in front of the camera and the rest of me is 'No, dear god, no.'"
Scott's work is joyful, not political, although she says she respects artists who take on the heavy subjects. Her intention is to enliven and bring a smile to a face, she says.
"I like to create something that is uplifting and has a positive energy associated with it," she says. "I'm not looking to create anything controversial or jarring or challenging. I'm not looking to provoke. I feel there's already so much of that.
"I want to create beautiful things. It may sound shallow, but it's a simple way to say it. I want to show an appreciation of the natural world."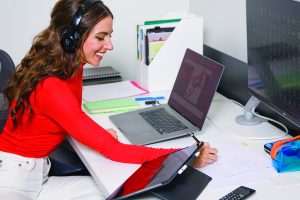 Scott's art is anything but shallow, say admirers of her work.
"She's incredibly talented," says Greg Pogue, CEO and founder of Titanium.Agency. "Her style fits the technology demographic."
Scott's mural at the five-year-old digital marketing firm spreads across half of the wall space in its boardroom at the Marsland Centre in Uptown Waterloo. It's a collage of images representing locations around the world where the company does business.
"It's my favourite. I'm very happy with how it turned out, particularly because it's more in the direction of stuff I want to do," Scott says. "It has a more realistic, lifelike feel to it. I like the layers of typography mixed in with buildings and skyline and objects and flowers. I had a lot of creative freedom."
Pogue says the mural "captures the whole room" and helps spark Zoom conversations with clients.
"The first thing they ask is: 'Tell us about the wall,' " he says. They appreciate that "elements of their culture are in the boardroom."
Among the references, there's a taxi and Tudor rose representing the United Kingdom; a bicycle and flowers for India; Empire State Building binoculars and a Broadway sign for New York; a moped and the Gateway of India monument for Mumbai, India; a monastery in Kyiv, Ukraine; a Dubai skyline, signage for San Francisco cable cars; and the CN Tower and Trillium flower for Toronto.
After Pogue and Scott discussed ideas, Scott came up with a concept and a detailed drawing. "From there, she works her magic," Pogue says.
Another mural at the agency's entrance features Scott's colourful, abstract silhouettes representing people who work there. A locker room and its lockers are decorated with a colourful, digital-inspired dot pattern.
"Every single time I worked with her, she nailed it the first time," Pogue says.
Scott toyed with the idea of getting into the fashion industry before she began making her mark on the walls of Waterloo Region and beyond.    
But it would mean a move back to Toronto, where she had attended school, and around 2012, her work in murals was taking off.
"At that time, there weren't many mural artists in town," she says. "There's more of a scene here right now and that's good."
Born and raised in Kitchener, Scott was always drawing when she was a child. When she was little, she told her graphic designer father that she wanted to be a princess.
"My Dad said: 'Why a princess when you can be an animator?' I latched onto that."
She didn't fit in with the crowd in elementary and junior high schools. At gatherings, she found that "art was a way to break the ice. If I didn't know how to start a conversation, I'd draw something and people would flock over."
As a child, she drew cartoon characters; as a teen attending Eastwood Collegiate Institute's arts program, she was into cultural commentary. She'd poke fun at stereotypes and cliques. She wore vintage clothes; loved fringe and polyester. Scraps of paper with her drawings littered her bedroom.
"I loved exploring theories about ancient civilizations and topics like religions and different and esoteric practices."
She was more concerned about the environment and endangered species than having fun with friends.
"I was rebellious in different ways," she says. "I wasn't into partying or drinking. I was kind of offbeat, I guess, and maybe a bit sarcastic. I was much edgier as a teenager."
Scott rushed straight from high school to the Ontario College of Art and Design, now OCAD University, in Toronto where she studied illustration. Feeling burnt out and hating her sunless basement apartment there, she took time off from her studies after a year. She didn't return.
She stayed in Toronto but moved as fast as she could to an apartment with big windows in an historic building. Over the next several years, she dabbled in acting and modelling. She got gigs in music videos. She sewed, her creative respite, and sold some of her designs at a local clothing store.
Scott moved back to Kitchener at the end of 2009. Interested in film direction, she applied to Toronto Metropolitan University, then called Ryerson, and was placed on the waiting list. But she discovered a passion for designing and sewing costumes for friends and theatre productions, and she didn't reapply.
Her interest in murals was sparked when a friend connected her with a startup firm wishing to decorate that way. She sent a design, got the job and the work led her to Vidyard, a Kitchener software company, which used her dynamic mural art as the company expanded and moved to larger quarters. She also worked at part-time jobs, including personal trainer, painter of restaurant chalkboard menus and hair salon assistant.
Scott learned about Conestoga College's graphic design course from salon conversations. She enrolled, spent two years there, but left when a strike shut down classes in her third year.
She planned to return to school in the spring but by that time, "I had a break," Scott says.
"I was doing a big mural job at Catalyst(137). I had to choose." In 2018, she jumped into the deep end and became a freelance artist. "Work was coming in."
Friends, family and her partner helped her learn the business side of mural-making while she developed her process to create the art: meet clients in the space; photograph and take measurements; learn about history; develop themes, budgets and deadlines; research and draw rough concepts by hand, "like when I was a kid on loose printer paper." She takes a photo of the concept and traces it digitally, playing with colour, line and detail.
Painting indoors allows Scott to focus. Outside, however, she enjoys the interaction with viewers as she stands, sits or perches on scaffolds and ladders after using a projector or grid to outline the images on the wall.
"I also like it because I get to hear about people's lives and their own relationship with art," she says. "I think interacting with the community is a very important part of creating art in public spaces."
Sometimes, her work is printed on vinyl and installed on site.
Scott is brimming with ideas for murals to come.
"It's a great way to add some life to the city, any city, to brighten up public spaces, make them more inviting and add atmosphere."