Mother-daughter duo reimagines flavours of  Trinidad at their cafe.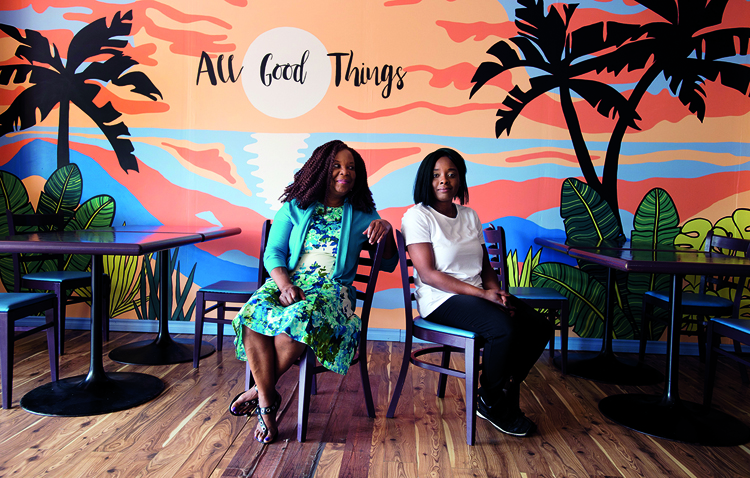 By Jasmine Mangalaseril | Photography by Matthew McCarthy
There's a roller-coaster of emotions when starting a new business: excitement, angst, doubt, enthusiasm, exhaustion, optimism. Regardless of how well-prepared you think you are, you'll often run into snags and hurdles along the way. Jennie Joseph-Selby and her daughter Nekeesha opened their Trinidadian café, All Good Things, in Cambridge in 2019. In the two years it took to open, Jennie became a retiree, sold her home, and used some of the proceeds for their dream business. Then, six months later, just as cash register receipts began to turn a corner, the pandemic hit. "In the second week of March, we weren't seeing people coming in," Jennie remembers. "We had a good week the week before and we started to feel happy, and then the next week, we saw it go down. We asked, 'Did we do something wrong? Did somebody say something about our food?' And then we realized it's this coronavirus." They temporarily closed the café when the province went into lockdown. After pausing a few weeks to recharge, they reopened, offering pre-ordered pickups and take-aways until they could return to business as usual. Change and uncertainty aren't new to Joseph-Selby. Nineteen years ago, the schoolteacher left Trinidad to teach in New York City— it was the new challenge she craved after earning her master's in international relations. This wasn't her first time in The Big Apple, and she recalls the culture shock from her first visit. "I saw these buildings. Most of them were grey. In Trinidad, if you have a house, your house would be painted in these bright, vibrant colours. So, when you go to New York and see all this grey, you say, 'Hmm. This is The Big Apple? This is New York City?' When you went into those buildings, you would see all the expensive things, all the decorations, but that first picture." Her new job also allowed her to live closer to Nekeesha, who was studying accountancy in the city. Her other two children, Kefing and Aisha, joined her, but her husband, an aeronautical engineer with British West Indies Airways, remained in Trinidad until he could get a job that aligned with his qualifications. As a teacher in the New York City school system, Joseph-Selby was part of a program focused on improving the academic success of immigrant children. Her first school was in the Bronx, and her first day in class was Sept. 11, 2001. She summarizes the aftermath of the Twin Towers terror attack as "an experience." Meanwhile, her husband pursued a long-held desire to immigrate to Canada. The paperwork took years, but everything fell into place and the family prepared for another international move. However, before they could arrive, the marriage broke down. Weighing her situation — she resigned her post in New York and the family was winding things up in Trinidad — she decided to move to Canada, but as a divorcee. Nekeesha and Kefing came with her and together they lived with a cousin in Cambridge. Aisha, unable to get permanent residency, returned to Trinidad. "I realized we're not going to be a family again," Joseph-Selby says. "I made a point of saying I'm not moving to a place like NYC. I'm tired of the hustle and the bustle. I had already visited Canada before, and I said Toronto was out of the question."
In those early days, she worked late shifts at a call centre until she could continue working with children. Before retiring, she was at an after-school organization, child and youth services, and worked with special needs children at the Waterloo District School Board. Like her mother, Nekeesha was always interested in cooking and decided to pursue a new career. She graduated from George Brown College and began catering with a friend. After that partnership ended, she and her mother decided to set up All Good Things. Theirs was a journey of twists and turns. Jennie always wanted a gift boutique and Nekeesha always wanted a restaurant. In combining their ideas, they decided to open a Trinidadian grocery. That went by the wayside when they realized many of the items they wanted to carry could be found on mainstream grocers' shelves. They refocused on opening a café, specializing in Trinidadian flavours. Those flavours are a result of centuries of different cultures melding on the Caribbean island. Originally, it was inhabited by Amerindians — specifically the Arawak and Kalina (Carib) peoples — before being claimed by Columbus for Spain and later surrendered to the British.
Like other Caribbean islands, while colonized, the economy relied on the enslaved labour of Indigenous and African peoples, and on indentured workers from China, India and Portugal. In Arima, where Carib culture is dominant, Joseph-Selby grew up in in a tight-knit community, influenced by the mosaic of peoples. This collection of influences is seen in the Phagwa (Holi) and Christmas religious festivals, in music such as soca (Indian-influenced calypso music) and parang (a folk carolling tradition from Venezuela), and in food. "They do a lot of things with cassava," Joseph-Selby says. "I remember my grandmother making cassava bread. She would grate the cassava, dry it, and then form it into a paste and make it into a bread. We have aloo pie (spiced potato and pea-stuffed fried dumpling), which is a national dish of Trinidad. We also do a lot of cassava pone (a rich, dense pudding made with sweet cassava, pumpkin and coconut)." Pelau, one of her favourite dishes (recipe follows), combines North Indian pulao with African techniques for cooking meat. Memories of such dishes inspired the mother-daughter team as they worked through the differences between running a catering company and running a café. The learning curve was steep as they pieced together the jigsaw puzzle of starting a new business. So much so, Joseph-Selby isn't sure they would have begun if they realized what they were in for.
"Whatever challenges you're going through, you have to learn from it. You have to not just learn from it but believe there's a reason for it. Living in this world, not everything will come to you on a silver platter. There will be challenges. "But you know what? I am thankful. We are here. We're in and I tell my daughter we have put in too much now to turn back."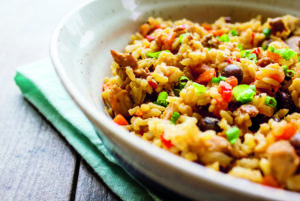 PELAU
Preparation time: About 1¼ hours (including marinating time)
Cooking time: 25 to 35 minutes
Yield: 8 servings
Pelau is a one-pot rice and meat dish made in the oven or on the stovetop, originating from North Indian pulao. Over time, it was adapted to include the African tradition of searing meat in caramelized sugar for a smoky-sweet element to the savoury coconut rice. It's a meal on its own, but in Trinidad, it can be served with coleslaw (something the British brought with them), coconut chutney or tomato choka (roast tomatoes with garlic, onions and chilli). This recipe can be halved.
For the marinade:
30 ml (2 tablespoons) mixed green seasoning
5 ml (1 teaspoon) salt
15 ml (1 tablespoon) tomato ketchup
10 ml (2 teaspoons) minced garlic
5 ml (1 teaspoon) Worcestershire sauce
5 ml (1 teaspoon) soy sauce
2.5 ml (½ teaspoon) pepper
Main dish:
1.5 kg (3 lbs.) chicken, cut into 4- to 5-cm (1½- to 2-inch pieces)
30 ml (2 tablespoons) flavourless oil
30 to 45 ml (2 to 3 tablespoons) sugar
500 ml (2 cups) uncooked parboiled rice
375 ml (1½ cups) cooked pigeon peas (or cooked green peas and carrots)
125 ml (½ cup) chopped onion
125 ml (½ cup) chopped red or yellow bell pepper
500 ml (2 cups) coconut milk
500 ml (2 cups) chicken broth or water
Salt, to taste
1 whole Scotch bonnet pepper (optional)
250 ml (1 cup) chopped carrots (optional)
Finely sliced green onion or coriander leaf for garnish
Mix the marinade and coat the chicken. Marinate for at least one hour.
Heat the oil in a heavy-bottomed pot or deep skillet then sprinkle the sugar in an even layer and let it froth and bubble. Be sure to keep an eye on it as it doesn't take long to go from sweet and brown to acrid and burnt. When the edges of the frothy sugar begin to turn a shade darker, add the seasoned chicken and stir to coat the pieces in the caramel (known in Trinidad as burnt sugar or browning) for about five minutes.
Add the rice to the pot and turn often to coat the grains. Cook for three minutes.  Add the pigeon peas, onion, sweet peppers and carrots (if using). Cook, stirring occasionally, for one to two minutes. The rice will take on some of the caramel colour.  Add the coconut milk, broth and salt along with Scotch bonnet pepper (if using).
Stovetop method:
Bring to a boil, lower the heat and cover and simmer until rice is cooked and all liquid is evaporated, about 25 to 30 minutes. Add more liquid if rice is still too hard and continue to cook for a few more minutes.
Oven method:
Cover pot and bake at 180 C/ 350 F for 30 to 35 minutes. Add more liquid if rice is still too hard and continue to cook for a few more minutes.
With either method, discard the Scotch bonnet pepper before serving, fluff the pelau with a fork and garnish.
Notes
Green seasoning is a popular meat and fish marinade used in Trinidadian

cooking. Recipes vary, but main ingre

dients include garlic, green onions, vinegar, sweet peppers and shado beni (culantro).
Pigeon peas can be purchased dried, canned or frozen. Both pigeon peas and green seasoning can be found in Caribbean grocers such as OK's Tropical Supermarket in Kitchener.
Leaving the Scotch bonnet whole won't release much of its heat. If you want its fieriness, cut a slit into the pepper before adding it to the pot.
This dish can be made with regular raw rice, such as basmati, instead of parboiled. Use the same quantity of rice and add an extra 125 ml of broth or water.