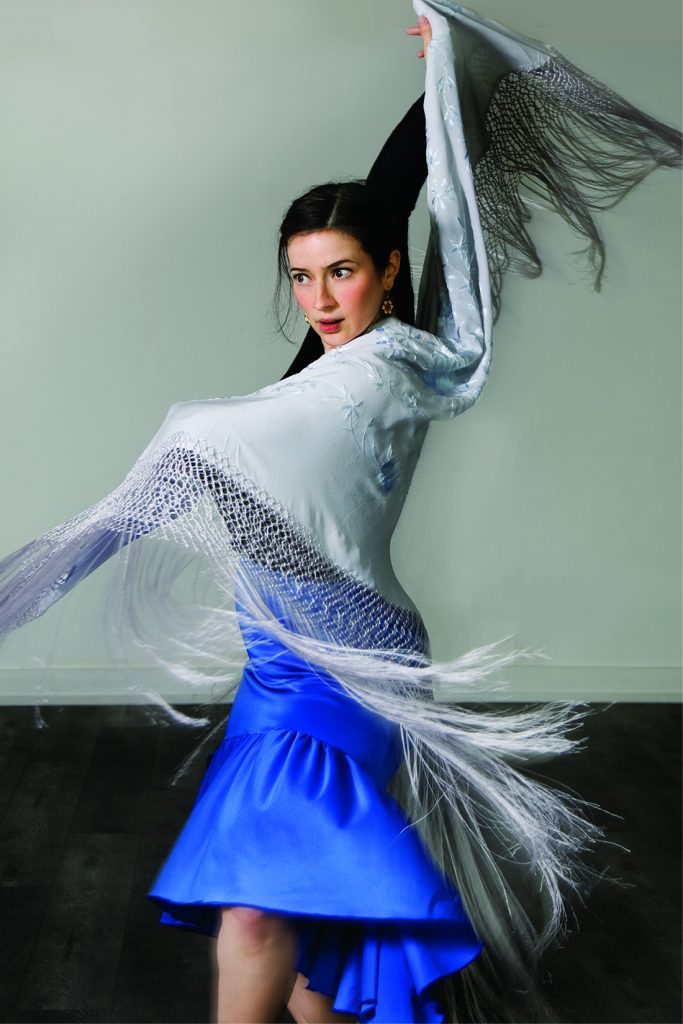 Celebrating the Art of Flamenco in Waterloo Region
By Jane Pinzhoffer | Photography by alisha townsend
Flamenco is a multifaceted art form that blends singing, guitar playing, and dancing, characterized by hand-clapping, finger-snapping, and highly-expressive body movements. Although elements of flamenco were developed over centuries in several countries, the art form is most closely associated with Southern Spain, where Claudia Aguirre and Julian Berg met in 2010.
"My friend won a raffle to study at a Flamenco Academy for the summer term, and I tagged along," says Claudia. "I took lessons at various studios with private vocal lessons, and Julian was also in the Academy summer program.
"The name flamenco came about at the turn of the 20th century, but you can see things from the past. The cadence and melodies of the music have existed for a while, but it's constantly changing," says Julian.
While Claudia was studying, first in England and then in Waterloo, she and Julian were long-distance but still serious until he relocated to Canada in 2016. "Pretty much the day Julian got permanent residency, we opened up our business teaching flamenco classes and gigging," says Claudia. "The community in Waterloo was so small it was hardly sustainable. Julian said, 'Why don't we do a little festival to garner more interest.' So, I thought, OK, let's do it."
"The first year of 2018 we were in the KW Little Theatre, that's very small. The fire code for the building is 100 people. Between performers and staff, we had nine people, so that meant we could have 91 in the audience, and we had to turn people away," says Julian.
Rosemary and Howard Pell were two of the people in the audience that first year. "We've travelled to Spain many times and seen some fabulous Flamenco performances. When we went to Flamenco Fest, our jaws dropped. Claudia is spectacular. She is petite, but when she opens her mouth and sings, she's huge, and when she dances, she's very powerful. We thought this is amazing to have this here in K-W," says Rosemary. "We got to know Julian and Claudia and asked them if they needed volunteers. At that point, they were putting on this amazing show and doing it all themselves. We said, 'Sign us up," and we became part of their planning team."
For Flamenco Fest's second year, Claudia and Julian rented the KW Little Theatre for two nights so they wouldn't have to turn people away again. Flamenco Fest was growing, and then Covid hit. "We couldn't have a show in the theatre, so we made a video. We performed in our house and tried to make it kind of funny that it was in our kitchen and bathroom," says Julian. "The year afterward, we'd become better known in the community. You still couldn't rent a theatre, so the most creative thing we could come up with was taking a version of the show to the streets of K-W doing little popup performances near restaurant patios," says Claudia. "I think that helped people see us who wouldn't have otherwise."
Last year the main event was held at the Kitchener Market Eby Street parking lot and will be again this year because it worked so well. "The acoustics are great. It's both indoor and outdoor, so if it's raining, you stay dry, if it's hot, there's a breeze. For those who weren't sure if they liked flamenco or couldn't afford a ticket, they could stand on Eby Street and watch," says Rosemary.
New for 2023 is splitting Flamenco Fest over three non-consecutive weekends. Part 1 ran June 23-25 and started with Claudia and Julian outside on the patio at La Lola Catering in Cambridge. "Every second Friday or so La Lola has Flamenco Fridays. It's a tiny little restaurant that does wonderful authentic Spanish food. They will be making fresh paella in the beautified Kitchener Market parking lot during the main event in July," says Claudia.
On Saturday afternoon, Claudia and Julian were at the auditorium at the Main Branch of the Kitchener Public Library giving a Ted-Ed style talk about flamenco as a language and how the dancer, singer, and guitarist communicate, followed by an improvised performance by dancer-actor Angela Deiseach.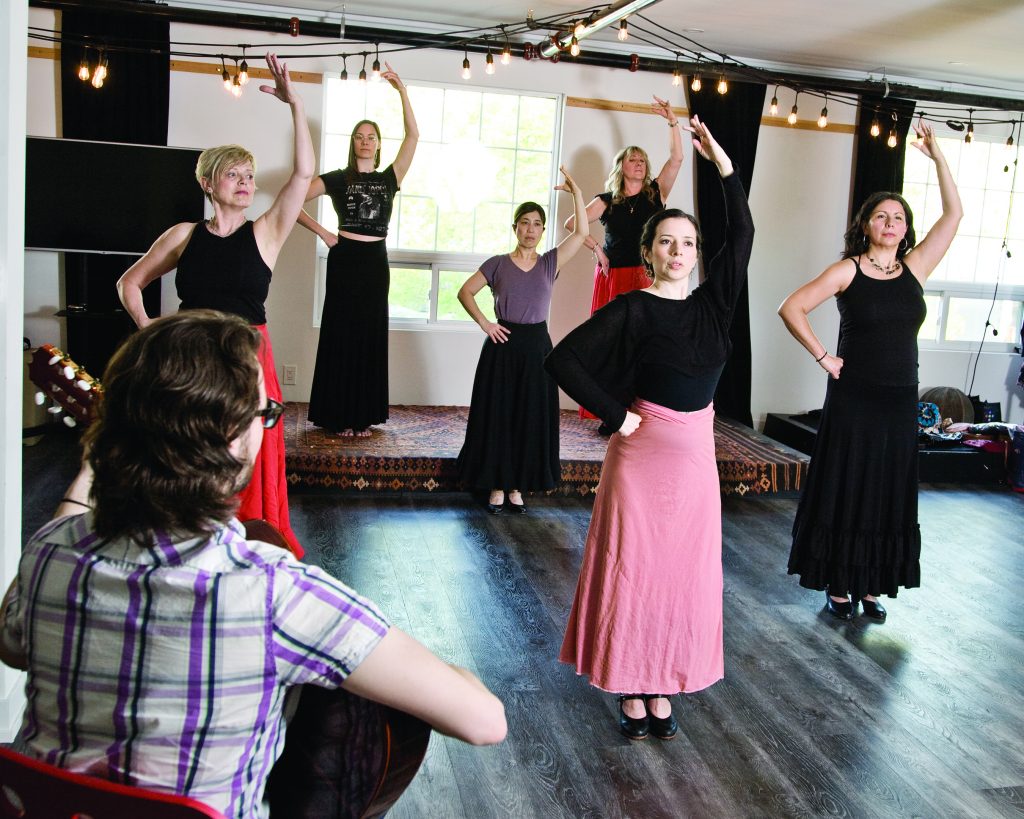 Sunday afternoon there was a drop-in gathering at the Huether Hotel with live music by local nuevo-flamenco guitarist Juneyt Yetkiner, who has been an integral part of Flamenco Fest since the beginning. This year's Main Event will be held at the Kitchener Market on Saturday, July 29, and features guest dancer Maria Serrano, originally from Seville, Spain who has toured across Europe and is famous in the flamenco world.
"Maria has released an album where you can hear her footwork. She'll be doing a rendition of the album live with us as her musicians," says Claudia. "We're bringing in a singer she's had a long-term working relationship with called Yiyi (pronounced Gigi). He was born and bred in Spain but lives in Washington and tours throughout the States. On Sunday, Maria will offer workshops at the Neruda Arts space in St. Jacobs, which is where Claudia and Julian teach.
Part 3 will be held at the Jazz Room in Waterloo on the evening of August 31. Billed as an Encore Event, guest singer Gina Tantalo performs with guest dancer and choreographer Carmen Romero.  "I think Carmen's performed at every single flamenco festival in Canada except ours until now. Her footwork is out of this world," says Claudia, who will join Carmen on stage along with Julian. Before this, Carmen will offer a free cajón clinic at Long & McQuade in Waterloo. A cajón is a flamenco drum shaped like a box you sit on and play with your hand, that is part of flamenco's percussive sound.
Although the two concerts are ticketed events, many of the workshops are free. "One thing that's important to us is that things are accessible financially speaking. We try to make it affordable or free where we can," says Julian. "We're pretty grassroots, which means sometimes we can avoid spending money on things we can do ourselves. It's important to us that people can go no matter what their income level is."
"We are a not-for-profit organization, and we're extremely grateful for the grants that we get from the BIAs, the cities, the Region, and sponsorships. If you were in Toronto or some other places, you'd be paying $50 to $70 for the concert. It's those sponsors and grants that allow us to make it accessible to the community," says Rosemary.
"It's very important that it's not so exclusive. Art shouldn't just be for the elite," says Claudia. "Like many art forms, flamenco is really a dance of the people, of the oppressed, and the marginalized."