By Ainsley Szvitak
As we head outdoors into the warm sunshine, may I suggest making room in your picnic baskets for a bottle of Pinot Noir?
There are many wonderful Pinot Noirs from all over the world – France, Chile, United States, New Zealand, Germany, Austria, Australia – but the ones being produced in Ontario have a lot to offer. It's important to remember not all Pinot Noir is going to taste the same – it comes down to what happens in the vineyard as well as in the winery itself.
Pinot Noir is the "Red Burgundy Grape" and it thrives in cool-climate regions. It has gained much fame for producing wines that have outstanding, elegantly scented and gorgeous fruit bouquets with opportunity to develop into gamey, earthy and spice notes.
As a thin-skinned grape, it is early ripening, and often one of the first harvests alongside Chardonnay. Pinot Noir is also often called "the Heartbreak Grape" because it is one of the most difficult to maintain in the vineyard and challenging to use to produce the elegant yet complex wines so many Pinot Noir lovers seek.
Niagara, next to Burgundy itself, has ideal terroir for growing Pinot Noir grapes. Terroir is an ensemble of environmental influences that give a wine a sense of place. Terroir may include grape variety, environment, climate and vineyard management practices.
Niagara is largely influenced by Lake Ontario. The water mass helps to moderate air temperature year round. The lake water, in collaboration with the escarpment, helps to shape the perfect climate to nurture grape vines. The Niagara Peninsula experiences rather high shifts in day-night temperature an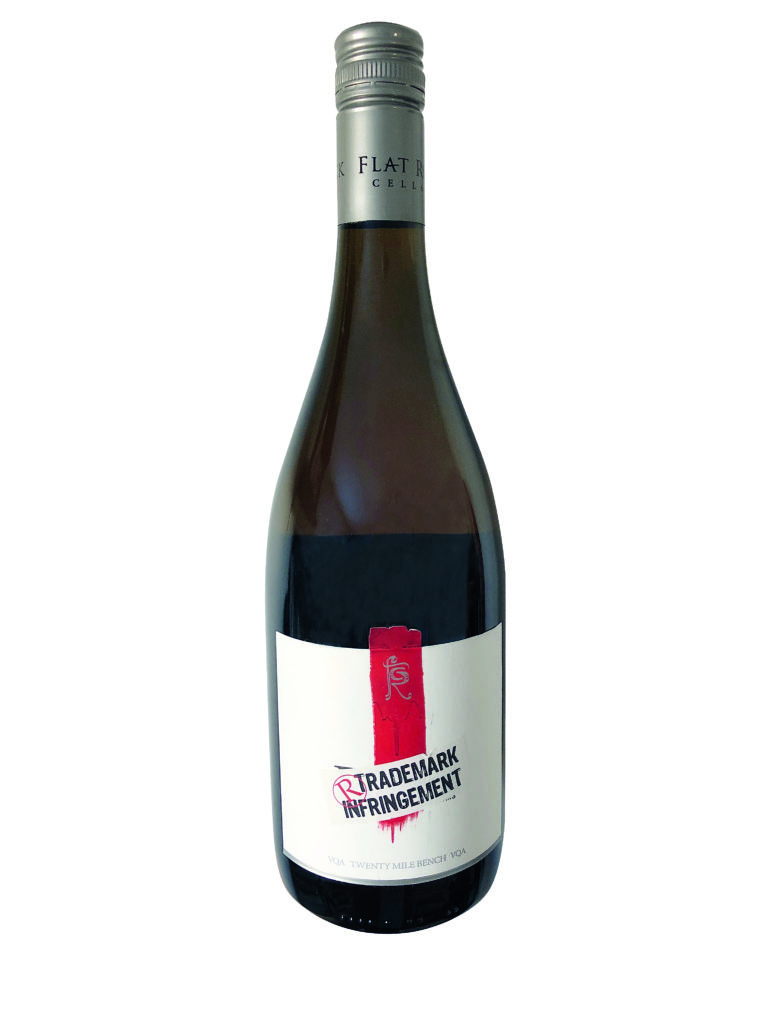 d receives lots of sunshine during the growing season, which aids in developing complex and intense flavours during ripening.
When you think of Pinot Noir, you may only be thinking of the delicate and light red wines, but Pinot Noir is incredibly versatile. It contributes to some really beautiful whites, rosés, reds and sparkling wines.
If you're planning a day or weekend outing in Niagara, it's worth visiting Flat Rock Cellars in Jordan to pick up a bottle of Trademark Infringement Pinot Noir ($25.20 for 750 ml; only available at the winery). Flat Rock is the first winery I ever toured and sparked my love for wine. The Trademark Infringement Pinot Noir is fantastic with smoked fish, even a trout rillette with artisanal crackers. It's a perfect addition to your picnic lunch.
Wines worth trying
Megalomaniac Bubblehead Sparkling Rosé (#363655) $34.95, 750 ml
Pinot Noir also produces some really incredible sparkling wine. Megalomaniac produces a 100 per cent sparkling Pinot Noir made using Traditional Method. Traditional Method is the same production used to make Champagne. It's a longer process than some, but the results are worth it. This is another winery that prefers to make drinking and buying wine more approachable for everyone. This Pinot Noir is fantastic for some backyard parties paired with an array of charcuterie and cheeses as well as fish, such as lobster, crab and sushi. This wine is expressive with strawberry, raspberry and stone fruit notes. It is also crisp and dry, so perfect to have even as an aperitif.
Malivoire Vivant Rosé (#498535) $19.95, 750 ml
While we're on the topic of rosé, Malivoire is a must. Rosé has gotten a bad rap over the last few years as it is commonly compared to White Zinfandel. Not all rosé is sweet; in fact most rosé is incredibly refreshing and dry. Malivoire's Vivant Rosé is a great representation of a bone-dry wine that is wonderfully food friendly. This is also 100 per cent Pinot Noir grapes, produced in a Provençal style. It presents with tart red fruit, citrus-lemon, green apple and white grapefruit. I love this wine with barbecue chicken smothered in rhubarb barbecue sauce and potato salad.
Domaine Queylus Tradition Pinot Noir (#392738) $29.95, 750 ml
Of course we cannot talk about Pinot Noir without exploring a Red Pinot Noir. Domaine Queylus winemakers are dedicated to only growing grapes they believe are perfectly adaptable to their vineyard's soils and microclimates. Pinot Noir is a portion of that, along with Chardonnay, Merlot and Cabernet Franc. Their approach is Burgundian in style, so you can expect some really beautiful wines from them. This Pinot Noir is kissed with aromas of red cherries, herbs and spices. This is a wine you could enjoy right away or have it rest in your wine rack for a few years and enjoy it with roasted duck, accompanied by a cherry sauce or, on the simpler side, turkey or veggie burgers.
Ainsley Szvitak is working towards becoming a certified sommelier. She has worked in hospitality in Kitchener and Waterloo for 14 years.