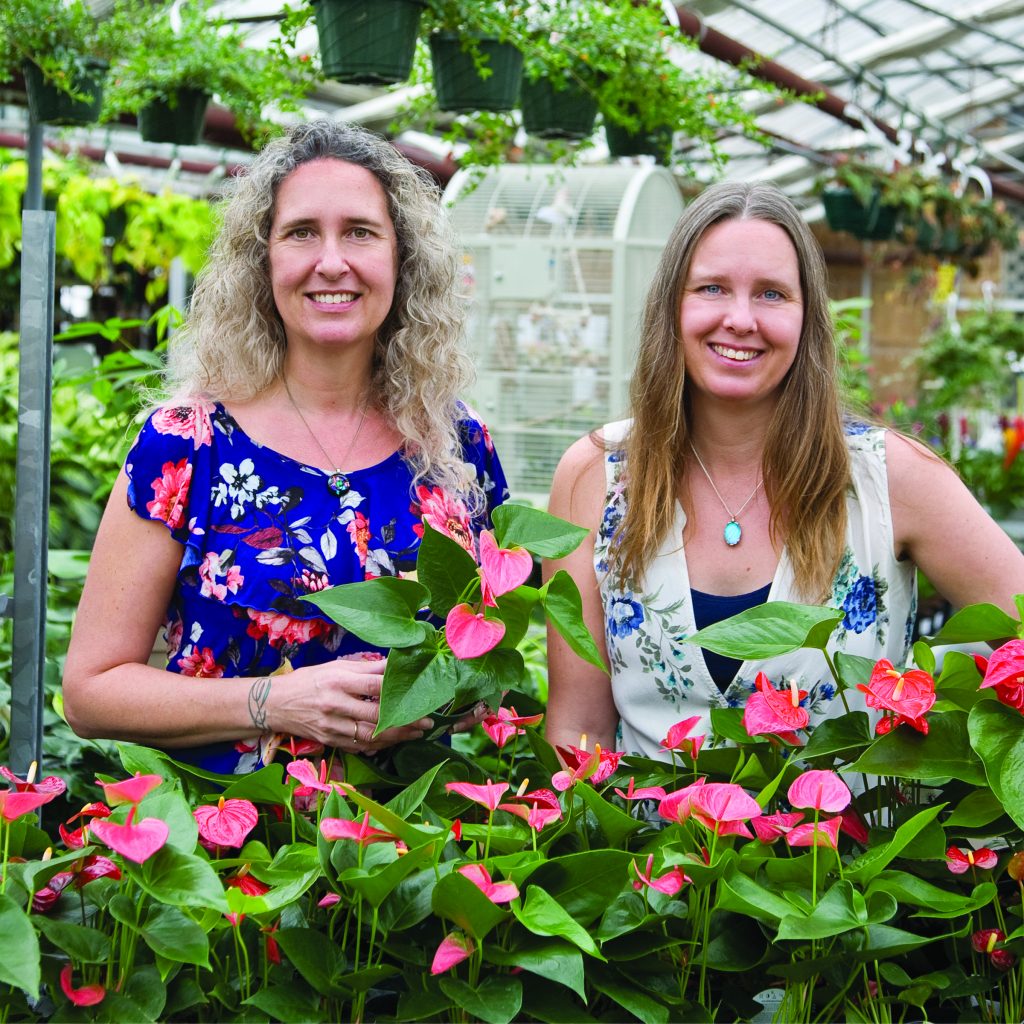 By Jane Pinzhoffer | Photos by Alisha Townsend
If you live in Waterloo Region, you've probably been to Belgian Nursery. And if you're an avid gardener, it's probably one of your first stops every year at the start of planting season.
Belgian Nursery is a year-round destination store that encompasses many greenhouses, the Annual Greenhouses, the Perennial Centre, the Tropical Greenhouse, and the iconic Cactus & Succulent House, with plant and product selections changing with the seasons.
The family-owned and operated garden centre has grown from humble beginnings to become a landmark in the community.
A Story of Growth and Evolution
In 1959, Maurice and Mary Lombaert and their son Luc purchased three acres of land and with just one coal-heated greenhouse started growing their first crops to sell at the Kitchener-Waterloo Farmers' Market in downtown Kitchener.
Market shoppers couldn't get enough of their pansies, garden mums, gladiolas, and perennials. The couple soon expanded their operation to include six greenhouses, two acres of field-grown perennials, and a wood slat house to sell their flowers and plants.
By the 1970s, the business was flourishing alongside the growing surrounding communities. Maurice and Mary purchased an additional ten acres to accommodate the ever-increasing demand for their annuals and hardy perennials. The family was growing too. Luc had grown up and married Rosie and soon added daughters Rosemary and Julie to the family tree.
It was during this period that the Tropical House, with its wide selection of varieties and sizes of tropical houseplants, hanging baskets, orchids, and bonsai, was built to accommodate everything from low-maintenance plants like Philodendron, Peace Lily, and Chinese Evergreen to exotic bloomers like Bougainvillea, Hibiscus, and Jasmine.
"When we opened the Tropical House in the early '70s, there was a big boom in houseplants, and we're seeing that again," says Rosie. "I think with all the technology these days, people want to fill their homes with living things. Plants make you and your house feel better."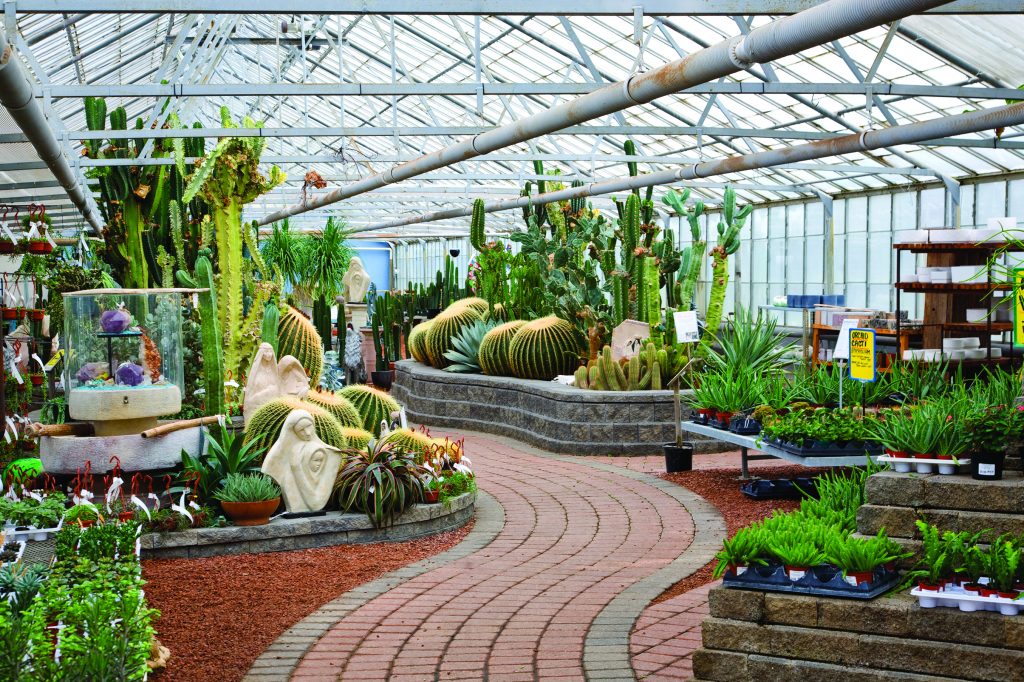 A Specialized Flower World
The 1980s and 90s was a time for significant renovating and transition, largely fueled by Luc and Rosie's desire to provide a full retail shopping experience. The old wood-framed greenhouses were replaced with an acre of open-concept poly houses and the old perennial house was supplanted by a modern poly structure, complete with flexible roll-up walls for more efficient climate control and so that customers could shop happily in any weather conditions. This was no longer a seasonal nursery that shut down at the end of the growing season, but a year-round destination for plant lovers from all over southern Ontario.
A new front store was added to display garden décor, including metal wall art, wind chimes, bird feeders, birdbaths, and statues. A section of the Tropical Greenhouse was renovated to create the Decorative Pot Shop with thousands of ceramic pots. Rosie's dream of a Cactus House came to fruition when a greenhouse once used to grow geraniums was completely renovated into a 5,400 square foot desert oasis dedicated to the diversity of Cacti, Succulents, Aloe, Agave, and other desert dwellers from all over the world. The entire floor had to be lowered by two feet, and over 10,000 cubic feet of soil was removed by hand to create enough height for pathways and display gardens.
Luc and Rosie handpicked all the cacti in the gardens from a grower in California, and most of the plants were already ten to 20 years old when planted at Belgian. One particularly majestic plant, native to Kenya and affectionately known as "Killer", is estimated to be at least 100 years old and was added to the display gardens in the late '90s. She lives in her original pot and reaches the top of the greenhouse.
The glass structure provides sunshine for plants and people all year long, giving customers a way to escape the winter doldrums without getting on an airplane and heading south.
Plants and People: Together We Grow
The new millennium brought an increased focus on annuals, mixed planters and baskets, unique perennials, vibrant tropicals, and striking cacti and succulents. Luc and Rosie stepped back as their daughters, Julie Clancy and Rosemary Van Roose took on more active roles in the daily operation of the family business. In addition to the four family members, Julie's husband is the head grower and one of Rosemary's children works there as well. There are eight to 10 dedicated year round employees and up to 12 seasonal staff hired for the busy spring months. "We believe that our team help to shape our company and be successful!" says Julie
Despite the many changes over the decades, some things have stayed the same since Maurice and Mary's time. The majority of annuals are still grown onsite and Belgian is still one of the few nurseries where you can walk through the growing area.
"We grow over one acre of annuals in our facility for the spring planting season," says Julie. "When we open the Annual Greenhouses in early May, customers can walk through the entire facility. We grow over 6,000 hanging baskets that take months of preparation. Planting season starts in February, it takes eight to 12 weeks to plant, and they'll all be purchased in May; some even sell out by Victoria Day weekend."
Preserving the Past, Forging the Future
After six decades, Belgian Nursery continues to evolve. At the onset of the COVID-19 pandemic in March 2020, the business shut down for two and a half weeks, then transitioned to curbside for the busy spring season.
"We spent this time reflecting on the business, partly due to the pandemic, but also after years of being open seven days a week, we needed a better work-life balance," says Julie. "Belgian is still open year-round, with spring as our primary focus. We are growing back to our roots by streamlining the plants and products that we offer."
In the summer of 2020, Belgian temporarily closed for the summer, for the first time since opening in 1959.  During this time it gave Rosemary and Julie a chance to think about the direction they wanted to go in the future. Belgian's Tropical House was renovated to incorporate a more open concept design and to accommodate the area's best selection of tropical houseplants, with a nice tropical feel and atmosphere. In fall of 2020 Belgian returned to in-store shopping.
"We added the Artisan Shoppe to the main store in 2020," says Rosemary. "We have about 12 local artists who create handmade artwork. It's a nice addition. We're proud to support local creators and received a lot of positive feedback from the community. The eclectic and unique creations include home and garden décor featuring animals and nature themes."
Belgian Nursery is excited to continue to be open year round.  In the off season of October to March they are open 4 days a week, Wednesday to Saturday. During the spring planting season April to June they are open seven days a week, and six days a week in the summer months of July to September.
"We want to focus on continuing to offer quality plants to all of our wonderful customers," says Julie.