In Grand Style: Story and photos by Lynn Haddrall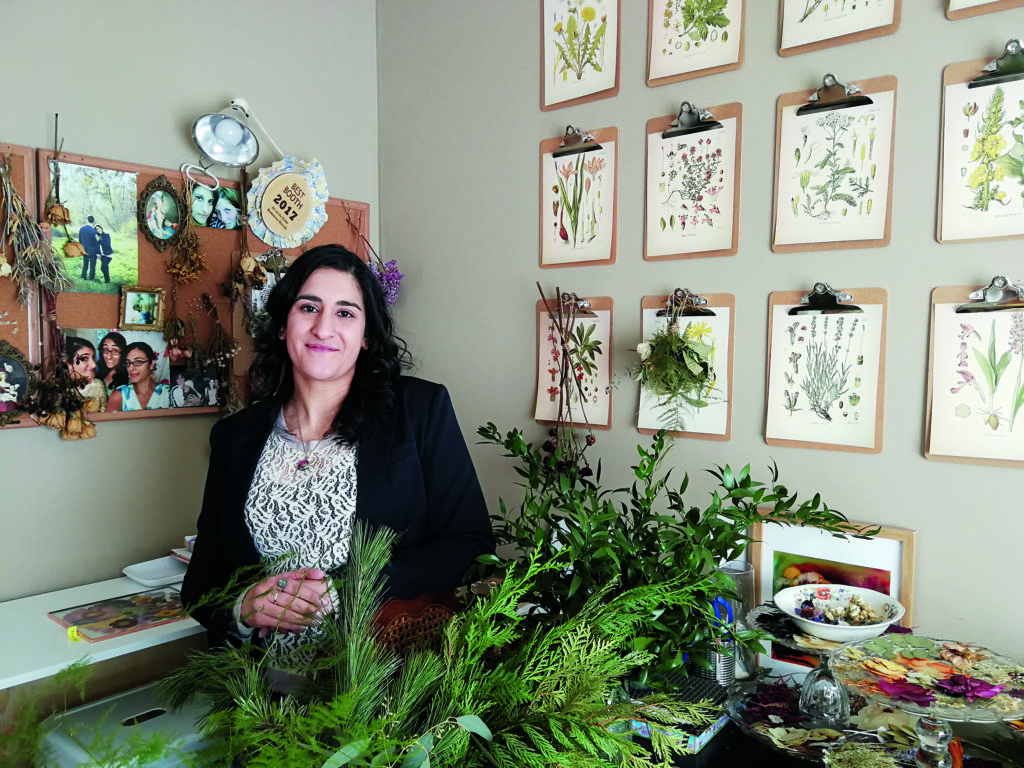 Amar Bhuee takes things you love and turns them into art you can see or wear.
Petals from a bridal bouquet or snippets from a love letter are transformed into a necklace. They are your memories; Bhuee breathes new life into them.
Tour her cosy Cambridge studio and your mind turns to keepsakes in drawers and closets. Why hide them away when they could become part of your wardrobe?
Bhuee enjoys watching people realize that an object of sentimental value can be celebrated.
"You know the wheels are turning in their head, like 'Oh my gosh, I've got grandma's doilies at home' and I can tell, " says Bhuee. "I've had people come up to me and they'll start crying and they'll give me a hug and say, 'You've just helped me with something so amazing.' Being able to know that I'm helping somebody, even the smallest amount, makes me happy."
Her goal is to help people through a process, to celebrate, to mourn, to remember something beautiful that happened. She wants to honour items that spark remembrance.
"Lace from a wedding dress, old photos, postcards, love letters, fresh flowers from a wedding or special occasion, children's drawings, butterfly wings, special fabrics, sand from vacations, confetti from a wedding, wedding invitations – the ideas are endless, " she says.
Bhuee was born in England and moved to Canada with her parents and two sisters when she was three. She has spent most of her life in Cambridge, attending Highland Public School, St. Andrew's and Southwood Secondary.
She considered pursuing graphic design but prefers to be her own boss. Art teachers at Southwood gave her the skills to pursue her artistic passion.
Her workspace is filled with greenery. Some flowers are fresh, some are drying, and stacks of books are filled with flowers she is pressing. She displays finished jewelry and wall hangings at the front of her studio in old Galt.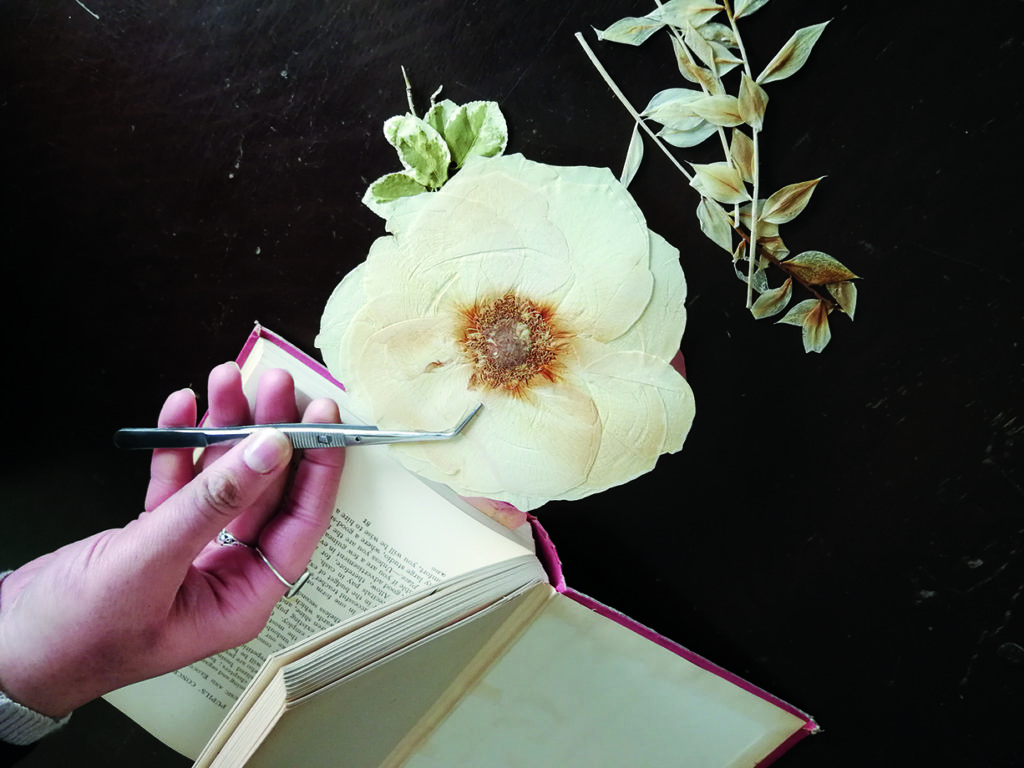 The studio is her happy space. She's surrounded by tools she needs, and by family pictures and memories of her wedding day. She got married on the property.
She launched her business – Amar Bhuee Wearable and Displayable Art – as a hobby for her creative energy.
"I always used to love painting. I loved building in the sandbox. I used to love playing with plasticine, " the 32-year-old recalls.
"I think it was just a matter of being able to have an outlet. It was a hobby for a really long time until I started creating little notecards and wall hangings. I started converting it into jewelry and little pieces. That's when my friend approached me and said, 'You really need to start selling your work.' "
Bhuee used her own photographs at first but it felt too much like a production line. She branched into custom work, focusing on items supplied by clients. It's important that each piece brings joy to the person who will wear it.
"I find the last few years I really have found what I'm supposed to be doing right now. I've never felt this way about my work. I've always been happy doing it and enjoyed it. I find that the last two years I feel like something has awoken."
Stephanie Oldfield witnessed that awakening. She worked with Bhuee at the Grand Café in Galt and had admired her artwork when it was part of a rotating exhibition there.
"I remember gazing at one of her photographs at length before I had the chance to meet her. After we began working together, I had the opportunity to see her work evolve over the years into what it is today. She just kept creating and creating until she found what spoke to both her and her clients perfectly, and I believe that's exactly what she does today, " Oldfield says.
Oldfield owns some Bhuee creations and has given them as gifts. She was particularly pleased with a wall hanging of pressed flowers from a friend's wedding bouquet. "It was a stunning present that they'll treasure for years to come, and she managed to capture the essence of the bouquet perfectly."
As for her own selections, Oldfield has a necklace that makes her feel like she's wearing a little garden around her neck. "It's whimsical and beautiful and brings me a lot of joy."
Customers such as Oldfield entrust Bhuee with precious mementos, from childhood keepsakes to items from their travels. Her creations are a stylish way to preserve and display life's special moments.
"I get to hear their stories and why they're allowing me to do this. A lot of people bring me things like photographs or old letters and they're happy to let me use their originals. Having that trust with someone is just wonderful, " Bhuee says.
Bhuee works with metal and glass, encasing the object in domed glass, which is pre-made, or flat glass she hand-cuts and grounds. Flat glass lets her create more varied shapes.
A story accompanies every custom creation, such as the couple who brought birchbark from the forest where they got engaged or the woman who brought lace from a wedding gown. "It was actually her grandma's lace and then her mom wore the dress. Then she got the dress altered for her wedding. So it was three generations." Bhuee says that customer had her make pieces for her grandma, her mom and her two sisters.
Bhuee posts her work on Instagram and Facebook, commenting on the process and the joy she gets from it. She encourages customers to see her creativity, which in turn encourages their own ideas. She gets requests for everything from beach stones and locks of hair to bugs and snakeskin.
If something makes her uncomfortable, she won't work on it.
"It is important to me to be in a good headspace when I'm working on a piece. If it's something sensitive, I don't want to be upset or something when I'm working on it. I want to be respectful."
She takes pride in every step including the final wrapping. "The packaging is important. It's my goal to have everyone feel special."
About half of her work is custom orders, but she still creates pieces using flowers and items she sources.
Michelle Brennenstuhl met Bhuee at Art in the Street in Guelph. She has purchased many items to keep and give away. Her favourite item is a ring that she wears almost daily. She's also drawn to botanical pieces.
"Nature is a source of solace for me and I love how Amar incorporates flowers and plants into her pieces. Looking at them makes me feel happy and at home, " Brennenstuhl says. "I work in mental health, which I love, but which can be really sad at times. Being in nature enables me to get back to a happy space. When I wear Amar's pieces I feel as though I have a piece of nature with me."
Kris Langford knows how creative Bhuee can be. Seeing her work at a Christmas market at Cambridge City Hall, he purchased earrings, a necklace and a money clip. He knew she could craft a special gift to celebrate his daughter turning 18.
Langford gave Bhuee a crayon picture his daughter drew when she was younger. The artist cut out sections and fashioned a two-sided necklace for her and cufflinks for him.
"Amar's custom jewelry is not only beautiful, but immensely personal. She will take items that are dear to you and transform them into life-long works of art, " Langford says.
Oldfield agrees. She is impressed with the way Bhuee takes small, sentimental items and magically transforms them into practical and beautiful pieces that you can enjoy as jewelry or art.
"Amar has been able to do just that for me – she takes something small and precious and immortalizes it for me in a piece of art. All those little treasures that one has tucked inside drawers and envelopes and at the back of your jewelry box – Amar creates something incredible with them, " she says.
It warms Bhuee to know customers cherish what she creates. But what really drives her is the sheer joy she gets from making the pieces.
"As much as I'm creating something for other people, I do this because it makes me happy. I think since I've become 30, I don't want to be doing things any more that I don't enjoy doing. I just don't want to do that anymore. It's not really worth it for me.
"I'm on that mission of trying to fulfill happiness and if I can do that by creating something for people, that will do it for me."
Sounds like mission accomplished.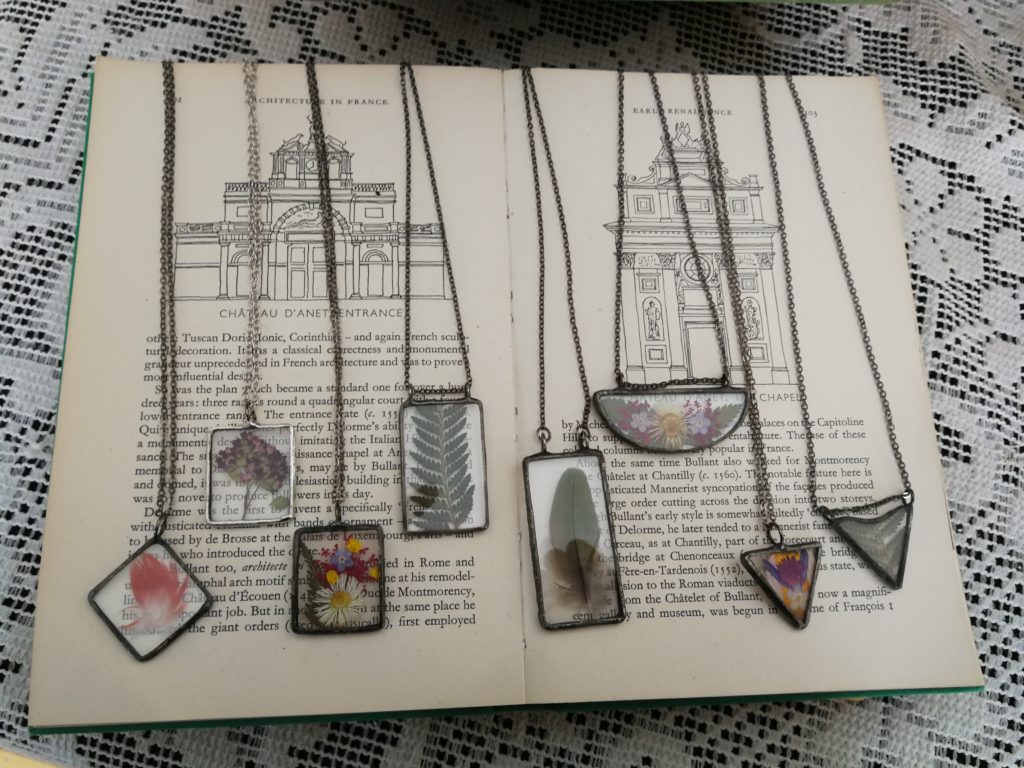 Things to consider when choosing a special item to repurpose as jewelry or art
• Do you want something wearable or displayable? Is it something you would feel comfortable wearing as part of your wardrobe? Or would you like to gaze at it on a wall?
• What tone of metal would you prefer? Bhuee works with two tones – silver or an antique gun metal that is the result of oxidizing.
• What shape and size would you like? How much of the original item do you want to display?
• What is your budget? Bhuee strives to keep prices accessible. They range from $45 to $300, depending on the size and amount of customization.
• How many pieces do you want created? Do you have someone in your life who would be happy to share this memory with you? Bhuee creates keepsakes as gifts for wedding parties. Siblings have shared matching pieces.