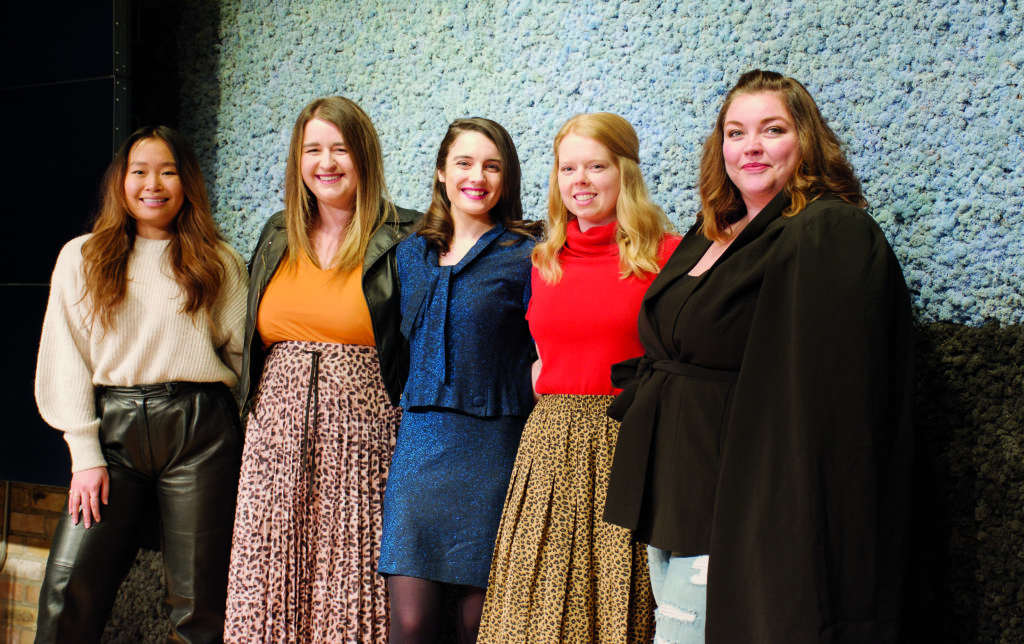 By Lynn Haddrall
Photos by Declan Outhit
Fast fashion makes it simple and cheap to refresh your wardrobe every season. But what if your next shopping trip started in your own closet?
Local fashion experts want you to consider doing this, to ease fashion's impact on the environment. Think about where clothes originate, the materials used to make them, and where they are discarded.
Sustainable style is a hot topic. Movie stars are re-wearing gowns or dressing in vintage items. Designers are looking to produce clothing that's friendlier to the environment. Shoppers are reconsidering a throw-away mentality that leads to a closet full of clothes but "nothing to wear."
Katie Bentz, who produces the Bossy Women podcast with Katie Steckly, tackled sustainable fashion by inviting local influencers to offer practical advice at an event that was part panel discussion, part clothing swap.
The New Year, New Wardrobe Influencer Panel + Clothing Swap in February attracted about 35 people for a fun, lively talk, followed by an exchange of clothing, accessories and shoes.
"It's a combination of finding your style and where to shop sustainably locally to help build a community of support," Bentz said. "I wanted a mix of different people on the panel from consignment stores to people who don't actually sell anything, but they are there to inspire people to find what works for them."
Advice flowed freely with helpful tips from panelists Cynthia Dam, Caitlin Mulroney, Robyn Hobbs and Carlie Roberts. When Bentz asked them to recommend a single must-have wardrobe piece, their answers were as eclectic as their individual styles:
• Mulroney of mytechwardrobe.com: "Get a blazer. Please just get one blazer. Blazers typically are considered a work item, but truthfully, you can wear a blazer anywhere, any way, any style, in any colour or any pattern."
• Roberts, owner of Consign Your Curves: "I recommend silhouette. Trends come and go. Colours come and go. But if you find a silhouette that works best for your body – a type of pants, type of blazer – once you know what fits you, you can play into it with the trends. It's fit above anything else. Just find the pieces that fit your body first and then everything else falls into place."
• Dam of inspiroue.com: "I went through this phase where everyone said you needed a white T-shirt and every time I tried one on, I felt like this doesn't make me feel good. When you are building your wardrobe, find one item that makes you feel like you're going to have an amazing day and you can conquer the world. That is the one you should have in your wardrobe."
• Hobbs, owner of Le Prix Fashion and Consulting: "A silk blouse, hands down, is one of the most versatile things you will have in your wardrobe. Silk can be great if you're travelling. It can be dressed up, casually, with distressed jeans or you can wear it to work. It will last you forever…. Some people say it's high maintenance, but it's a natural fabric that will break down much better than polyester."
Hobbs said it is important to think about the supply chain for any item you purchase. She studied the environment and business at university and wrote a thesis on second-hand shopping.
"Sustainable fashion means to be conscious of every element of the supply chain in fashion," she told the audience. "Be mindful of your role in it."
Consider everything from raw material to how and where the item was produced. Don't forget its end of life. Does that fast-fashion piece go to a landfill here or in another country?
Panelists agreed it can seem daunting, trying to make informed shopping choices for each piece of clothing.
Hobbs said her own experience in sustainable fashion has been an "imperfect journey." The best way to start is to focus on what you already own.
Can you "upcycle" items in your wardrobe, reusing them differently? Could a dress become a skirt? Can pants work as shorts? Good tailoring is an essential service when re-working a closet.
Hobbs advises a fresh set of eyes to look through your closet. It could be a wardrobe stylist or a good friend whose style advice you value.
Dam curates thrift and vintage clothing. To help reshape the global fashion chain, she advises starting small, by buying less stuff.
"There are so many players to consider, but by taking baby steps, you can have such a big impact. By choosing to buy less, at least you're doing something," she said.
Dam holds sustainable fashion pop
-up events and posts helpful videos on her YouTube channel. One video shows how to style a pair of white pants five different ways. In another, she creates 19 outfits out of five Eileen Fisher pieces. Fisher is known for her commitment to sustainability, with campaigns such as "waste no more" that repurpose textile scraps into new products.
Dam used to be an "emotional" shopper who stocked up on cheap clothing from fast-fashion brands until she started to consider where all that disposable clothing was going.
Now, she aims for a capsule wardrobe of 10 items. She browses Pinterest for inspiration and launches thrift store searches.
Roberts has grown her business from one clothing swap to a bricks and mortar store on Elizabeth Street in Guelph.
Roberts started her business because most consignment stores only carry up to size 12 and options are limited for curvy women. Pained by the paucity of re-sale clothes, she set out to provide more choices.
"In 2013, we started our first sale with 13 racks of clothing and 100 people were lined up," Roberts recalled. "We now average around 60 racks with over 300 in attendance."
Roberts said her style community has limited options because few retail stores cater to them.
"My community is starved for fashion. If we find something, we buy it in three or four colours. My community holds onto absolutely everything."
Her consignment store is organized by style rather than size. She encourages customers to step outside their comfort zone.
Have fun with new styles; ignore antiquated fashion rules that limit what you try, she told the audience.
All the panelists walk the talk in their personal style.
Mulroney launched mytechwardrobe on Instagram to help people deal with the absence of dress codes at tech firms. She never used to shop second-hand but is now a devoted consignment shopper.
"Find wonderful places where they are curated," she advised. "It changed my entire way of consuming fashion."
Mulroney wore a sparkly deep blue suit from Auburn Vintage in Conestogo. It served her personal style requirement for lots of colour.
Hobbs describes her fashion as bohemian chic, a little flowy, not too restricted. She wore a bright red top and animal print skirt but revealed her style secret to the audience – the top was a dress; she layered the skirt over it.
Roberts is always looking for structure in her preppy style esthetic. She combined jeans with a fashion-forward black consignment jacket/cape.
Audience members such as Kitchener fashion blogger Jamila Kyari attended to learn more about the sustainable fashion movement in Kitchener.
"I wanted to be at this event to participate and find out what's happening in Kitchener on the style scene and to meet new people and network," she said.
Sameer Khan, an engineer and one of the few men in the audience, was intrigued by the panel topic. It's an area he doesn't know enough about.
"I know a lot about manufacturing, but when I think about the shared economy, I don't know a whole lot," he said.
Panelists referred audience members to their social media for tips and information, such as the infographic on sustainable fashion that Hobbs includes at leprixclothing.com.
Armed with practical advice, audience members dove into the clothing swap, taking home pre-loved items that will find fresh life in new closets.
Bentz, moderator of the panel discussion, enjoyed bringing together fashion lovers, the entrepreneurial community, and women in business. She hopes to make the clothing swap an annual event.
That gives everyone another year to shop in their own closets.