By Alex Bielak | Photography by Mathew Mccarthy
Is it crazy to open a 235-seat restaurant during a pandemic? Willy Huber Jr., who is seated the mandated six feet away, considers that a really good question. But for a seasoned innovator, where there are questions, there are also solutions.
Huber points out the project – to completely make over the decades-old Black Forest Inn in Conestogo – began more than two years ago, pre-COVID. Conceived as a cidery and restaurant, the revamp was delayed and modified because of septic field and other issues. By 2020, the focus had shifted to creating a barbecue smokehouse accompanied by a general store featuring local products.
The Crowsfoot Smokehaus opened its doors in October, and by all accounts it has been operating at full COVID-capacity ever since.
Still, Huber admits the pandemic gave him pause. "But if you have the right vision and if you have the courage, but also that you do the right thing, take the right steps for safety – you do all the things you possibly can to protect your clientele and your staff – then you've done the best you possibly can," he says.
So what drives an individual in his mid-60s, best-known as the CEO of Piller's Fine Foods and someone who could have comfortably retired over a decade ago, to help deliver on a vision and surpass expectations? The answers lie in Huber's past.
The Huber family history was captured in a 2007 book marking the golden anniversary of the founding of a small butcher shop in Waterloo by Willy's father, Wilhelm Huber Sr., and its growth into a multi-million-dollar enterprise.
The ethnically German family had lived in the former Yugoslavia where they operated various businesses, including a butcher shop, a vineyard and a "gasthaus" that served as an un-official gathering spot for locals. Abandoning all they owned, they fled the Second World War to Austria where they lived as refugees and where Willy was born. In the mid-1950s they landed in Canada and eventually Waterloo Region.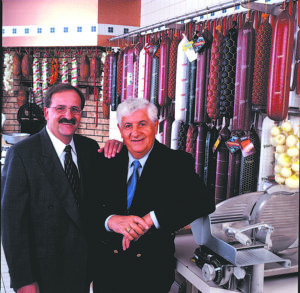 In 1957, Huber Sr. partnered with George Piller in Piller Sausages and Delicatessens Ltd., expanding quickly to the Wismer Street location in Waterloo, where the much-expanded enterprise can still be found today. Eighteen months in, Piller sold his shares in the burgeoning meat-packing business to Wilhelm's two brothers. Reunited, they forged ahead, keeping the Piller name for business continuity.
Willy Jr. grew up playing and helping around the shop. Once he could see over the counter, he started selling salami to customers at the Saturday market. The original butcher's block Wilhelm Sr. used to cut meat finds pride of place at the heart of Willy's home: a home, built for him by Mennonite craftsmen, on the site of a Conestogo farm his family often drove by, and he much admired.
At his father's urging, Willy apprenticed in Germany, representing the fifth consecutive generation of trained butchers in his family.
The anniversary book describes Wilhelm Sr. "poring over old photos" that invigorated his sense of how much his family had accomplished. Watching Willy Jr. and his son-in-law, Ryan Lloyd-Craig, excitedly discussing a cache of photos of the Black Forest Inn, it is clear the past also inspires Huber. The book stands as a celebration of the resilience of family, a declaration of the importance of community and, at its core, a love letter from a son to his father.
Huber describes his father as an extremely kind person who taught him a lot about how to respect people.
"From sunup to sundown we worked together, side by side," Huber says. "On weekends we'd go in together, walk through the plant and check the smokehouses. He taught me the ropes."
Huber notes being around the shop with his father and mother, Juliana, from the first week it opened, "instilled this sense of pride and wanting to work with him. It's some-thing very special to me."
His father, clearly his greatest influence, strongly inculcated such values into him. He says, "My dad told me 'As we came to this country with nothing, this country has always been very good to us, Willy – you have to remember to always give back.' I'm still going to carry on that philosophy."
So, as a company, Piller's strongly supports many causes, including all manner of sports teams and community ventures from Oktoberfest to the Grand River Hospital and the Food Bank.
When asked what he does for fun, Huber is stumped at first, saying he's a workaholic. Coaxed, he admits to a passion for hockey: he has personally devoted significant resources during the past 19 years to support junior players. His wife, Marnie – the person he says means everything to him – helps as well.
They and other key supporters have taken the Waterloo Wolves Major Midget AAA U-18 team all over Canada and overseas three times. Huber clearly cherishes the opportunity to provide guidance to young people, observing wryly what they do with that input is up to them.
Hans Roach, president of Waterloo Minor Hockey, has known Huber for almost 20 years. "Willy, just as he is gifted in business, noticed that there were not sufficient opportunities for the elite players in the Waterloo Region," Roach says. "Willy's vision blossomed into the creation of the Waterloo Major Midget AAA team, which is consistently ranked among the top 10 in Canada.
"He is a great role model, someone who does not crave the spotlight and is humble and kind. He has instilled in his team a sense of community pride and involvement with several ventures, most notably being Hockey Helps the Homeless."
Mentorship also arises in another context. Kevin Stemmler, CEO of Stemmler's Meats, has known Huber professionally for close to 30 years and says he's an exemplar of old school German culture.
Asked to reflect on lessons learned from Huber, Stemmler gathers his thoughts: "Willy has been through the battles before me and comes from a family business with a similar dynamic to ours. With his success comes respect. His style of handling the business is fair and respectful, no matter who you are in his organization. He is never afraid of innovation and often sees, or even sets, trends in the Canadian market before a lot of people.
"Looking after his employees is also important to Willy: If things are a bit better at times, he is not afraid to share that with everyone. That is why the employees work hard for him. His focus is on the long game and he is confident enough to surround himself with talented people."
Those talented people include Lloyd-Craig, who had decided he wanted to travel less with his job and came to his father-in-law with a concept. Huber saw an opportunity to re-invest some of the proceeds from the $110-million sale of Piller's to B.C.'s Premium Brands in 2011, in new jobs in the community. His son, Neil, also joined as co-owner in what is now the Ignite Group of Brands. Huber is the president of the group.
Ignite currently operates three restaurants in Waterloo Region – Crowsfoot, the Rich Uncle Tavern in Kitchener, and Graffiti Market Restaurant in Kitchener's Catalyst 137, as well as several associated, vertically integrated businesses like Red Circle Brewing.
Crowsfoot is "the new jewel in the crown," Huber says with a chuckle, emphasizing the word "new," before adding: "I grew up in this end of Waterloo and had always loved the Black Forest Inn. It had history to it and when the opportunity (to buy it) came, it was just something I couldn't refuse. I felt we could do something special with it."
Through extensive renovations, the inn's dark space was made lighter by the introduction of larger windows and was punctuated by thoughtful elements. Where possible, the original seating was carefully refurbished. A church pew was simply left where they found it and now provides a convenient resting spot.
An impressive eight-foot custom-built "foeder" dominates the bar area. It wasn't built to brew anything, just as a nod to history and to carry a couple of dozen lines of draft beer and cider. A huge hand-hewn beam from the original farm on Huber's property forms the mantel over the fireplace, and a unicycle, probably built in Elmira, according to Huber, was moved to the new property from the Rich Uncle.
The kitchen, serving a hybrid southern smokehouse and German-inspired menu, has been rebuilt and expanded. Critically, space was made for two premium wood-fired barbecue pits sourced from Texas at a cost of over $100,000, each able to handle 70 briskets, an investment that will pay back with time as chefs won't have to tend the high-tech pits overnight.
Understanding the importance of gathering places is deep in Huber's very marrow. Chef Ben Lillico, who previously headed the kitchen at the Rich Uncle, notes Huber brings a true sense of place, ownership and respect to the restaurants he's involved with. Crowsfoot has a built-in market as does Graffiti Market, so people can just drop in.
"The more friends you make in the community, the better the community will be," says Huber.
Huber is far from done. He feels he has at least one more big project in him, but ever the canny businessman, he is not ready to spill the beans about it just yet.
Huber's family's journey has taught him to give back and reinvest, knowing a healthy community is one that will be better for the bottom line as well. He is clear about his sense of ongoing responsibility for hundreds of employees at both Piller's and Ignite, their families and their livelihoods. He is also clear about his love and respect for his own family.
Still, Huber takes pains to say it is not about him: it's about connections to the past and doing things for the future.
Emotion evident in his voice, he searches for the right words: "When we came to Canada, we reinvented the wheel. The family circle is complete again. We lost everything and then we've come back full circle. My father's dream was to rebuild the family to what it was when we left the old country and I think we've done that, and surpassed."