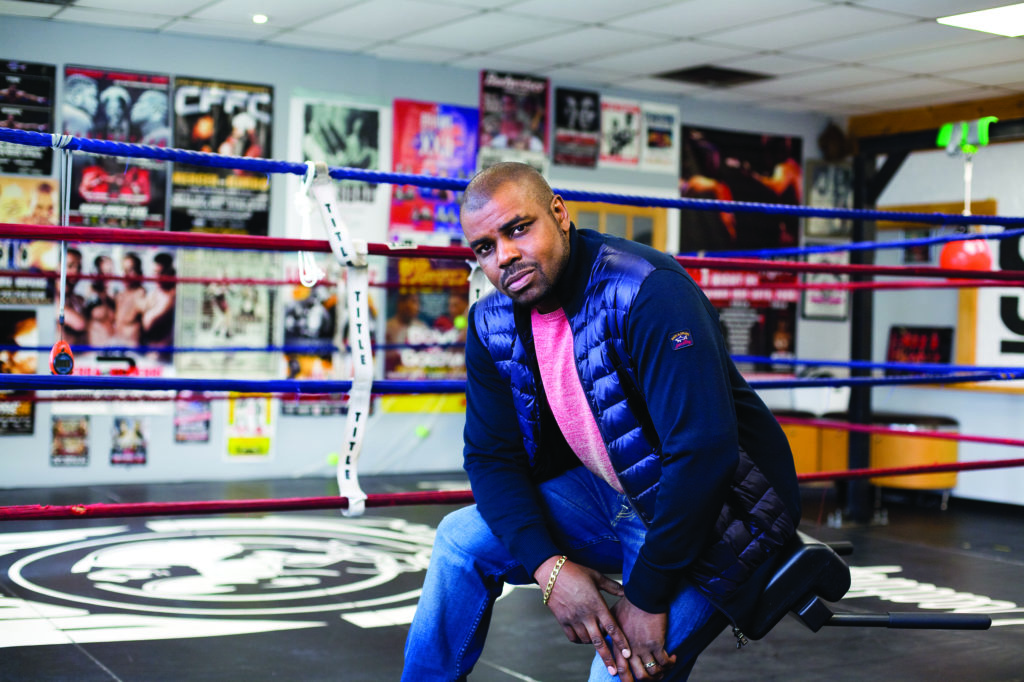 By Josh Brown
Photography by Alisha Townsend
Inside, Syd Vanderpool was furious.
The Kitchener supermiddleweight just had the International Boxing Federation title ripped from his grasp after the referee stopped his 2004 championship bout in the eighth round against American Jeff Lacy. The crowd was still roaring at Caesars Palace in Las Vegas when Showtime's ringside commentator shoved a microphone in his face and asked if the slugger thought the fight had been halted too early. "I remember saying I'd rather the fight be stopped one punch too early than one punch too late," the retired 47-year-old pugilist said. "It's the referee's job to protect the fighters and I can't argue with it."
Today, 15 years after his last fight, as he sits in his King Street gym in Kitchener, Vanderpool says his 2004 comments were guided by divine intervention. "That wasn't me," he said. "I pray and I think that was God because I was angry." The back-and-forth affair was technical. It was full of big blows. And a new champion was crowned. But it's the post-fight comments from the cool Canadian that resonated in the boxing community.
"That's what a lot of what people remember from that fight," said Vanderpool. "The way I handled myself after losing." The tilt was the culmination of a fantastic 14-year professional run in the ring. One that saw "The Jewel" defy the odds and break through south of the border, push legend Bernard Hopkins to a decision in another title fight, work with outlandish promoter Don King, appear in a movie with actress Meg Ryan and follow in the footsteps of undisputed world heavyweight champion Lennox Lewis to help keep Kitchener on Canada's boxing map.
And Vanderpool is still here, making a difference. He runs SydFIT Health Centre in Kitchener and uses his experiences in the squared circle to train recreational and Olympic boxers. "I'm still around and in it," he said. "When I retired I knew I was going to do something in boxing."
The Vanderpool clan emigrated from Trinidad in 1972. As kids, all five brothers (oldest to youngest) Felix, Keith, Fitz, Ian and Syd, trained under their father, John, in the makeshift gym in the family's carport of their Morrison Road home in Kitchener's Chicopee neighbourhood.
The siblings ran five kilometres before school and sparred in the driveway. Vanderpool, who was named after actor Sidney Poitier at his mother Margaret's insistence, would jump in the family car to watch his older brothers box in tournaments throughout Ontario. "Remember the travelling von Trapps?" he said, referring to the Austrian family of singers portrayed in the movie "The Sound of Music." "We were the travelling Vanderpool family." He was just six years old when he got the call to the canvas. As the story goes, well-known boxing promoter Vince Bagnato was scrambling to find a fill-in for his Toronto card before Vanderpool's dad volunteered the youngest of his brood. "I borrowed my brother's shorts and they were down to my ankles," recalled Vanderpool. "I remember getting in the ring and looking across and there was this big boy. He was nine." Vanderpool didn't have a game plan, so he mimicked the style of his oldest brother, Felix, who he grew up watching from the corner turnbuckle. And he won.
The southpaw never looked back. Vanderpool became stronger, faster and wiser in the ring. He won provincial and national titles and had 90 wins and 11 losses as an amateur fighter. He was nicknamed "Little Archie" after former light-heavyweight champ Archie Moore. Little Archie was also the name of the boxing club his dad ran upstairs in what is now Crunch Fitness on Weber Street in Kitchener. Vanderpool considered changing his moniker to the "Mule" and, early in his pro career, went by "Just Ice" in a nod to pro wrestler Sid Justice, who was big at the time. But he settled on "The Jewel" on the advice of the daughter of former manager Ray Taylor from Windsor. "She suggested it," said Vanderpool. "Jewels are under pressure, formed, valuable and it rhymes with Vanderpool. Once I heard it, I liked it." And that's how the boxing world came to know the Kitchener slugger, who had 35 wins — 23 knockouts — and four losses as a pro.
He was a disciple of trainer Arnie Boehm at the Waterloo Regional Boxing Academy during its heyday, when it produced Lennox Lewis, brothers Chris and Greg Johnson, Donny Lalonde and Vanderpool's brother Fitz, among others. "The training environment was amazing," said Vanderpool. "You had such great boxers there every night. The level of competition was intense. You'd say you're from Kitchener and people would react. We were on the map." His boxing journey was filled with a plethora of highlights. There was his first pro victory in Massachusetts, a first-round knockout against Jose Rodriguez whose nickname, ironically, was "Lucky." "I remember everyone making the drive to come to the fight," he said. "I hit him with a body shot and he dropped and that was it. I made the eight-hour drive for less than one round."
His sixth fight was a game changer. Tough Terry Seay, of Hartford, won via technical knockout. It ended Vanderpool's five-fight win streak and was his first professional loss. "It was humbling," he said. "I was too focused on the entertainment and business end and not the craft of becoming a better boxer. After, I didn't lose for another six and a half years." There was a two-year run with promoter Don King — "he was larger than life" — and the Vanderpeeps, a cult following of fans that cheered him on in Dr. Seuss hats with Canadian flags on them — "my mom made some of the hats."
There was also a failed tryout with the Canadian Football League's Hamilton Tiger-Cats and a role in the movie "Against the Ropes," directed by Charles S. Dutton and featuring Meg Ryan and Omar Epps — "I didn't realize how much work acting was." And there was his first major title fight against Hopkins for the IBF's middleweight title at the Conseco Fieldhouse in Indianapolis. Vanderpool took the fight on three weeks' notice and had to cut eight pounds and drop down a weight class to take on the champ. Boxers usually weigh-in the day before a fight but Hopkins made the challenger hit the scale for the 160-pound clash hours before bell ring. Vanderpool came in at 159.9 and then went the distance before losing the 12-round tilt by decision.
"I came out swinging," he said. "I wasn't patient. He just wore me down. I learned a lot from that fight." Vanderpool went undefeated for the next four years. He knocked off Tito Mendoza, who was being groomed as the next big thing in the division, to become the No. 1 contender for the vacant IBF super middleweight strap. All that stood in his way was Lacy, a former Olympian who was undefeated through 16 fights. It was anybody's fight until the sixth round. That's when Vanderpool got caught by an upper cut. He survived, but his legs gave out and he had to switch stances. Then came an eighth-round barrage and the stoppage and it was over. "I knew I was done," said Vanderpool. "That was my last shot (at a title)."
A final loss — just his fourth as a pro — seven months later to Alejandro Berrio provided clarity. It was time for "The Jewel" to retire. Vanderpool's post-fighting career has been kind. No long-term damage given or received in the ring. He met his wife, Michelle, at the YMCA in Cambridge, and the couple has three kids — daughters Alexus, 20, and Destini, 18, and son Jaelen, 14. And there's his gym, which has turned into a hub for the next generation of top local fighters and whose stable currently includes Olympian Mandy Bujold and Summer Games hopeful Kaitlyn Clark. Vanderpool is convinced Waterloo Region will continue to churn out champions, and he hopes to be in their corner when it does.
But training kids and adults that are never going to make it to the glitz and glamour of a main event in Las Vegas is just as important. "I have athletes who have anxiety and all these things outside of the ring," he said. "To be able to get in the ring, whether they win or lose, they've won. They've conquered something. I want to see them take that into the rest of their life. It's something that can change someone's life. I love that boxing can and has done that and I want to be a part of that."