By Barbara Aggerholm
There's excitement in Ben Fanelli's voice as he interviews a police officer to learn how he climbed back to a good life after being shot 15 times trying to protect others.
Fanelli, the former Kitchener Rangers' captain, is doing what he loves, asking insightful questions of people from all walks of life – athletes, police, ex-inmates – to learn how they rose above adversity to the place where they can now teach others lessons they've learned the hard way.
"It is adversity that maximizes human potential," Fanelli says.
Fanelli's series of podcasts – audio files that listeners can download – is called Heroic Minds. After almost two years, he has completed about 75 episodes; four each month. About 6,000 listeners a month tune in and the number is growing.
"Heroic Minds is a community of people that see challenge as opportunity, struggle as growth and loss as learning . . . people that constantly aim to be the hero of their story," he says on his website.
Fanelli, 26, an associate coach with the University of Waterloo's men's hockey team and an accomplished public speaker, knows about adversity.
Fanelli earned Canadians' respect when he fought his way back to health after a devastating head injury, the result of a hockey opponent's vicious check in 2009. He was a 16-year-old Kitchener Rangers' defenceman in his rookie year when the check caused his helmet to fly off just before his head hit the metal stanchion separating the arena glass. He fell to the ice, unconscious, with a fractured skull.
Through hard, hard work and perseverance, he returned for the Kitchener Rangers' 2011-12 season, was made assistant captain in 2012-13 and captain in 2013-14, his last year with the Ontario Hockey League.
Two things helped him get back on the ice, Fanelli says. He was determined to prove those people wrong who said he would never play hockey again; and he was buoyed by the support of the Kitchener Rangers hockey club, his agent, the community and fans who wrote him enough letters to fill a big moving-company box that he keeps at his parents' home in Oakville.
Now he's exploring how others push beyond the expected. His conversations are sincere, wide-ranging and sometimes surprising in the details that people are willing to reveal about themselves.
"He has a great soul. He's a warm, friendly, kind person," says Dr. Bob Stevens, a blood cancer physician at Grand River Hospital's regional cancer centre who listens to his friend's podcasts when he walks or runs. Stevens, who also helps coach girls' hockey, was interviewed for Heroic Minds.
"He's a good interviewer because he really cares about the people he interviews," Stevens says.
"It's a passion he didn't know that he had until he started doing it."
And that passion opens doors.
"(His subjects) may not talk to some CBC interviewer like that," Stevens says. "They trust Ben because of what he's been through and how he carries himself."
A former coach suggested Fanelli curb some of his more enthusiastic responses during interviews, but it's a bit like trying to stop a breakaway.
"I try to be more calm and collected," Fanelli says with a smile. "I can only contain myself so long."
"When he does a podcast and comes home, he's so happy and excited," says Sasha Guay, Fanelli's girlfriend and a busy physiotherapist who works at Grand River Sports Medicine Centre.
"It's like an adrenaline rush. You can tell he loves it."
The podcast featuring the ex-Marine and police officer, Lt. Brian Murphy, contains many lessons. The 57-year-old man was shot 15 times in 2012 as he tried to protect people from a terrorist attack on a Sikh Temple in Wisconsin.
"What kept you going?" Fanelli asks Murphy.
"My wife and family," Murphy answers. Conquering self-pity is a first step in recovery, Murphy says.
"Pity is one of the warmest, most comfortable blankets you can wrap yourself in," Murphy tells Fanelli. "But it never really helps you. . . . It just makes you stagnant and comfortable in that stagnation, which eventually leads to bad things."
Fanelli's engaging style and his own stories encourage people to open up – his frustration as he watched his fellow Rangers practise; his training for triathlons to help make him strong enough to put skates on again; meeting with a sports psychologist who helped him imagine life beyond sports.
Humble as he is, however, Fanelli thinks the podcast's success is more about the people who have agreed to share what they've learned along life's bumpy journey.
And they seem relieved, even happy, to talk about how they're still standing after challenges that might appear too much for a lot of us.
We hear from people we wouldn't expect to show vulnerability.
"Are there still things you haven't found out about yourself?" Fanelli asks retired hockey player Shawn Matthias, who was describing his struggle to live a life outside hockey after 10 years in the National Hockey League. "Are there fears you're still planning on overcoming?"
"I'm always trying to learn about myself," Matthias replies. "Fear? I mean yeah, I'm scared; I'm scared every day. I mean I think about even this podcast . . . opening up and showing people who I am away from the game is the scariest thing I think I've ever dealt with in my life.
"It's scary but through that, it's an adventure."
In a related podcast series called "EMPWR," Fanelli explores research to "recover, maintain or enhance our neurological health." He founded the non-profit EMPWR Foundation, which grew out of another organization, Head Strong, which he'd started to help athletes with brain injuries.
In the EMPWR podcasts, he presents the latest research about concussions, chatting comfortably with everyone from athletes and coaches to scientists and a Buddhist monk.
Where did he get the "science brain?"
"My science brain is from the excitement of learning that I never had up to two years ago," he says.
When he was a hockey player – all in, all the time – there wasn't a lot of encouragement to think about the big questions. You trained hard, you played the game hard and you didn't complain while you were chasing your dream. There didn't seem room for anything else, he says.
"You think the only thing you're good at is hockey," Fanelli says.
"I didn't think I was smart enough to read psychology or sociology. It's not cool to know that stuff in the hockey world." That's changing though, and it's definitely not the case of university athletes who need high marks, he says.
"I missed out on so many things I don't know. Now I'm making up for lost time."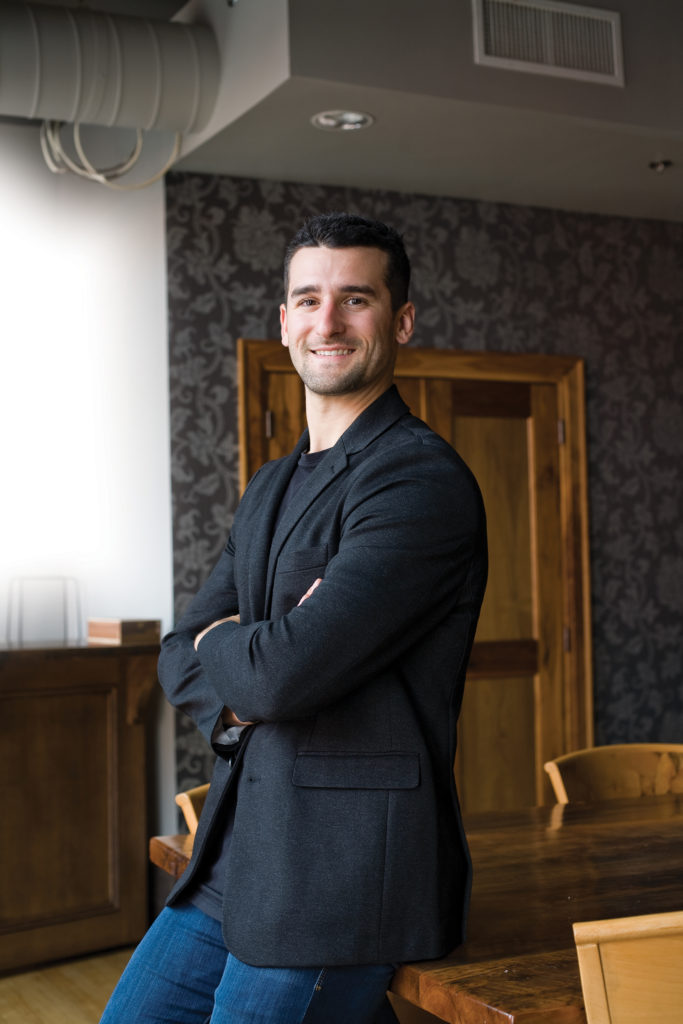 Like most days, Fanelli is navigating a full schedule when he arrives home at the Waterloo condominium he shares with Guay for this 9 a.m. interview.
Two hours before, he was on the ice as the associate coach of University of Waterloo's men's hockey team, his third year in the full-time position. Now he's home for the interview and a telephone call from another university to discuss a future public speaking engagement. Later in the week, he has a presentation at a school.
On this day, he'll return to the rink where he'll plan and do administrative work until he interviews an urban cognitive scientist on campus for another podcast. He'll also try to fit in a 35-minute workout in the gym. In the evening he'll edit the hour-long podcast and prepare for another talk. This time, he says, the plan is for Steven Woods, engineering director of Google Canada, to interview him for a chat that will be streamed to Google offices everywhere.
If there's still time in the evening, Fanelli and Guay will settle down to watch "Breaking Bad" on Netflix.
Sitting in their living room, a fit-looking Fanelli, a black ball cap over his short, dark hair, appears relaxed and ready to switch gears. It's clear he enjoys sharing his thoughts, particularly when they involve the admirable traits of other people.
The speaking engagements are becoming more frequent. He still talks to groups by himself with a slide-show presentation, but Fanelli enjoys the times when guests he has featured in his podcasts share the stage with him to tell their dramatic stories.
Last year, Chris Miranda, a former golf professional and golf course owner told McMaster University students about his life after Guillain-Barre syndrome left him without the use of his hands and feet.
"His story is powerful in the sense he is the best father he can be," Fanelli says.
Fanelli has started to work with teams too, applying truths and theories he has learned from his podcast guests.
This is how Fanelli earns a living and this is how he helps people, one of his chief goals.
He appreciates hearing from listeners such as the Chicago man who thanked him for the inspiration. "I listen to them (the podcasts) and they get me really excited before I go into chemotherapy," he wrote to Fanelli.
After leaving the Rangers, Fanelli tried a few business ventures that didn't catch fire. He credits "an extremely smart friend," Ian Bigford, with directing him toward public speaking. Fanelli knew Bigford in high school but the two weren't close. "I was 'too cool' and my five best buds were all competitive athletes," Fanelli says.
Then about two years ago at a gym, Fanelli ran into Bigford, a business consultant who majored in philosophy and has an MBA from Wilfrid Laurier University. Fanelli was running fitness classes then and bartending at a local tavern.
"I was searching big time to find out what I could do to give back to this community," Fanelli says. "If I didn't have hockey, what would I do? I needed to stay busy. I'm not at the rink and I didn't know what I could do to find value."
"I see you're trying to help people," Bigford said to him. "You love public speaking. Try a podcast."
For Fanelli, who had loved playing Rangers hockey in front of 7,000 people at the Kitchener Memorial Auditorium on Friday nights, the response from his public speaking and podcast audiences helped him feel valued.
"I'm in front of an audience, performing and affecting people," he says. "That's my new game time."
After the first podcasts, Fanelli was surprised when people he knew started contacting him with their own stories of adversity. Among them were athletes with whom he'd never before shared an emotional conversation. They opened up about feelings of anxiety, illnesses, troubles in the family and other hurdles they had struggled to overcome.
After researching his subjects, Fanelli sits down and records his conversations with podcast guests wherever it's convenient – in his condo kitchen, a university campus. He interviews faraway guests via Skype. One day, he'd like to do live podcasts in a coffee shop.
He credits his "incredible boss," Brian Bourque, veteran head coach of the Waterloo men's hockey team, for helping him fit everything into his schedule.
Fanelli doesn't waste time wondering where he would be today if he hadn't been hit on the ice.
He's going full speed ahead with his life as an assistant hockey coach, a podcaster, a public speaker, a boyfriend, a young man who treasures what he's learning and values his relationships. He's best friends with the Winnipeg Jets' Mark Scheifele and Colorado Avalanche's Gabriel Landeskog.
While he doesn't go water skiing or tubing like he used to – knowing how he likes to play hard – Fanelli golfs, plays tennis and bikes with Guay. Their road bikes stand at the ready in their living room. He has biked to his family's house in Oakville using the back roads.
In the future, he's looking for additional sponsors for his podcast series; TruLocal, a company that delivers locally sourced meat to the doorstep, now sponsors him. With Bigford's help, he's launching a new "Heroic" clothing line that uses the logo, "Begin the journey."
He'd love to find a sherpa and a fighter pilot to interview.
Mostly, he just wants to know he's helping people, the way others helped him at a critical time in his life.
"He really cherishes being part of the community," Dr. Stevens says. "He has taken that injury and tried to teach others . . . as his life's work.
"I think a lot of people that get to know him now, never knew he played (hockey) himself. They're interested in this young man who loves to meet people, talk to people and learn."